Greetings Me Droogs N Droogettes!
Happy Veterans Day!
My, I was a dapper Young Troop…
Speaking of which

HUGE rumblings about the possible upcoming draft.

Lots of "Oh Hells No!" from Veterans, especially from the latest group to get buttfucked raw by our "Lords and Masters" (Iraq and Affy). Not for nothing, there IS a very strong possibility that Israel is, depending on your age(s), need you to go and die for them, so the terrorists don't win. Or something…

Now, as you know, I've got an eclectic background as do a lot of the family members. FedBro was a fed, per his handle, and DeadDad was a really well respected Collège Professor who was best known for his specialization in Children's Lit, as well as being renowned expert on Conrad and "Heart of Darkness" MomUnit was an elementary school teacher for like 40 years which tells you about her ability to put up with 'teh stoopidz'. One other interesting thing she used to do?

She was at first a member of the Draft Board, and finally when she retired was the Head of the Selective Service Board for the state. She did this because at the time, Draft Board members kids were exempt from the draft due to a potential conflict of interest. She did it to keep FebBro and I out of the clutches of the DotMil IF the draft ever came up. Being 18-19 and seeing all her classmates get drafted and going to the Nam really impacted her especially when a LOT of them either didn't come back, or were broken physically/mentally. She didn't want us to experience that.

So of course I volunteered.
She's never forgiven me for that.
Sorry Mom! Can't blame her… she didn't get paid for it, and she did a lot of weekend training, as, little known fact: The Draft is (theoretically) ready from the time the (p)Resident signs the law into "Activate Mode" to get 100000 kids into "The Loop" within one fucking week

Which is why -I- think they're getting the 400 recruiters up and running, as the Draftees would have to report to a MEPS station where a recruiter would be needed to get the process rolling.

Watch.
Next move will be to start moving metric fuckloads of NCOs to Drill School, and the un-mothballing of Training Starbases at Benning… like my old Training Battalion 2-54 Infantry on Sand Hill which was mothballed years ago…

So with that background 'prep' I went into the latest and greatest regulations, The MILITARY SELECTIVE SERVICE ACT of 2003: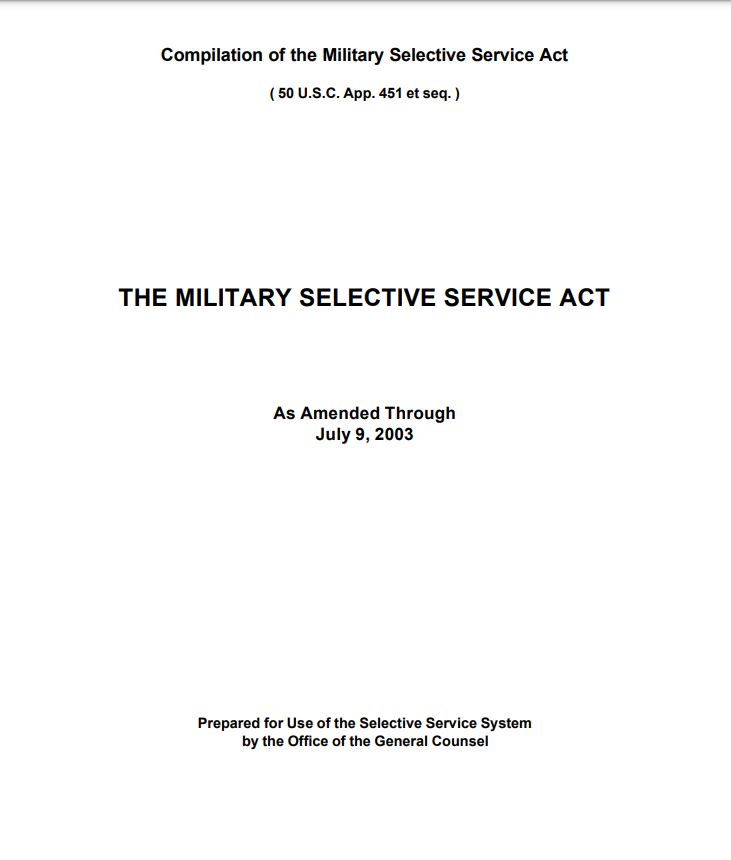 Link to the PDF online is HERE

So tonight, I'm hella-not going to do a full page-by-page breakdown, but hit the important bits that the majority of folks DO NOT KNOW. As MomUnit used to say, "This ain't your Grandfather or Fathers Draft anymore!"

Lots of left hooks in here so to speak…
I'm going to do my best to 'translate' Poli-Bureaucratspeak so if I get some stuff wrong, hey, My Bad. I'm neither a Politician, nor a Bureaucrat, Thank The Fucking God-of-Your-Choice for that. I just remember how MomUnit was constantly amazed how much it has changed since Nam.

Hold onto your hats… this's the deep end of the pool:

DRAFT REGULATIONS (as follows)
The NEW Draft Regulations calls military service the "National Security Training Corps". ALL MALES FROM AGE 18/6 TO 19 -MUST- be registered before their 19th B-Day OR be subject to punishment. Punishments come later here in the listing.

ELIGIBLE PEOPLE:
ALL MEN Between the ages of 18 and 6 months to 26. Still ALL only men, NO women (yet) and ALL Trannys (M-2-F) STILL must register for the draft. If you were born with a dick, you're still a dude as far as the draft is concerned so shut the fuck up you fucking headcases. Gays too.

ALL draftees, once pulled in must be able to pass the same physical from January 1945 unless a formally declared war is established, or a Presidential Finding of a State of Emergency declared. This means IF the SpongeBrained Pantshitter calls it a war AND a draft, then even a fat, psycho out of shape
MUST do 12 weeks of Basic Training.

TIME OF YOUR TOUR:
It's an automatic 2 Year Tour Unless you are already in the Guard/Reserveor a Coastie. IF you volunteer BEFORE you get your notice, then you get Preferred Choices of Duty, i.e. Admin instead of Infantry. They'll take 17 Year old men who can volunteer w/Parental Consent.
Now, after the initial 2 years of Drafted Active Duty if you do less than 3 years on Active Duty, you do have an ADDITIONAL 5 year Reserve/National Guard commitment (which to my way of thought is it may as well BE active as the Reserve a Guard are always getting called up).

If you extend for a year after the first two years of Active Duty you were drafted for, you are exempt from the Reserves or Guard after those 3 years. Meaning you serve 3, survive and done UNLESS recalled as critical-to-needs.

RESERVE OCCIFER TRAINING CORPS RULES:
If you are in college and part of ROTC, you do 4 years active duty after unless "time of war" or a "national emergency" declared by the Congress, and or the (p)Resident. As an Reserve Occifer, you get the same pay as a 'professional Active Duty Occifer.
Interestingly, IF you're working, say for an IT company or such, or as a Doctor who the hospital wants to keep you on the payroll, you can keep getting paid by civvies if they want to continue (gig worker? IT? Inquiring minds Aye?)
ANd now, the question everyone has
DEFEREMENTS (or how do I not die for my country taht hates me?):
Deferments are given rarely. Mostly for needed professionals (rare skillsets) and scientific personnel and those engaged in, and preparing for, critical skills and other essential occupations. Draft commitment CAN be shrunk (meaning less than 2yrs for enlisted and 4yrs for occifers) IF the war ends early by Congress (but even if the war ends, and you get drafted, you still HAVE to do basic) Doctors/Dentists do 24 months AD but are reserve officers.

QUOTAS:
Literally.. Not a joke.

DEFERMENTS FOR PRE-EXISTING COMMITMENTS (folks already in uniform and suchlike):
ALL "Commissioned officers, warrant officers, pay clerks, enlisted men, and aviation cadets of the Regular Army, the Navy, the Air Force, the Marine Corps, the Coast Guard, and the Environmental Science Services Administration; cadets, United States Military Academy; midshipmen, United States Naval Academy; cadets, United States Air Force Academy; cadets,
United States Coast Guard Academy; midshipmen, Merchant Marine Reserve, United States Naval Reserves; students enrolled in an officer procurement program at military colleges the curriculum of which is approved by the Secretary of Defense; members of the reserve components of the Armed Forces and the Coast Guard, while on active duty; and foreign
diplomatic representatives, technical attacheAE1s of foreign embassies and legations, consuls general, consuls, vice consuls and other consular agents of foreign countries who are not citizens of the United States, and members of their families, and persons in other categories to be specified by the
President who are not citizens of the United States"
Now we get to the interesting part:
ALIENS:
Green Card holders get drafted too if they applied for a green cards. If you have one or are waiting on one you HAVE to 1) register for the Selective Service if you are between the ages of 18 and 26, and 2) IF you get 'the notice' then you HAVE to show up. Essentially
"aliens admitted for permanent residence in the United States shall not be so exempted: Provided, That any alien lawfully admitted for permanent residence as defined in paragraph (20) of section 101(a) of the Immigration and Nationality Act, as amended (66 Stat. 163, 8 U.S.C. 1101)"
Now, If an alien from a country with a mutual defense act w/the United States (like the Philippines in WW2 and even today) and they serve 12 months on Active Duty, They earn their citizenship.

Surprising absolutely no one, ALL Fucking FedGov Bureaucrats are exempt (of course) from the draft. Guess when the draft comes out, we know who the targets of folks Ire is really going to be aimed at. I'd say the Deep Bureaucrat state will cease to exist functionally within six months once word gets out…
Now, guys who are already Vets w/a Year of AD get a pass. That does not apply to PT Failures and ELS kids (entry level separation kids… the shmucks who couldn't 'hang' through Basic/AIT) pre-war CAN be Drafted IF war is declared. Back in Boots Losers… Uncle Sam needs even your weak worthless asses now.

Anyone currently in the Reserve/NG get the same deal.
ROTC get a deferment for one year if they already did basic. (Lots of ROTC guys go through Basic during a summer while still in College). Then they (ROTC Kids) go in if qualified and serve either the aforementioned 2/8 or 4/4 year splits. Interestingly, ALL Aviation ROTC get a pass (guess that pilot training is too $$$ and they're going to need pilots…

And fucking again Surprising absolutely no one AGAIN, All POLITICIANS (of course) get a pass.

Priests and Religious Students get a pass unless needed (and if they start calling up the Padres, you know we're in serious trouble.)
FITNESS/DEPENDANTS/JOBS/LIABILITY DEFERMENTS:
Anyone who is in "industry, agriculture, or other occupations or employment, or whose continued service in an Office (other than an Office described in subsection (f)) under the United States or any State, territory, or possession, or the District of Columbia, or whose activity in study, research, or medical, dental, veterinary, optometric, osteopathic, scientific, pharmaceutical, chiropractic, chiropodial, or other endeavors is found to be necessary to the maintenance of the national health, safety, or interest: Provided, That no person within any such category shall be deferred except upon the basis of his individual status: Provided further, That persons who are or may be deferred under the provisions of this section shall remain liable for training and service in the Armed Forces under the provisions of section 4(a) of this Act (section 454(a) of this Appendix) until the thirty-fifth anniversary of the date of their birth (which means Docs and others can still be called up to the age of 35 IF they desperately need the bodies, sort of like the Krain these days Aye?)
Armed Forces (1) of any or all categories of persons in a status with respect to persons (other than wives alone, except in cases of extreme hardship) dependent upon them for support which renders their deferment advisable, and (2) of any or all categories of those persons found to be physically, mentally, or morally deficient or defective. Which essentally means the nutjobs have to be evaluated before going to Basic, but any bets DSM10/11 is going to come back into style shortly after this starts? Now, interestingly SINGLE DADS PAYING CHILD SUPPORT GET DRAFTED.

STUDENT DEFERMENTS (this really changed A LOT):
High School: Until Graduation OR age 20 whichever comes first
OR
College: End of semester (no loooong dragged out college exemption). One semester and BOOM! Your in the Army now!
Conscientious Objectors: You still get drafted but have to do "National Service Jobs" Nasty Jobs like nursing homes and such: "The Director shall be responsible for finding civilian work for persons exempted from training and service under this subsection and for the placement of such persons in appropriate civilian work contributing to the maintenance of the national health, safety, or interest."
Criminals go too: "No person shall be relieved from training and service under this title (sections 451 to 471a of this Appendix) by reason of conviction of a criminal offense, except where the offense of which he has been convicted may be punished by death, or by imprisonment for a term exceeding one year."
Sounds a little like Wagner in Russia huh?

APPEALS
You can only do an appeal locally to YOUR draft board. Guess if you're known as a local shitbag, you will probably not get one.

SURVIVING BROTHER AND/OR SON (The 'Saving Private Ryan' Thing)
For this exemption, you HAVE to be a Full Blood brother or son who's dead brother/son had to have died in service to the country. No 'single kids' or step-kids…like I said, this time around, everyone goes.

PUNISHMENTS
Anyone who helps avoid the draft? "or who knowingly counsels, aids, or abets another to refuse or evade registration or service in the armed forces or any of the requirements of this title" (which means if you're planning on helping a relative or anyone dodge the draft, be careful. They also have the "punished by imprisonment for not more than five years or a fine of not more than $10,000, or by both such fine and imprisonment [Fine increased to $250,000 by 18 U.S.C. 3571(b)(3)]" Nd if you try to help alter/forge a birth certificate, or use someone elses? Doing the Fake ID thing, "…having/making/helping: to be fined not to exceed $10,000 or be imprisoned for not more than five years, or both"
Also they get you for life IF you do a no call/no show… besides jail, you never can get student financial aid or Social Security in your old age. Failing to register means you can never get a FedGov job, and Social Security? Nope… No soup for you.
-WHEW!!!–
THAT was a pure dee slog. 8 hours of combined work.
Hope y'all find it useful
Repoast as those deem it Necessary
More Later, I'ma gonna have me another beer.
And Happy Veterans Day
Big Country