Greetings Me Droogs N Droogettes!
So, we'll start with what Crowder put out (in order per the dates on the paper screenshots):

Now, besides the fact that it's full of every. single. thing. we with out brains still operational expected, the only thing that caught me peepers was what -I- highlighted in red… I even twattered it: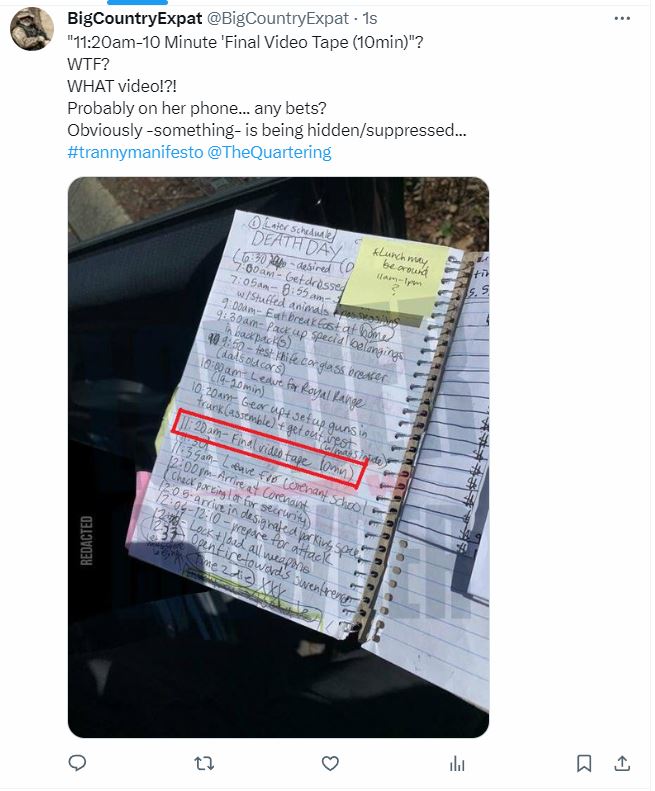 Now inquiring minds want to know:

Where's the vidya people!?!
Got me a solid hunch it was on her phone, which means we-the-people-who-pay-these-assholes-salaries will never EVER see it.
Can't be anti-fucking mentally-ill tranny donchaknow?
Look
Some of you may know, some may be new.
My daughter, whom I love dearly, who was gay and hey, no ish with gay, as it does run in the fam in some areas. Point is, the genetics don't lie, and man, the problem is she decided she was 'trans' at the absolute height of Bruce Jenner's move to out-eclipse the Kardashians by coming out as an ugly 60+ year old broad….
Go with me on this.
You have to understand: Bruce? He literally went utterly and completely insane being married to the 'Momanager' whatever the fuck that psycho cunt who whored out her daughters name is. See, Bruce went "Hollyweird" back in the day when he was on the Wheaties boxes. Everywhere, and I mean everywhere he went, the Paparazzi chased him around, be it Studio 54, or even out and about.

Fame does weird shit to people.
So, as his star faded, as it does do, as HIS? His was due to being THE ultimate athlete, who unfortunately got old. Gold Medals or not, he really lost his mojo.

And then he married that psycho-whore.

And when she successfully whored out her daughters?

He lost his damned mind.
This whole fucking 'trans thing' with him is nothing but a (successful) attempt to regain that lost attention and limelight.

THAT is why he hasn't had his schwanz cut off. He eventually intends on going back to being a dude… just fucking watch… you heard it here first.

THAT is why it's nothing put a bullshit attention grabbing pile of shit, which because it caught on socially so he can't stop doing it now.

THAT is why my poor 15 year old gay daughter at the time, without realizing it, was brainwashed into that cult, because being a 15 year old female is bad enough without 'other shit' impacting.

THAT is also why she 'cut me dead, 'cos she knows I won't tolerate this bullshit. Gay? Fine. Trans? Social Fad, cut the shit and get back to being YOU. (I miss you M… hope you read this and understand where I'm coming from)

Lastly, THAT is why, without any bullshit that IF -I- personally happen to run into "Caitlyn Jenner" I will remove his ass from the planet in the most painful and gory way possible. Think "Biblical Level Horror and Gore." If I had my way, he'd be saying "Hi!" to Satan you degenerate attention seeking fucker.

Because FUCK THAT GUY FOREVER.
He, in my mind, and after reading this, you'll probably agree, that he's responsible for death on a scale that's comparable to the Gestapo. The rate of suicide of 'trans kids' is like 45%
He needs a reckoning.
Truly.

People like Jenner and the proponents of 'trans cult-ideology' need to be tried as doing "Crimes Against Humanity" not that that'll ever happen. Literally, that fuck did moar damage to the "Youth of America" than Communism.

Whew
Sorry… some hardcore personal venting there, but I needed to get that out there so to speak. Been bugging me forever that these people, which such a heavy impact to shit, like our fuckstain moron Overlords, that they never seem to understand nor suffer the consequences of their actions.

Things like the Mayor of Nashville?
A good Irishman named Freddie O'Connell?

Yeah…… going batshit insane and running essentially a pogrom to find out who leaked the images I have above? Yeah… fucker has -kept- the info close to the vest for whatever reason… it's not like MAGA folks nor even folks like US are going to start performing 'active measures' against trannies in response to these revelations… We always knew that it was going to be a bugfuck-nuts anti-whytte screen…

However…

Couple of things about the hizzoner, da "Mayor" of Nashville:
First thing I said to myself when I saw the pic (besides what a butch bitch he's married to) was "Dude don't look Irish a'tall."

Got that nebbish soy-rat-face going on.

And whaddya know?
I take shit for saying it and a lot of hate but…
No fukkin' shytte Mel Aye?
Seriously
Do none of them understand?

Talk about an absolute incapacity for introspection or critical thinking.

No fucking wonder they've been cast out of a shit-ton of places.

Right now? IRL? Despite ALL the Ministry of Propaganda and Lies triumphant tales of bravery of the IDF killing whammez and children? IRL IF Erdogan decides that "Enough Slaughter of Muslims is Enough" ain't nothing going to stop the Muj from utterly cleansing the Middle East of Jews forever.

Even IF the Yids throw nukes, they'll only get nuked in response.

And if, only IF they're fucking retarded enough to initiate throwing "The Big One" around?

Which leads to "Global Thermonuclear War?"

It'd be a 'Jewish-Extinction Level Event'

Because Izzy Shekelstein and the rest of his 'small hat-big nose' tribe in NYC or wherever would be on the 'soon to be extinct' list forthwith. Hunted for their skins and hats I'd reckon…

I mean c'mon man. At that point knowing that the Jews destroyed the world? Would YOU allow one to live!?!

Fuck… went way overboard in my shit tonight…
Sorry about that.
Been a loooooooooong day.
More Later
Big Country