Greetings Me Droogs N Droogettes!
Well that didn't take long.
As everyone has been sort of 'fence sitting' regarding the whole wind up to World War Three, and the obvious exhaustion that everyone has had with, well, just about everything these days, we get what appears to be a ragin' Whytteman with an AR pattern rifle, shooting up a small town in Maine of all places.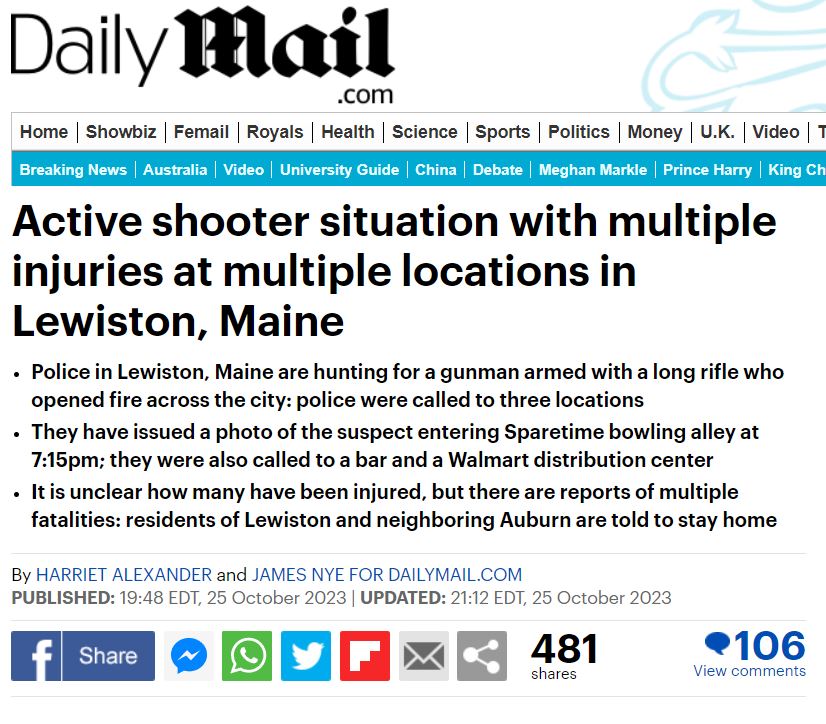 Now, I'm going to be very curious as to WHO his victims are.
Dude in Question BTW: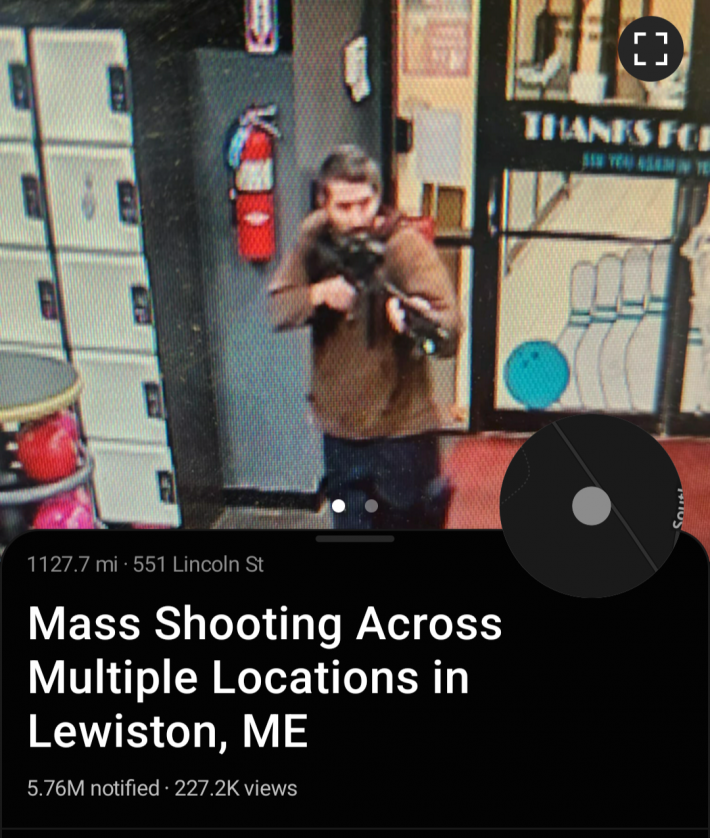 According to reports, he started in a bowling alley.
Then he went to a place called "Schemengee's" which is a bar I guess.
Then, after cappin' a bunch of folks, he ended up at a Wally World Distribution Center.

No word on casualties.

That being said, I'm going to be watching. Something a LOT of folks aren't aware of, but Lewiston Maine is home to a very large population of Somalis. After the whole "Black Hawk Down" thing, a BUNCH of "Skinnies" migrated to Lewiston, due to low housing costs, and an exceptionally decent welfare system. Before the big migration, Lewiston was best known as a post-industrial revolution Mill Town that was pretty much done, with the exception of its colleges. Bates being the best known… and just to state it, Bates? To paraphrase Obi-wan:

"You will never find a more wretched hive of liberalism  and feminism. We must be cautious."

True Fucking That.

One of the cutest and brightest chicks I knew who was two years older than me in High School went to Bates… and yeah, I had a mad crush on her as did the majority of guys back then… to say she came back 'changed' qualifies as "understatement of the century"… A true shame that one…

So, lets watch the fun unfold.
I'm betting three-names, and that he kil't a lot of Skinnies.
With an AR.

Which means we get the "Mass Shooter Trifecta"

Whytteboi, Race-Based, and an Evil 'Needs to be Banned" AR.

Only thing better is IF he leaves a manifesto going off on Trannies, Fags and Blaqs. Bonus points when they 'discover' Third Reich Material' or some other stupid shit.

Any takers?
So More Later
Big Country