Greetings Me Droogs N Droogettes!
Tough day today. Addy's B-Day. We got to 'be there' via Video-chat and she's having a LOT of fun and seems be well taken care of but still… w/out going too deep into it, despite his best efforts, her Dad -still- is unable to take care of her the way we were… so I'll just leave it there as I don't want to get too 'down' as I'm bummed enough as it is. The only really good news is they're slapping MOAR charges onto that corrupt son-of-a-bitch Judge. Hopefully he does serious time in pound-me-in-the-ass prison.

Anyways.
So yeah, Now our shooter in Maine?
If anything the DotFeds are getting lazy AF. Even more than before. What was it that Lump-necked Asshole Fetterman said? That "…they're not sending their best…" without even a smidgeon of introspection nor irony? The 4chans Autists put out a "Leaked Discord Server" set of posts supposedly written by the "Maine-iac" Shooter:

It reads like a dream from the fevered brow of a FBI agent of how they think the average MAGApede thinks/speaks/acts. I mean c'mon man.

No one -I- know thinks or speaks that way at all
Even the most rabid Nationalists or Anti-DotGov kids would never speak that way, never mind put it in writing, using their real name as their handle no less.
UNLESS they're a glowie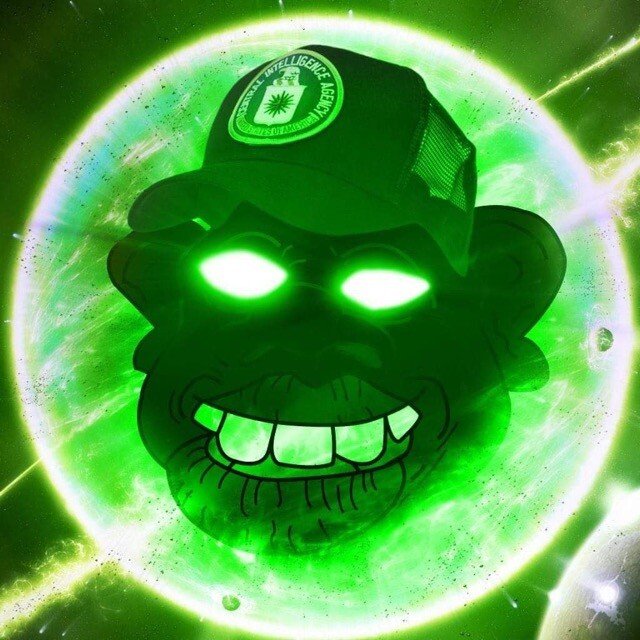 And if that IS real!?!
Wow
Talk about some seriously fantasy-disco bullshit right there. Only thing that, to me leastways, is that I've noticed that Discord is the place to do your 'one-stop-shopping' for mass shooters. Like the last what? 2-3 of them ALL had been on a Discord server, and all had put up highly incendiary speeches/manifestos/the like, just like the above one.

Literally that shit glows so hard I got radiation poisoning from just reading it. Got no idea what they expect… to be honest, in my mind I file this under "Thursday"… Chicongo has higher body counts over a holiday weekend. Another reason I believe this's a "Wind Up Toy" is that like immediately after the initial reports of the shooting came out, the FBI was like right there on the scene.

Considering the nearest Field Office is in Boston?
That's some mighty quick work Lou.

Consider this: Within an hour of the news 'breaking' The FBI was out in full force in Lewiston. Now, that means that there had to be FBI Agents on-scene. Mainly because door to door?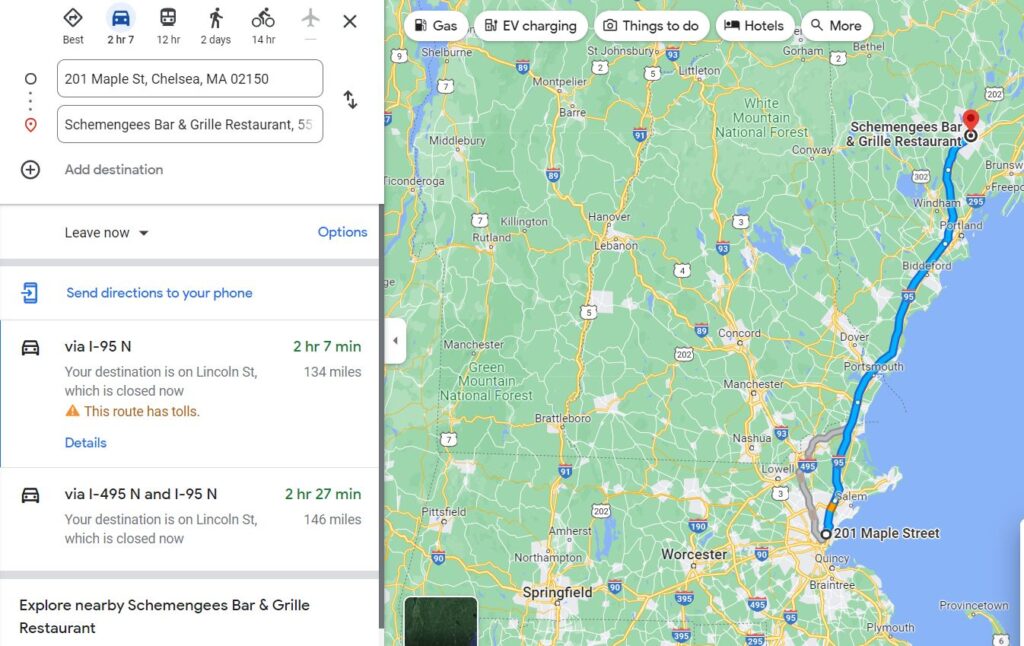 The only Regional FBI Office is located at 201 Maple Street in Chelsea MA of all places… HUH… Chelsea… who would have thought? I would have expected it in the Fed Building at Downtown Crossing… anyways…
Point is:
It's Literally 134 miles one way from the Feeble's home base in New England to Lewiston, 2 hours, 7 minutes according to the Goolag. Unless they jumped in a Helo (which you and I know they didn't do) a Bell 206 has a speed of 125mph, which is a little over an hour as well, but then you have to add on pre-flight/clearance/load up etc etc. I mean they might have spun up a bird from Logan, but I find it highly unlikely.

Add on that now the narrative has also changed

Initially, he rolled into the bowling alley on "kids night" and shot it up, then went over to Schemengees Bar & Grille, and shot it up, after which he went to a WalMart Distribution Center, and shot it up…

'Cept now?

WalMart has 'dropped off the map' so to speak.
According to the Fast Facts on Faux:
Highlight by me.
Yeeeeeah…
ANY and EVERY time the narrative changes, it positively reeks of a Dark Op. So did the Distro Center get shot up? What happened there with that bit? Odd IMO… Not only that, I'm only going to touch on one thing more about this patsy: He was a "Petroleum Supply Specialist" i.e. a Gas Pumper. Loggie. Not A Shooter. Not only that, MY personal experience with "Petroleum Supply Specialists" as a group? NOT the 'brightest bulb(s) in the socket' so to speak… nice guys/gals, but brainwise? The ASVAB score for a Gas Pumper is like OMFG low… lower than a Cook if you can believe it… so this whole "OMG He's a shooting instructor!!!" smells like the rest of the story: Shytte… Pure Shytte.

So, yeah, have to see how it plays out.
Like I said, the major problem with this is that this body count is like a bad weekend in Detriotistan, Chicongo or LA… highly doubt they'll be able to effect much. Sure, they can pass all the Executive Excremental Orders they want, but enforcing them?
HA!
Good Fucking Luck there gang.

So, as I said, a change up from the gloom factor. I was talking w/CederQ on the phone and we were meandering over some old stories when I remembered and related on of the odder experiences I had in Iraq. I put it up on the old blegg that got nuked a ways back, but hey, new readers, new-ish blegg, so what the hell.

I'll open it with this: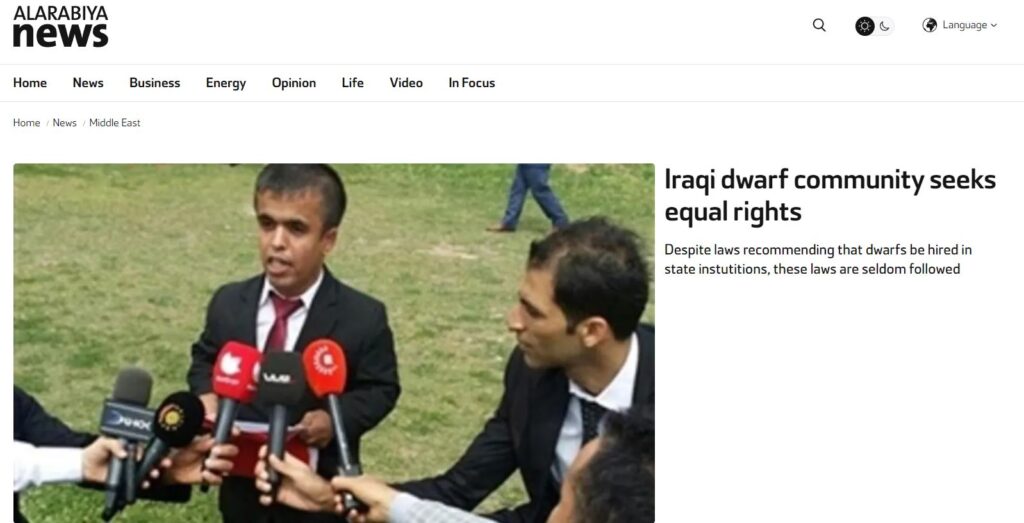 Now, you have to understand, Dwarfism in the Middle East is a lot more common than you'd think. A lot of it due to a lot of inbreeding, which is one of the 'third rails' that the PC Police don't want you touching… has a lot to do with 'keeping the money and tribal power' in the fam as close to home as possible, so there's a LOT of first-cuzzin fun and games. That results in a LOT of genetic defectives, like Downs Kids, genuine retards, mongoliodism, I mean a slew of genetic 'bad shit' of which, dwarfism is part of.

Now, because of the way Islam, as a whole is, any and all genetic defects are considered a 'curse from Allah'. You do not get a 'pass' on shit if you're unfortunate enough to be born with some bad shit. In fact, the article above was back after we had 'reformed' a lot of the politics and the midgets were looking to get out from under the persecution they suffered under.

Because they were ostracized by their families, and generally shat on by all the rest of the Iraqis, they grouped together outside of Fallujah of all places. Formed up their own lil village, and were content to be left the fuck alone. Up until some AIQ (Al Queerda Iraq) asshole blew an IED on a Marine Convoy.

Now, Be Me.
Operations Manager doing an Inspection Tour of Abu Ghraib Prison, post scandal. My job is to make sure that our guys/gals have enough 'stuff' (printer cartridges, new laptops, vehicles being serviced on the reg…) all the stuff a good Ops Manager does to make sure the folks at remote FOBs and even bigger ones like "The G" are taken care of. I'm outside, caging a smoke outside of the Intake Center, which is where OUR people are running the biometrics intake for the DotMil. OUR people did the fingerprints/retina scans and initial intake of incoming Hajis.

Queue a Marine 5 Ton Truck Rolling up.
Back of the 5 Ton is, for lack of a better word, packed with what appear to be kids. The Marine who jumped off the back, apparently their version of an MP? SP? Too many years/too many beers. More Marines show up, and they start playing 'pass the parcel' with the "kids." Literally grabbing one up, and handing them down to the ground, where they then had the hood(s) taken off of them.

You know where this's going

I realized in (pardon the pun) short order that they were ALL fucking midgets! I asked the MP what the fuck was going on, and where'd they find all the dwarfs? He was pretty embarrassed by the entire episode… An IED went off injuring some Marines outside of Fallujah. So the commander of the A.O. told the Marines to "Round up all males between the ages of "X" and "Y" and put 'em on a truck to Abu G to interrogate them!"

Guy was professionally chagrined, but as he said, orders were orders, so they went to Midget-town, and rounded up everyone. Now the thing of it was, we found out later that the IED in question was like a 152mm HE round (artillery) which comes in at like 88 pounds. I highly doubt that the Midgets could move one of those things, never mind rig it, bury it and blow it.

I mean FFS right?

The cool thing was the midgets were taking it all in stride. To them? This was a great big adventure, as they rarely got to leave the Ville (as the other Iraqis treated them like shit) and in the end, they all got paid a bit of USD for their troubles, as well as getting treated pretty damned well as opposed to how they were normally treated.

The Higher-Higher End Of the Chain of Command by the way practically had a full on stroke when word got out about this. Serious questions as to the fitness of the mentality of the Marine who said "I don't care if they're Midgets! Bring 'em in!" as THAT particular shitshow, so close on the heels of the Abu G scandal could have seriously blown the fuck up in everyones faces…

CNN "Today US Troops Terrorize Innocent Iraqi Midgets! Film at 11!" Yeah, them headlines would have been brutal.

In the end it all worked out I guess.
I've always wondered what happened to that Ville though?
Nothing on the Goolag about it. Hope the lil Bastards are OK.
So Hope you Enjoyed!
More Later
Big Country