Greetings Me Droogs N Droogettes!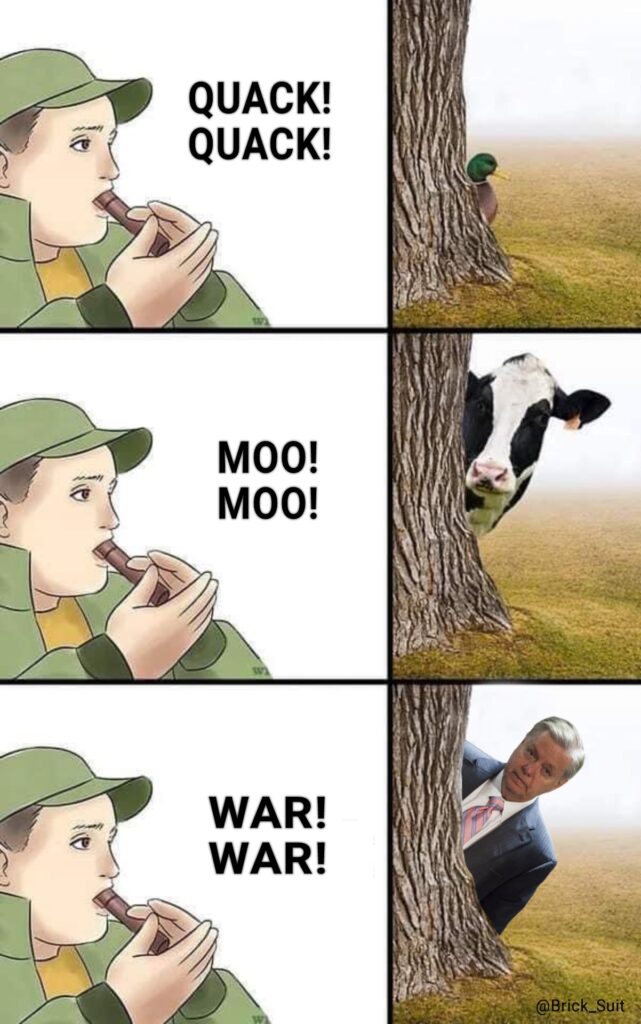 Amazing how many of them fuckers who've never known a day of discomfort in their fucking worthless but eee-leet lives are oh-so-ready to march off to War.

The queer cocksucker Linnnnndsay went off on how this's a "religious war" and that "we need to attack Iran now!!!"

I'm all for that.
Let's snatch his ass up, and fly him to Tehran to 'have at it.'
I might even be willing to hand him a 9mm with one round in it when we throw him off the plane. Worthless fucker.
Shit like that makes me pray that the Iranians really do have sleeper cells in D.C. if only to totally fuck up them fuckers.

I mean it seems like it's always the soft targets that the scumbags hit. Any wonder nothing changes? Mainly 'cos the scumbags who purely need to die never seem to be 'on the list.'

Meh.
Then of course the 'cancel culture' out there is running rampant. Seems that if you 'question the narrative' then you're in favor of Hamas and/or beheading babies.
Circular Logic/Firing Squad level Pretzel Logic there Aye?
And add on that good ole Joe, the Kidsniffer Pursuviant, Prevert Extraordinaire stated yet again, "Hamas DID cut off Babies Heads!" and whaddya know… like 99% of the statements that the Reeeetard (p)Resident said got walked back about 9 nanoseconds after he spoke:
Any wonder people like myself keep 'questioning the narrative'? Add on that it seems that the media company that initially reported this little info-nugget to the world press? Owned by a relative of BeeBee Nutjobyayhoo.

A co-inky-dink I'm sure.

Propaganda has never been so out of control so quickly.
Posited
Refuted
Posited
Refuted
It's almost impossible to know what reality is.
I mean hey, here's a couple of throwbacks from World War One: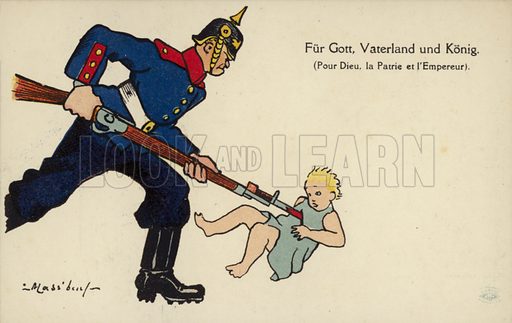 And this: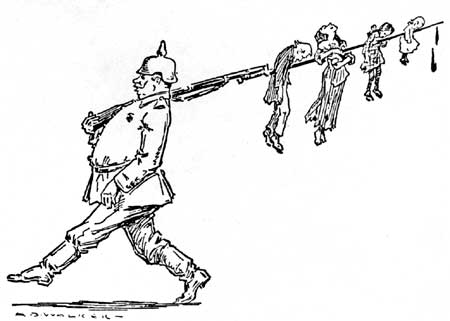 Yep.
Der Commissar/Kaiser is on the prowl again.
'Cept instead of them cool Pickelhalb Helmets, they're wearing Keffiyehs and toting AKs and RPGs. It took like 20 years for that little pile of bullshit to finally get cleared up. Of course that's because news was print only, and moved at the proverbial sloth-pace. Reason I say sloth instead of snail is that sloths are filthy shit covered creatures so the relationship to the media is closer than the usual slime-covered snail IMO.

So, the fuckwits promoting this have ZERO skin in the game, outside of the media clicks. CNN got caught doing the "OMFG WE'RE UNDER HEAVY BOMBARDMENT!!!REEEEEE!!!"

Until they weren't.
Yeah, won't poast it as it -is- Communist News Nutjobs.
However it's funny as fuck to watch the pedestrians stroll by the retards 'cowering in the ditch'

Simplicicius has another good write-up this AM. WRSA linked it HERE

The part I found personally fascinating was the part about Iron Dome being essentially vaporware. A very interesting theory and one that makes sense. It works on so many levels. Hamas, who we already know was created by, and under the control of Mossad and Shin Bet, launches "rockets" at the population, which keeps them in a constant state of fear. Then "all of a sudden" Tah DAH! The Military Industrial Complex gives you
IRON DOME!!!!
It slices, it dices, it makes julienne fries out of Hamas Rockets!

Until it doesn't
See, the problem as Simplicius points out, we now have seen what happens when a real rocket interception happens int he Kraine. Too many vidyas. And from personal experience in Iraq, I too, have seen it and -felt- it. The C-RAM if and when it took out incoming (besides being utterly deafening,) when it DID hit a rocket/mortar round etc, the pieces tended to 'rain down' on us.

I still have some fragments laying around in some boxes in the garage that I collected, to include the porcelain shell fragments… as the C-RAM uses the 20mm HEIT-SD (high-explosive incendiary tracer, self-destruct) ammunition. One of the guys servicing it told me that the rounds were made of a high impact environmentally 'safe' porcelain… not sure but hey, wouldn't doubt it. That and I got pieces/parts that used to fall from the sky after attacks…

The Iron Dome?
Not so much.
And considering just how full of shit The MIC is?
I absolutely wouldn't doubt for a fucking second that it's vaporware. Like the Patriot Missile batteries, the Leopard 2, the Challenger 2, and more than likely (IF we ever let the Krainians use them) the M1A1 Abrams appear to be a lot of "HYPE" rather than "actually, you know, fucking works as advertised!"

Like Flavor Flav levels of Hype.

Yeah
It IS -that bad-.
And then we also get into the whole Gaza being blowed the fuck up thing. Personally, I got no dog in the hunt, but I do enjoy seeing some serious schadenfreude going on with the scumfuck EU assholes and the like, like this nugget: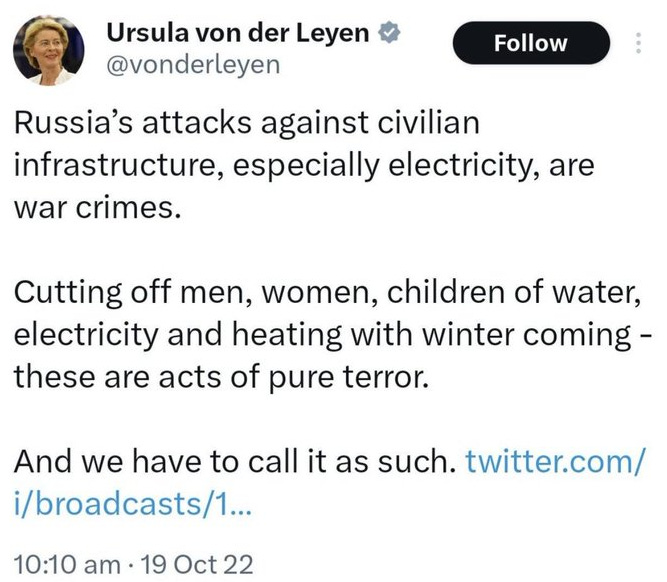 To which I felt the need to 'fix it':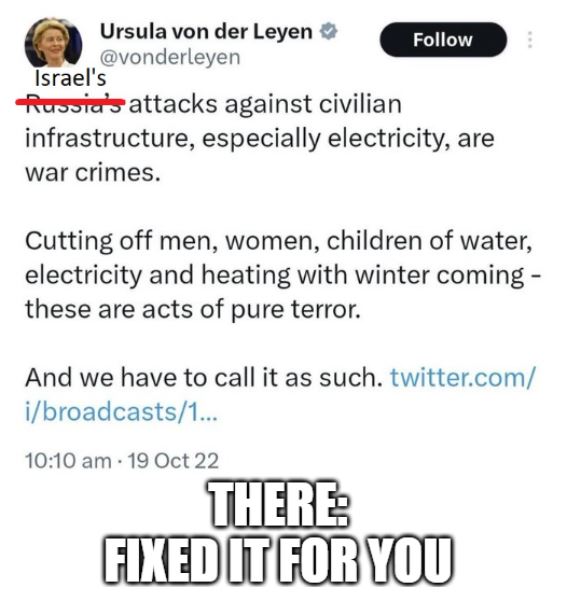 Apparently it's not ¡Genocide! when it's you who's doing it?
The very fact that that Teutonic Twat is going to be hung out to dry for it is sweet. I mean BEING a Kraut and this involving Jews? Talk about "Moments I should resign, and go hide off in the woods to contemplate why I suck so bad at being a human"

Of course it'll never happen
Soulless fucking goblins, one and all.
So Hunker in, Shit's getting Sporky-er.
Big Country