Greetings Me Droogs N Droogettes!
Wasn't going to poast as we're ALL worn out post-Red Head. It's all fun and games until she decides to crawl into bed with you at oh-dark early and sleep in the King Sized bunk with you and the Frau, and then kicks you not once, but twice in the junk whilst having a dream.

Yeah, Ye Olde Nutsack is still throbbing and not in a good way.

Not to blame her, she was having bad dreams.

Which was probably due to the cray-cray that happened late last night. No one died, but I did have to call the Sherriff. They are intimately aware of the address unfortunately, due to MY issues from years gone by, as well as Dumbcunts antics. Every time they show, I get the "Hey! You're the guy with the flamethrower right?"

Le Sigh.

At least it causes them some discomfiture.
They're well aware I have no use for them, nor any other authorities and that my default setting is "BBQ Them All, Let God Sort Them Out" if needs be. They ALSO know I don't call them outside of really needing them as my distain for them is blatant. The -only- time I call them is like last night. I have a Bass pond in the back yard. It's why my property values are high. Corner lot, pond, great view.

Well, last night the local kids decided to show up at 0100, and have a drunken brawl/party/orgy in MY back yard. Turns out it was Homecoming (according to the cops who rousted them). Meh. Party alllllll you want, but not in my back yard… I do NOT want to have to replace the landmines… the Claymores take forever to reprint on the 3D printer…

Jes' Sayin'.

So, besides rousting the local kids, the news is that it seems that "our greatest ally evvar" got their heads handed to them, both metaphorically and in real life. WHY that means we have to do anything outside of offering condolences beats the ever loving fuck out of me. Realistically, and say it with me kids:
NOT OUR CIRCUS.
NOT OUR MONKEYS.
FFS We got ENOUGH of our own bullshit to deal with.

What I will say, is "Great Op guys."
Gotta admire it.
I mean wow.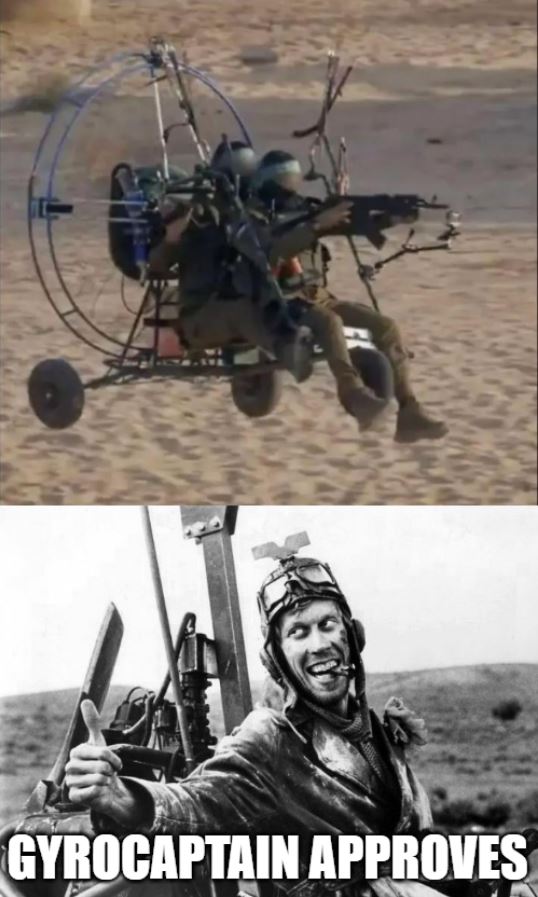 I mean WOW
Whoever came up with THAT particular aspect of the mission was a fucking genius on par with Von Clausewitz. I'm MOST impressed with this…this's possibly THE most heavily patrolled Airspace (likely outside of the District of Criminals, AKA Sodom on the Potomac) it gives one pause as to "How could they stop a 'swarm attack' of paragliders combined with drones?"

Answer: They -can't-.

All pertinent folks, take notes.
Any bets that the FAA -suddenly- starts issuing a whole shitload of new ultralight/paraglider regs in the next two-three months? Nope… ain't betting 'cos I know it's a sure thing. Shit like this has to have "The Detail;" start shitting in their Brooks Brother's trousers… a suit that costs that much, they ain't pants donchaknow? Nah, they make it all about "Muh Safety" and shytte, knowing full well they no longer control airspace after something like this.

Remember, you heard it here first.

Then, well, in keeping with "Hippy Dippy Assholes dying stupidly" I give you Shani Louk:
German Tattoo Chick, ID'd by her leg tats.
Kil't and raped to death by Hamas.
30 Years Old…. Pretty good looking for an almost-walled slam-pig. Seems she was there for the "Peace Rave" near the Gaza when all hell broke loose. Damned shame…
https://youtube.com/clip/UgkxSSgRdCEyTQmTe36qze6LVv0W7yWMXBgd?si=lQMbrUFJluEa29mt

Not sure if that's going to work… but still… From the movie "Heathers" ANYways, yeah, waste of a good looking broad… Guess her "Louk" ran out Aye?

And yeah, I'ma headed to hell for that one.

But seriously, why the fuck should we cxare and why the fuck should we invest one fucking dollar in the current shytteshow? It realistically started when 800+ seriously hardcore Jewish far right fucktards stormed the Al Aqsa Temple Complex on October 5th.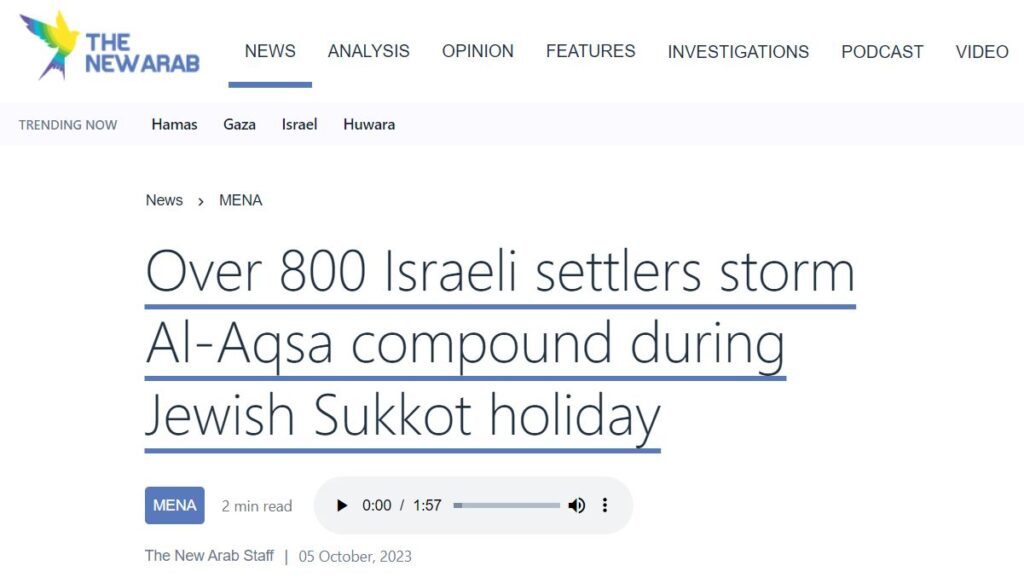 Now, having lived with, worked with a BUNCH of Islamics, and considering a number of Palestinians Friends that I made in Iraq?

Yeeeeeeeeeeeeeeah…

That'd be the equivalent of the Jews going into The Cathedral in the Vatican, of St Peter and desecrating it. So, even though the planning may have been in place for quite a while, I'd call that the potential 'trigger event'.

Meaning Hamas might have been "So… do we do this or not?" and after THIS particular fuck up, they said, "Oh hell yes" and rolled hot and heavy. What -I- want to know is how long BEFORE the Israelis start top realize that THIS might be the end game?

Too many 'moving pieces'…
Too much happening everywhere all at once.
The Jews have two end-of-shit-no-shit plans IF everything goes to hell… Plan Jericho, where they do 'danger close' nuke strikes IF they feel it's needed
OR
The Sampson Option, which is the one that causes all our Politicians to suck Jew taint ALL day long. The Yids have never been subtle about the Sampson Option. Sampson is where they launch ALL their nukes at ALL the world capitals to "smoke the world" so to speak
Meaning if THEY can't have it/own it, no one can.

At this point in my life, I know they don't have a hell of a lot of nukes… I'd almost be good if they went "full Sampson." That they torch DC, FNYC and possibly LA… Moscow (which BTW is 'uparmored' these days like a motherfucker) Chyna? Cool… Thing is

Not a solitary Jew would survive Sampson
I mean there might be individuals, but let me tell you…
Can you imagine the rage and hatred of them after?
They snivvle about the Holohoax…
Pretty sure if they do the "Sampson Dance" we'd be Jew free inside of 3 months, 4 tops.

Just my thoughts
I hope I'm wrong, but the retards in charge?
Well, they are retards amiright?
More Later
Big Country