Greetings Me Droogs N Droogettes!
Monday… shit… Monday again

Yeah, tired, the house is a mess, and I didn't get shit done this weekend. I did manage to see a few vidyas and stories about the Kraine… pretty much despite the near-constant cheerleading, they're now going to start drafting folks up to 70 Years of Age.

So much winning!
Word is they –finally– made it to the Surovkin Line…
Mind you, the first line of the MLR (Main Line of Resistance). It's fo' sho' not looking good for the home team…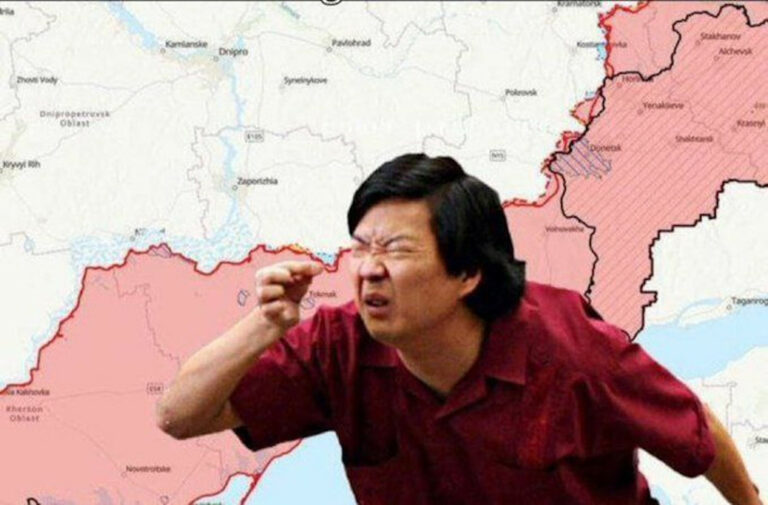 Yep, an oldie but a goodie…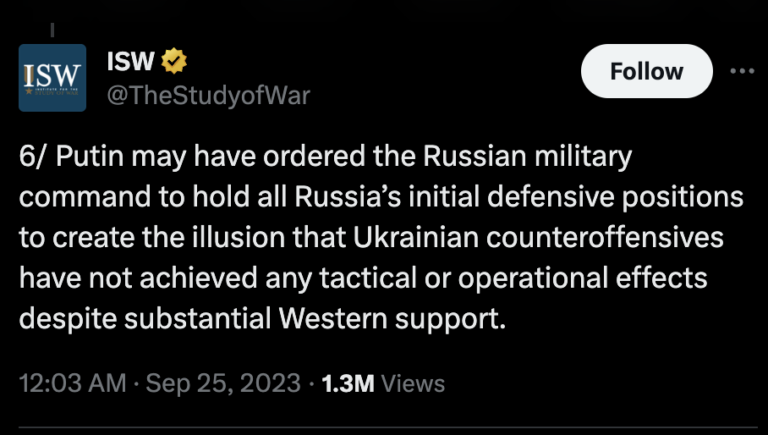 Then, when you get to total incomprehensibility we have that gem above from the "Institute of War" as part of a series of explaining just -how- the Krainian Klown Show under Krainfeld could have been worse… and/or is getting better…

Trying to translate the statement above is like enough to cause a brain bleed in normal folks… Essentially, and distilling it down:

"Putin is telling the Russian military to win, to give the
false impression that the Russian military is winning,
despite all of the money and weapons the West sent to
Kraine."
Again:
Yeah
That'll work, no worries.
Everything I read, everything I see personally tells me not only are we in for a Train Smash Wreck of epic proportion, we are, for the most part going to be utterly incapable of recovering from it quickly.

SOME Areas might do well, but man, the fact is, our education system is shot… our political system is shot… we are, by MY measure, ONE serious catastrophe away from being utterly fucked.

I'm GenX

The -majority- of my G-G-G-G-Generation has been in 'stand-by mode' for like our entire adulthood. If you weren't "hardwired into the system" via money, Elite Connections (Haaavard and the like, Skull and Bones anyone?) or family connections, you had to make it on your own. The majority of jobs I was, (stress the word was) qualified for usually had a Boomer or Late-Boomer in the managerial position, (that I was -more- than qualified for) and had ZERO interest in retiring, or mentoring -anyone- who could be a 'potential threat' to them.

Go on Reddit, cesspool as it is, and find story after story of folks talking about older generations who tenaciously cling to their positions, and/or intentionally sabotage an up and comer. I mean fuck, one of the greatest and most obvious cases out there is the Untied Staaz Senate and CONgress…

The few 'new blood' folks out there?
Occasional Cortex? Miss Motorboat Titties herself?
Hand picked because she's a fucking moron.
No threat at all to the Status Quo.
In fact, not only is she a threat to the "Establishment", she's programable like a blow-up fuck-doll. Give her the 'latest thing' and she spews out whatever mentally retarded shit they want broadcasted.

The you have one of my own personal Bane…
"The Zioclops", Dan Crenshaw….
You'd think a Navy SEAL would have some integrity.

Guess fucking not.

And another personal 'bee in my bonnet'… my former classmate and bully, Maura Fucking Healy who I purely know is going to be going "national" IF we survive to the next major political race… IF and only IF we manage to make it to 2028, just fucking watch… You can say you heard it here first… she's The Governer of Mass, a Haaaaavard Graduate and full blown anti-male BullDyke. She used to (along with the majority of my former classmates) bully the fuck out of me… (yeah, I was the class nerd) She's currently running Massachusetts into the ground, and I know that somewhere, somehow, someone has her bruited as "Presidential Material"

I mean she has ALL the 'boxes' either checked or licked as it is…

So yeah, We're done here…

Besides the fact that now that the Boomers ARE all 'clocking out', and GenX, well… we for the most part, there weren't that many of us to begin with… Once read somewhere GenX is the smallest of all the demographics out there 'cos between "the pill" and abortion coming out, our numbers t'weren't that large to begin with.

That and as far as I can tell, we were the last really educated generation. EVERYTHING went to hell in a handbasket… and a LOT of it was GenX's fault as WE became the teachers/educators… it's OUR fault for

A) being lazy (why put anything into a dead end job?)
B) being indifferent (a hallmark of GenX) and
C) being told "this is the way it's going to be" by 'higher-higher' and of course, just following orders…

Ans as far as "A)" is concerned, let me tell you, from first hand experience. I was on the "Art Teacher Track" in college post-Gulf One… and DeadDad and MomUnit wanted me to be doing the whole 'becoming a Special Ed teacher'… The place I did my student teaching, well according to the Higher-Higher there, they loved me as did the students. However:

The offer on the table was less than what a PV2 made in basic training (1992). Like 11k. On a One Year, Non-Renewable Contract INDEFINATELY.

Like nigga please.

You want me, to work up to 12 hour days, and have to deal with Special Needs/Ed kids? (God bless them, I had like 9 Downs Syndrome Students… they were AWESOME but tiring as fuck) For essentially $250 a fucking week and have ZERO prospects at tenure?

The only reason motherfuckers become teachers is tenure.

So, I said "fuck that noise" and joined BACK into the Green Machine.

And now that the folks who, I dunno, actually know and can do Math and Equations without a computer or calculator are retiring by the boatload, leaving the Apathetic Don't Give a Fuck GenXers to –try– and deal with the shitshow, as well as the Millennials, some of whom are worth a shit, but the majority of whom are even in worse positions educationally speaking, to try and keep the fucking wheels on this out-of-control festering shytteshow. We have no engineers… Nor ANY in the pipeline. STEM is DEAD due to current day politics…
Recovery?

Nuh Uh.

Ain't fucking happening.
Much like the battery in a Negros smoke alarm, and to quote a guy from a shooting a few ago "That nigga dead yo!"
Just like our society.
It just hasn't had the good grace to fall over yet

So grab the popcorn, this's going to get really interesting shortly.
More Later
Big Country