Greetings Me Droogs N Droogettes!
OK… so, first off, got the winner of the Raffle. I reached out via email to the winner to see if he wants to be 'disclosed' or not. If so, I'll publically name and shame him.

That being said, on a lark, and as I am wont to do, I was surfing eBay, again looking at the various MRE/Field Rations of countries out there. Pretty cool stuff, and no, I can't afford 98% of them. I mean c'mon man!

They're MREs for Jeebus sakes!

90% of them (like the Krainian ones, pre-war) were 'skimmed off the top' by scumbag profiteers, and sold online for massive profit. No shit, the last one I substacked I paid ?$25 including shipping? Now they're going for $44 plus $33 for shipping…

Any bets that somewhere there's a grunt going hungry 'cos his orificer sold the rations online? Wouldn't doubt it for a second.

The same goes for the Russian National Guard Ration I had… bought a case of them for $100 with free shipping (x5 rations in a case). Again, any bets that somewhere there's a grunt going hungry 'cos his orificer sold the rations online?

I have to say, at least for now the US DotMil doesn't suffer from that particular problem. My guess is that because we ARE essentially the 'cornucopia of plenty' and Uncle Sugar hasn't actually suffered from any significant shortages in the past, oh say forever and a day, then the rations keep going out the door, the Grunts get fed, and the orificers don't necessarily have to worry about being fragged for allowing the Supply Pukes to sell off the new rats.

That being said, some of the prices on the eBay are fucking insane. $85 for a French 24 Hour Ration… $63 for a Kazakhstani ration, made with real Horse Meat! and no, that ain't a joke… check it:
I'd love to try it, but at that price?
I got bills man.

Now, that being said, I got this today in the mail:
That right there folks is one of the original MREs from waaaaaaaaay back post-trial. Meaning that was one of the first actual fielded rations. The dude wanted $14 to ship it, but we dickered, and I got it for $10 all together.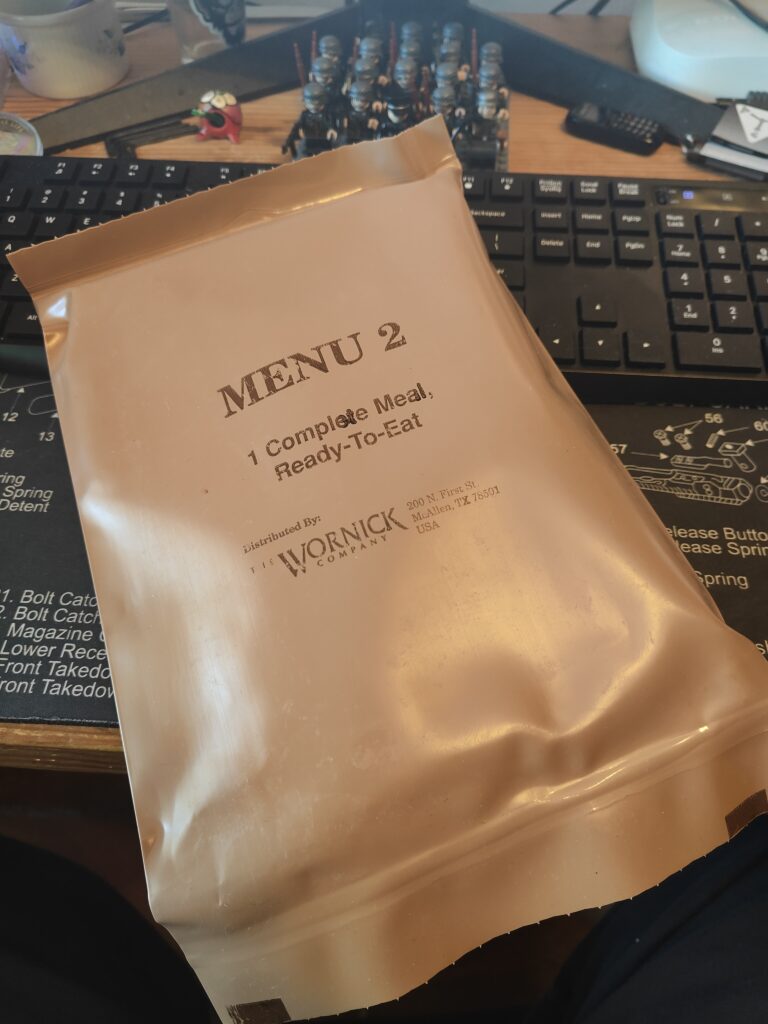 I am very pleased with it, and maaaan the taste-test is going to be epic. So I opened it up, and it had this: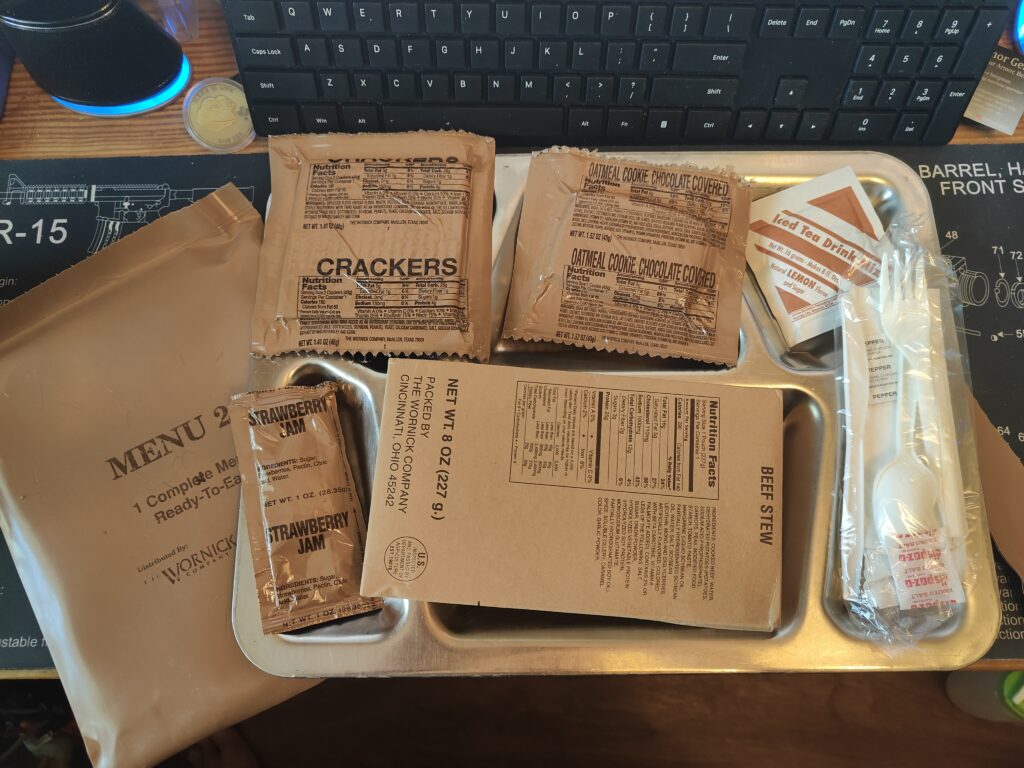 A wee bit on the -sparse- side of things.
Beef Stew, a classic… Crackers AND Strawberry Jam!
The jam was/is rare even by todays standards.
The cookie is a Oatmeal, Chocolate Covered, which I remember as being pretty damned good. We'll have to see, as when I checked the Julian date: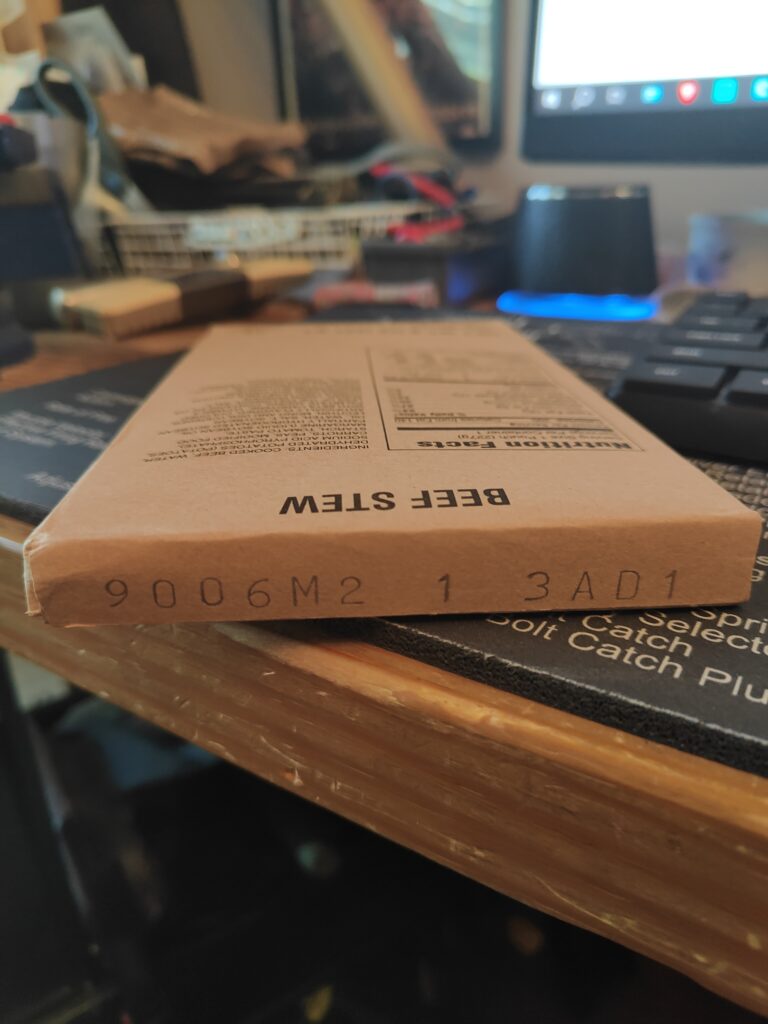 9006 turns out to be January 6th, 1990
That's 33 years, 8 months, and 2 days.
Dayyyyyyyyyyyyum Son!
That beef stew is old enough to have kids in College.

Gretchen is not amused BTW. She knows I dig doing the whole 'taste testage' and various stuff with the rations, but she gets alllll sorts of cranky when I heat up and/or open up some of them. Mainly 'cos as any of you know who've ever served, some of the smells of MREs can be a mite "pungent" to say the least. Makes the house reek until I get my Febreeze on… there's also that issue where she ate the Lithuanian Hazelnuts that came in a Lithuanian MRE, and it turns out they were positively soaked in pesticides, which led to a ER Visit and various awful side effects… I still feel shitty about that.
Fuck Lithuania… I hope Putin nukes them fuckers.

Myself? I'm curious what 33 year old beef stew tastes like, never mind smells like. I'm fully expecting it to smell like a 4 week old drowned corpse fished out of a pond. I am positive that the Oatmeal Cookie is going to be a good throwback… I LOVED the 'regular oatmeal cookie' without the chocolate cover back in the stuff I ate in 91-92… some of those guys used to joke that you could pound nails with them as they were hard as a rock in the wrapper. The jam is a -bit- sus as it IS 33 years old… still sealed buuuuuuuuut… And also the Iced Tea packet is hard as a bridegrooms dick… probably good, but man, it's like a solid piece of cardboard.
Jes' Sayin'

But yeah, so far, outside of what I call 'normal corrosive corruption' i.e. contract awards and whatnot, the "Regular Joes/Joettes" of the US DotMil don't suffer from the normal day-to-day shit that the second and turd word militaries do.

OUR orifier's corruption is aimed primarily for the "Post Service Career". They don't necessarily go for the "Instant Gratification" that most turd world and even second world countries do. Meaning they don't sell, nor allow the selling of the rations to outside forces, nor deprive the troops of their basic needs.

Vietnam taught them that US Troops, when push comes to shove got no problem throwing a fragmentation grenade into a tent or three if the orifier(s) in question is a douchecanoe or selling the beer ration.
I mean my first overseas contract was with CACI…
We used to tell people when asked that it stood for "Captains and Colonels Incorporated"

Fact of the matter is, BECAUSE the US started out being the 'rejects' of the 'civilized world' (a fact that the majority of the world seems to have forgotten IMO) that we as a whole, when backed against the wall so to speak….

Well, let's just say that shit don't end well for the folks who done really pissed us off. And no, I do not include any of the wars and shit since WW2. Korea, 'Nam, ALL the conflicts since 1945 have been -strictly- done to subsidize and promote the Military Industrial Complex that Eisenhower warned us about.

Realisically, taking all the jingoism, bullshit, profiteering and just flat-the-fuck out bullshit of the last what? 80 +/- minus years? 'Murica has not faced an existential threat. Hell, some folks might even say that WW2 we didn't either, but that's for others to argue. I know only of what I know from stories from my Grandad (MomUnit's Da) and other folks from the Silent Generation…

Now? Oh my freaking gawd… not an external enemy, as much as an "internal enema." Bunch of scumfuck boomers who utterly refuse to relinquish power, like the Gin Hag Pelosi, who announced that she's running for re-election again.

Guess she wants to stay in Washington to avoid the whole "Gay husband with lovers hammer-quarrels" in the future amiright?

Seriously… Pelousi, Schitthead, Yertle-the-Turtle, Pantshitting Joe of Scrotum? How much longer do we need to see these blatantly obvious and oblivious corruptocratic Oligarchs still running the fucking show?

Voting ain't gonna work, that's for damned sure.

What? 6 States just put out legislation to keep OrangeManBad off the ballot? That's enough to kill the (s)election in favor of the Retard Fuckface, the Pretender to the Glorious and Harmonious P&PBUH (Plus 10%) Orifice of The (p)Resident, The Dementor-in-Chief, Emperor Poopypants the First, Chief Executive of the Kidsmeller Pursuivant, Good Ole Slo Xi-Den.

THAT right there should scare the fuck out of any legit person who -thought- there might be a chance at flushing the turds out. Apparently, it ain't going to happen, not in 2024.
So Grab the Popcorn.
It's going to get reeeeally interesting
More Later
Big Country