Greetings Me Droogs N Droogettes!
Yep. Deader than Kelsey's Nuts man. Hate to say it, but in the current day iteration, the Infantry as it is is no longer a viable battlefield element the way it used to be.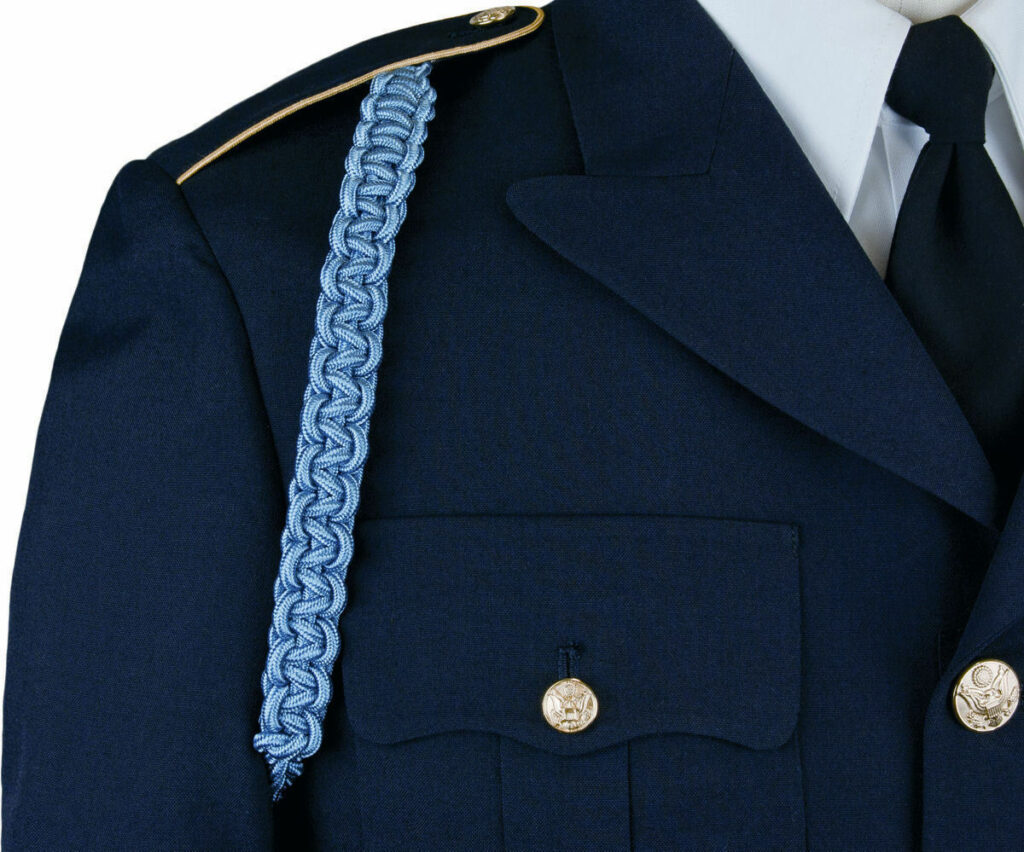 Doughboys
Dogfaces
Grunts
A proud heritage that dates back to when Grugg organized a group of guys with clubs, and used them to take over another groups cave and hold that ground. I'm a proud Member of that Brotherhood.

In its current form, it just is no longer a viable force as it is. If anything, the Krainian Klown show is a prime example of the need for the Infantry to evolve. It's going to have to go more technical/mechanical if you will, as right now? The current day protective gear just isn't enough to keep up with the advancements of the ISR.

We've all been watching the videos.
In fact, I got a sinking feeling during the Armenia–Azerbaijan border crisis back in 202/21. That was one of the first time we saw, in real time, drones having a direct net effect against scores of Infantry in the open so to speak. When I saw my first video in shitty 480p of a platoon of Armenian Infantry walking down what was supposed to be a 'safe road' and getting first spotted by the drone, then lased by the drone, and then getting utterly obliterated by the Artillery that was called in by the drone.
Now, even in the short jump in tech, we've seen drones completely come to dominate the ISR (intelligence/surveillance/reconnaissance) field of battle… hell, not only are the drones performing recon/seeking and peeking but also as offensive weapons? Despite the naysayers of hobbyist Drone Folks, let me tell you, just because it looks like and/or your in your civilian experience that a drone can NOT carry a load large enough to be offensive?

Man, there's a metric fucktonnage of wrecked rooskie and krainian vehicles out there that'd like to have a word with you.

I mean I even tried to do an explanation of that video showing them strapping the RPG 'cone of destruction' to the sports drone, and still I got people telling me that "…There's no way it could carry that in that configuration/with that battery/in my experience." Let me ask you:
That the section in question, when primed correctly, weighs in at less than a pound. And that when it hits a target it is capable of punching through up to 30 inches of rolled homogenous steel.

So yeah.
Drones are cool, but totally suck to a grunt. The videos of drones dropping small fragmentation weapons? Mostly (from the look of it) 50mm in size. The Russians (and Krainians) have a weird sizing in their mortars, unlike the rest of the world who uses 60mm and 81mm, they use 50 and 82mm. In fact they show them dropping them on guys… at night, during the day… in bunkers, walking… you name it… Both sides, AFU and Rus…

There's one cool-but-fucked-up video of a Tank, not sure on who's side (T-64 so maybe Krainian) with it's turret main hatch (TC Hatch specifically) open, and the drone drops what appears to be a 50mm Mortar round with "nothin' but net" through the open turret, whereupon it detonated inside and kil't the crew… NO one got out of that BTW… the tank, because of the way the autoloader works, the tank 'brewed up' like a motherfucker about 20 seconds after the hit and the flames almost took out the drone.

Another fucked up vidya (IMO) was of a Russian Soldier on the shitter, under a camo-net and poncho who got smoked taking a dump…(not cool man, let a brother at least finish his shit Aye?) So far, drones have had to stick to smaller ordinance, unless it's a specific-built drone like the Lancet and such… 82mm still have to be dropped conventionally….

In fact, an 82mm mortar round is what took out my house in September of 2004. Waitaminute… Holy SHIT!!! I went to look for and found the pic of my house being blown away… found it too: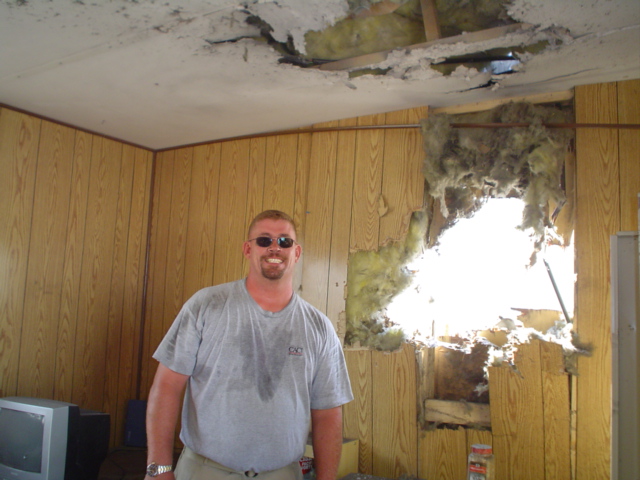 That's the Grin of a Lucky far Thinner Motherfucker…

MomUnit said I -always- get out by the skin of my ass…
Cue the Indiana Jones Theme Song….

The round came in, blew through the wall of the trailer, and detonated. I'm standing on the edge of a HUGE hole in the floor and you can see the wall and roof… 82mm sucks man. But the Holy Shit factor was I wanted to check exactly what day it was, as I knew it was September so I checked the pic properties:
Sweet Jesus!
19 Years ago to THE DAY
Reason this's a BIG DEAL to me was I went in to work 15 minutes early that particular day… I was pissed off at the Office Supervisor who was NOT my boss but thought he was and was always bitching that I was exactly on time, and never early.
Hey, I was a contractor… If I'm not getting paid, I ain't working, Iraq or No fucking Iraq…

Damn.

I got the call when I was driving around 'cos they were sifting through the rest of the wreckage… you can't see it in the pics but there were two 2.5 gallon jugs of ketchup in the room that got blow'd the fuck up, and spattered ALLLLL over the opposite wall to where I'm standing… VERY gruesome and I didn't get a pic 'cos, well… I wasn't 'all there' mentally at the time so they (all my co-workers/neighbors and the rescue QRF team) thought I had been set to "juicy mode"…
When the round hit, I would have been standing exactly in front of that wall locker getting ready IF I had been on schedule. That's some seriously big pieces of shrapnel that done punched thru that door… at some point I'll explain the whole story -why- I had 5 gallons of Ketchup in the crib…. long story short? I used to make the best home-made BBQ sauce…

Anyways.
Back to the point… sorry about that, got a bit weirded by the fact that it's the 2nd B-Day so to speak… Anyways, unless there's a serious dynamic shift to some 'new tech' a'la Heinlein's "Starship Troopers" i.e. Mobile Armor Suits that can protect a user up to and including 'pee-wee nukes', then Modern Infantry doesn't stand a chance on the modern battlespace.

In battle, the job of the Infantry is to take and hold space in conjunction with the other Combined Arms elements. Artillery does the 'pre game softening up' and Tanks, for the most part, do the performative part of the "Blitzkrieg" so to speak, and 'break the lines' which then allows the Infantry to follow through and take and hold (theoretically) the terrain that the tanks just opened up. Because of the 'new evolution' in unmanned indirect and direct fire capabilities, the Modern Day Infantryman, much like in the Days of Passchendaele and the Somme, is seriously unable to protect themselves.

Let's face it, a Level IV plate or Helmet ain't worth fuck-all if you step on a mine, or if a 'ka-boomy-boom' (big OR small) gets dropped on you from above. ESPECIALLY since it appears that the Arty these days has gone from "To Whom it May Concern" to "An Offer Specifically Made For YOU!"

Like that vidya a Posted a ways back of that "small drone swarm attack" on a platoon of Krainians BTW has been confirmed… 4 guys smoked by individual drones that targeted them specifically and blew up with less than a quart pound of RDX with ball bearings in the drone… a flying "Death Claymore" of sorts…

<Shudder>
Makes me happy AF not to be a grunt anymore.

Soooo many videos out there. Not even going to try and touch on one in particular. Fact is, 90% of dead, on both sides in all the videos I've seen, of the grunts, they were taken out via indirect fire. Dead stacked in windrows… Mines have also played hell, especially on the Krainian side which has been doing what's called "Meat Assaults" on hardened pre-registered defensive lines that have the ever living fuck mined out of them. Despite what -some- have said about the "Glorious Counter Offensive"… well… it ain't doing so hot….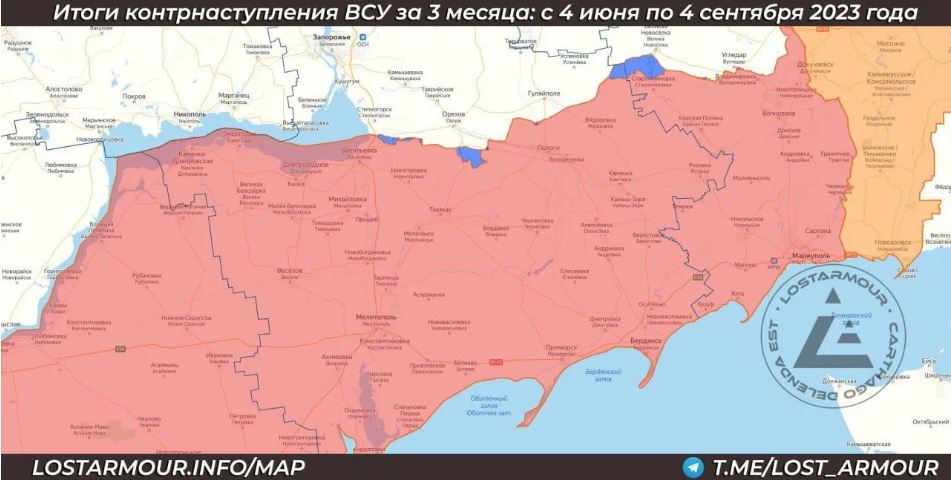 The itty-bitty Deep Blue sections at the top are the 'AFU Breakthroughs'. Now, Granted the sourcing is a VERY pro-Russian site, but my thought process is this:

If the Krainians were doing extraordinarily well as all the Cheerleaders said that they would, well then where's all the pictures of the vast breakthroughs? Pics of piles of Russian Dead and/or POWs? Pics of the maps of the serious advances? Where's the pictures of the victorious Krainians standing on top of the 'dragon's teeth'? Sort of like this from the Siegfried Line in Germany back in WW2?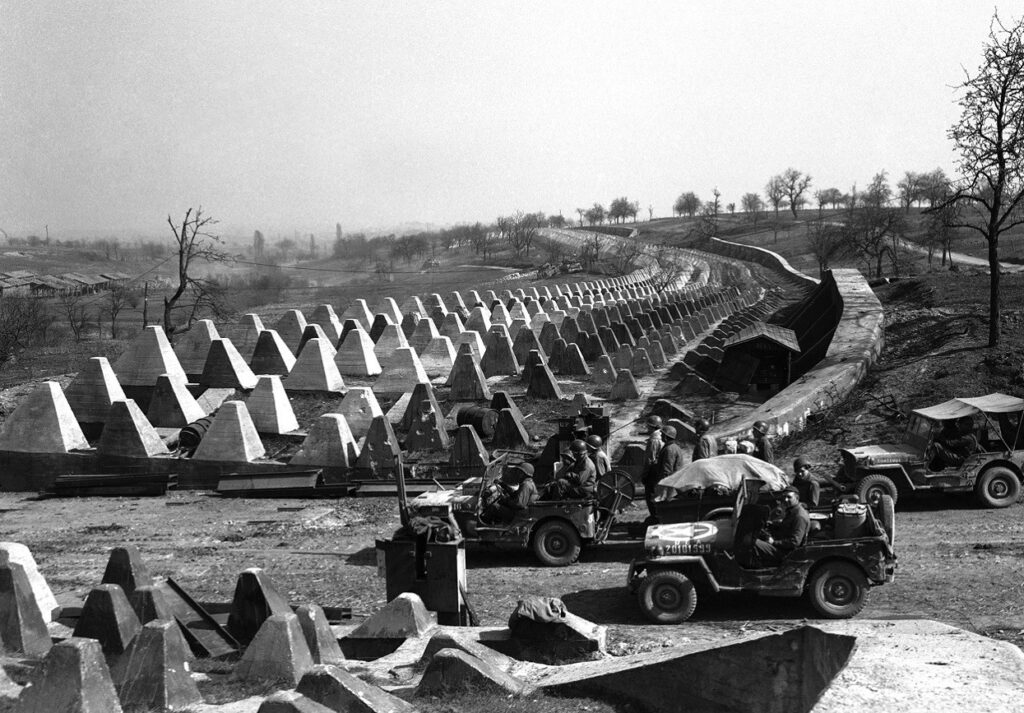 'Cos there ain't none.
THIS is ONE OF the Russian MLR (Main Line of Resistance) the "Surovikin Line" under construction last winter: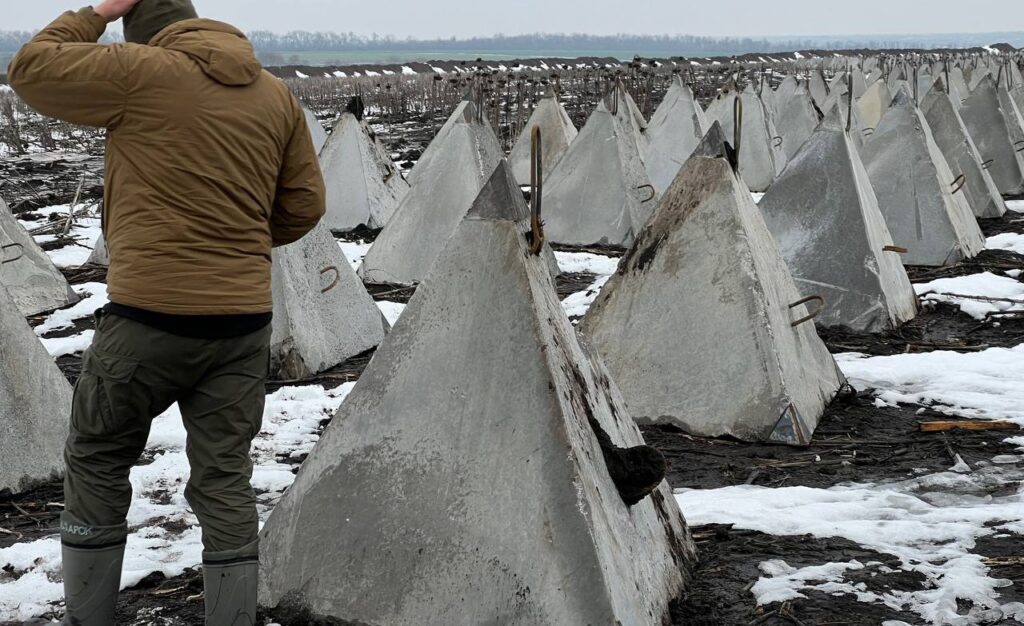 From my looking at this, there 3 rows of teeth, and then what looks like a positively HUGE amount of pickets and barbed wire/concertina, and then in the distance another line (or three) of MORE dragon's teeth. The satellite pics show this motherfucker extends hundreds of miles in each direction. The Russians actually had civilian construction companies augment the building of this as they didn't have enough Army Engineers available.

Any bets that in between rows its pure-dee mined like a motherfucker?

And this is just one of three rows like this according to OUR OWN satellite data? As in this's Defensive Line ONE, followed a few kliks back by a duplicate that's Defensive Line TWO, followed lastly by Defensive Line THREE.

Yeah, they ain't breaking through shytte IMO.
In fact, Here's The Krainian OSINT Map of their "GAINZZZZZ!"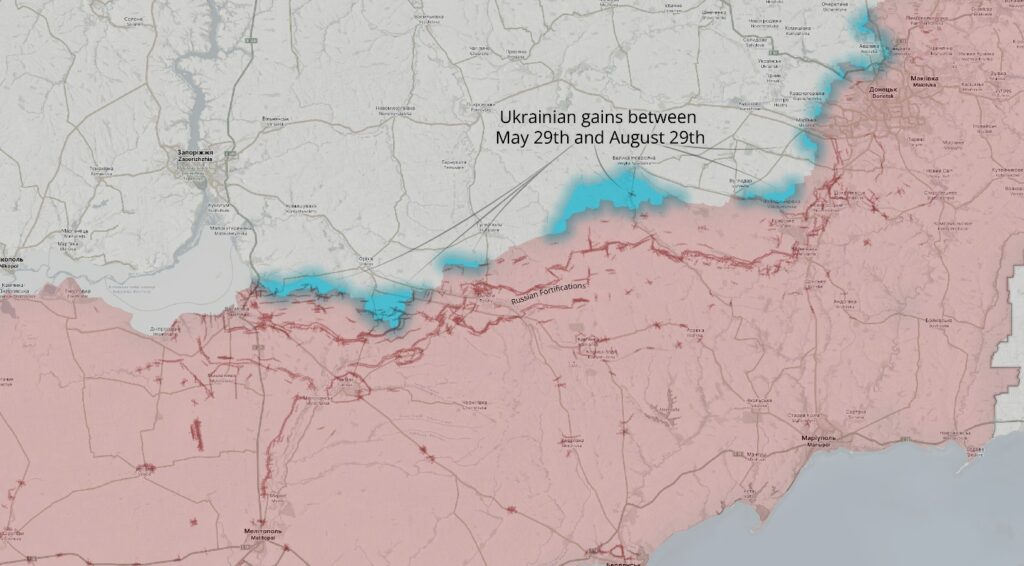 Yeah… not mucho better Aye?

And no, I'm not 'gargling Putins junk' here as some commentators have stated. This is a basic for-real fact. Sat-Data don't lie. I don't consider the ONE picture of a Krainian Flag on the blown out ruin of a house in a town that had only 40 houses to begin with a "Major Blow to the Invader"… Especially since then? The Ivans took it back. We're also NOW seeing it in the various Ministries of Propaganda and Lies that, well, it ain't going so well… Case in Point? Watch this from the BBC, the BIGGEST cheerleaders normally…
That's a lot of fresh graves……………
Sad about the chick…….
She's cute
What a waste……

No amount of hating Russia is going to change the very basic facts that the Russians, backwards or not, have a 5 to 1 population advantage (military aged males) available. The whole "Russians fled by the millions" to the EU doesn't play. My embassy friend(s) (Jarhead Guards) said the BIGGEST problem right now are Krainians positively flooding the US Embassies in Deutschland trying like fuck to get here to the States as Germany, according to their newspaper Das Bilt, the German government is going to allow the extradition of Krainian College students and any walking talking Krainian motherfucker who can carry a rifle but 'got gone' when shit got real to fill the now-utterly-depleted ranks.

The very fact that they've openly said that they're now inducting the lazy, lame and mentally ill? Oh yeah… they'll be taking the Crimea back any day now.

And the Brits Wunderwaffen?
Them "Big Game Changer" Challenger 2s?
From Vox Day:

That was written by Colonel Hamish de Bretton-Gordon, a former Commanding Officer of the 1st Royal Tank Regiment.

Someone better drug test the Colonel…
That's a blown out and burning Challenger 2. And the video was shot by a Krainian driving by while trying to get a buddy to the medics…that's a still of it.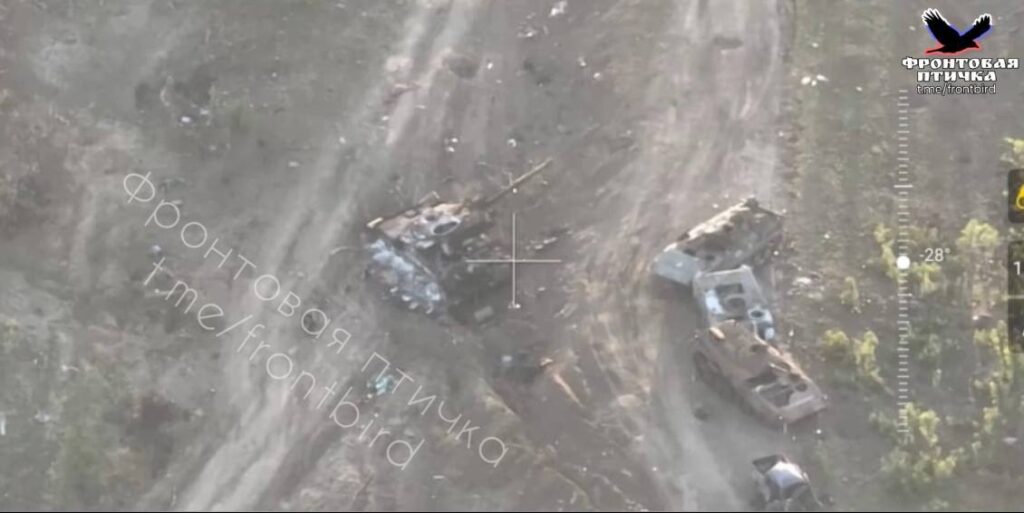 Ivan then confirmed the kill (along with a bunch of 'other' vehicles via drone…
Somehow I don't think anyone got out of that one…
Because up til now, the Brits hitting their collective Hopium Bong, thought that their 'Superior British Armor and Industry' was going to carry the day. To them, the failure of the Leopard 2 was because of "inferior German engineering ay wot?"

This from a country who, while making some really pretty cars over the past few years, generally, mechanically speaking, they're fucking turds. Historically they make an OK tank… the Churchill being one. Otherwise, they relied on the M-4 Sherman and the M-3 Lee, but calling it the Grant for whatever reason. BOTH American made and designed.

Guess they're going to have to start switching to smoking "Copium" in the bong now that the Hopium ain't working.

Even on casualties, the numbers, be it 70000 KIA as the US Claims or 400000 KIA as others claim, what utterly kills me is that the supposition that the original 500000 man army that the Krain started with still exists AT ALL. Far too many people have said "Well they have/had half a million people in the AFU to start with!!! There's no way they had 400000 KIA!!!" "Only 70k KIA means they still have 330k to fight! (not including the 50k amputees that we know about mind you)"

Really?

For the past 1 year, 6 months, 14 days the war has been poppin'.
How many times have we heard about the Krainians raising ANOTHER Army?

Last I heard, THIS build up was Number Three.

If this's their THIRD army, then what the fuck happened to the other two!?! Suffice it to say, from all legitimate sourcing, they were fucking decimated in reverse.

Decimation is defined as "One out of Ten Killed"

Considering a HUGE number of interviews with both AFU Prisoners as well as front-line veterans who got seriously fucked up (missing limbs/blind) and came back have all reported that it's almost Nine out of Ten that were, have been, and are still being killed in action at the front.
Did the Russians take massive casualties themselves?
Yep
Especially in Bahkmut. 30k+ Russians I heard.

HOWEVER the majority of them were Wagner. Prisoners and such… not a big net loss on the books so to speak for the Russians. Word is after Bahkmut, the amount of "Professional Soldiers" KIA'd was around 5k+/-. That includes almost the entire Brigade of Spec-Ops Airborne guys who were supposed to take the Airport, but got seriously fucked up by the Rear Echelon Krainians who were there. Can NOT deny that the Krainians can and have fought like demented Berserker Motherfuckers…

Since then? Not sure, but I'm damned sure that they, the Russians haven't lost anywhere near as many as the Krainians have. In fact the whole "fighting like ever-lovin' bastards" is part of their (the Krains) problem… too willing to 'charge into the teeth' of the machine guns early on….

So, as I was saying, because of the Krainian lack of Close Air Support (critical for Combine Arms Combat) a serious lack of Air Support (I think they have like 12 Migs left at last count), a lack of Artillery (no more shells) an absolute metric fuckton of landmines with them NOT having any -significant- mine clearing capability any more, and the ISR/Indirect/Direct Fire Capabilities of the drones, all combine to essentially eliminate any real and decent threat they have to the Russians. They're running out of bodies point period fucking dot.

Especially since the Russians have all the time in the world. The longer this stretches, the worse it's going to be for them. Whether you want to believe it or not, sure, Ivan is using T-55s…but HOW they're using them?
Let us not forget THAT particular surprise

I -still- laugh every. time. I. see. it.
I mean honestly, the Krainians sort of did it to themselves, hitting it somewhat prematurely and detonating it with that RPG… didn't matter though, that overpressure wave kil't EVERYONE in the blast cone I'm sure. A Made-In-1955 Tank, given a new engine, and utterly packed to the gills with EXTREMELY High Explosives (judging from that Boom, Erf Shattering, Type One Each, HUGE) and given a basic remote control and/or "lock the gears and jump out" gives the whole "…Go that way, very fast, if something gets in your way, explode violently." a new meaning of 'doing moar with less.'

And the Russians have how many? that 'can be renovated to be used as mobile Tank-Bombs'? Again, Go to "Abandoned Spaces" and check that out HERE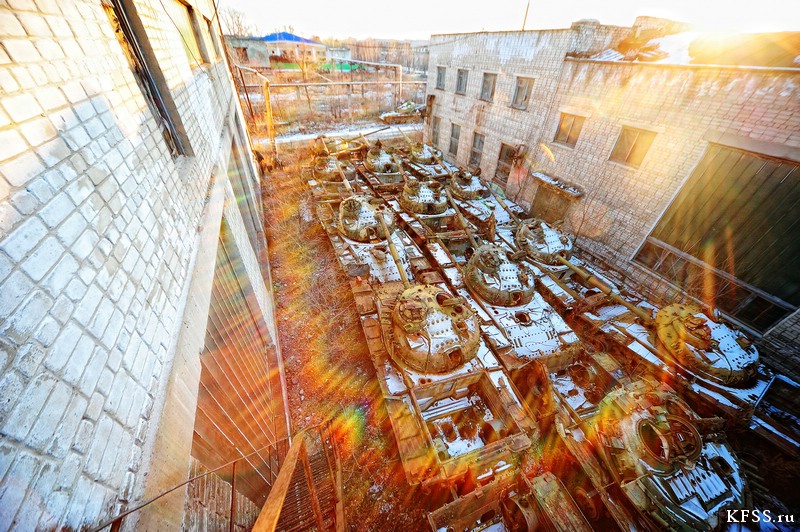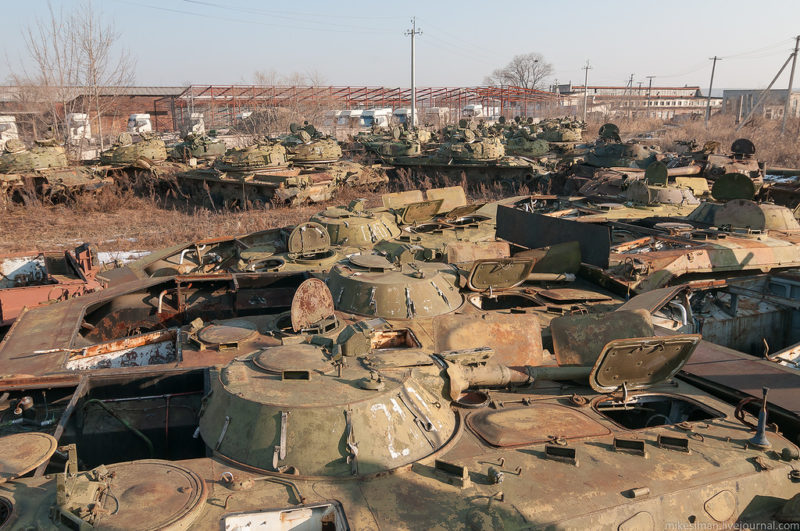 And for all the naysayers out there who'll try and use the "…but they're rusted out scrap!!!"…

Let me ask you this: Which is easier? Having to build, from scratch, a tank hull/turret, as in completely fabricate the metal from blanks and/or pour the liquid steel? Build the engines from scratch or rebuild them from the pile of pulled power packs? (pics in the link)

OR

Go out to a place like this (of which according to some sources there's about 35 similar 'caches' all over Russia) and pick and choose the least rusty, least damaged, can-be-sanded-repainted and rebuilt in a quarter of the time than building a new tank from scratch?

I can tell you:
According to stats, Refurbishing a T-72 completely takes 800 man-hours or about 45 days. COMPLETELY
Building a new one? Not sure… no real info.

However, Refurbishing a M1 Abrams? It takes 18 to 24 months IF all goes well. That's from stripping it down to its base components, and redoing the whole thing. They have NOT made a NEW-NEW M1 Chassis since January of 1985 when the last one came down the assembly line in Ohio.

And some of them?
Wellllllll… let's just say they can't rebuild/refurb some of them.

I know of what I speak… it's probably how I got the lung cancer:
Those are soooo radiologically fucked up from the Chobham being broken open/burned open… In fact the reason I took these pictures is because when I asked the DotMil about the danger of the possibility of radiation, I got blown off, and then I found some bullshit paperwork stating that the tanks had been and I quote "…Triple Wrapped in protective plastic to minimize the possibility of radiologic contamination from exposure to the elements."

My speckled ass.
They look wrapped to you?
Meh
Anyways
I've ranted enough for now. needless to say, unless there's an absolute paradigm shift in personal armoring, i.e. Mobile Mecha/Gundam/Mobile Infantry 'Marauder Suits' then the Infantry is going to be damned near finished in it's traditional role.
More Later
Big Country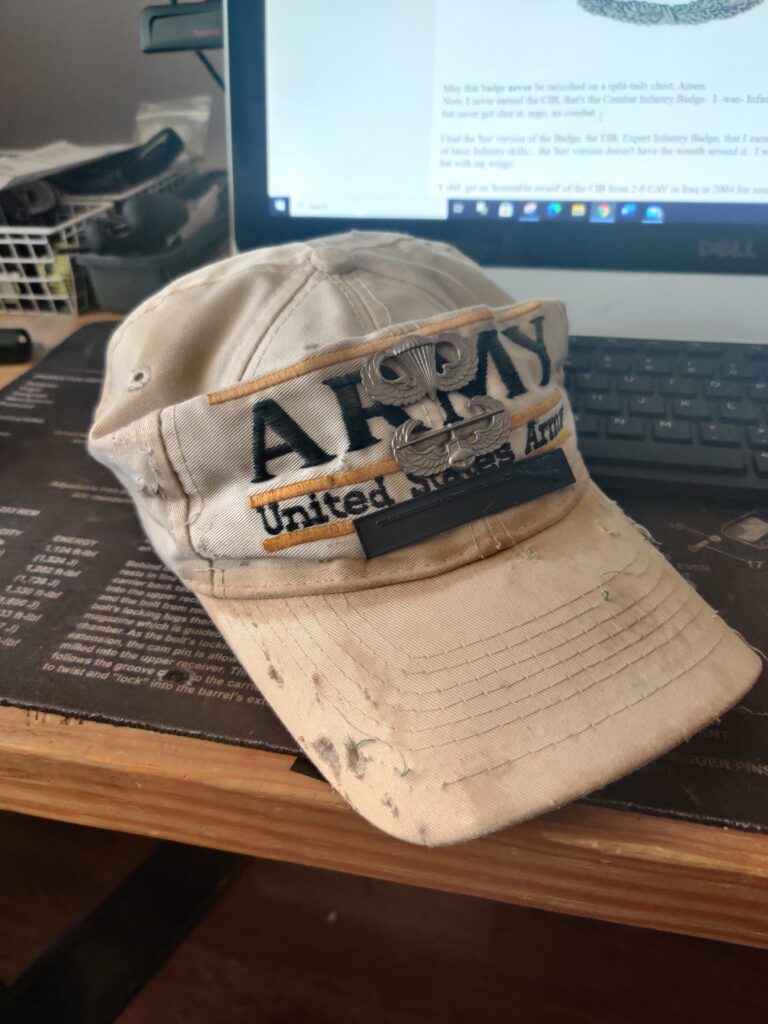 This's the hat I had that survived the Mortar attack. It was IN the house. It still has itty-bitty pieces of shrapnel imbedded in the brim, hence some of the rust stains. When I cash in, I want to be buried in it… and Yeah, I still wear it…