Greetings Me Droogs N Droogettes!
And oh how we rejoiced around here at the Casa. Gretchen aka Wifey is doing the regular "Happy Dance" as moar info leaks out. Looks like that scallywag AKA "Cocksmith" is going to be doing so hard time on this one. Seems that the RUMINT is he's got some connection to that missing little girl from Hawkins County, Summer Wells… the lil girl who went missing a waaays back and there's been zero trace of?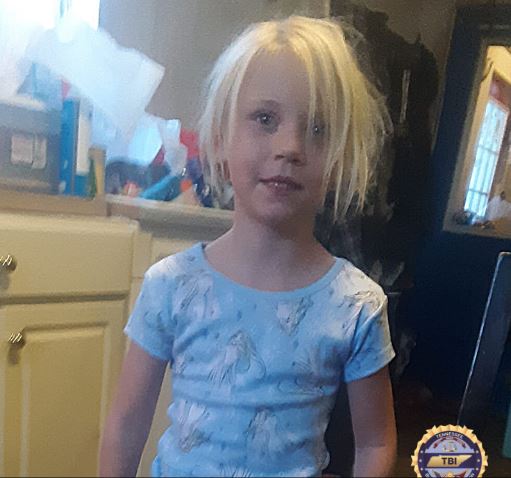 June of 2021 it seems…
According to reports, her two brothers were taken by Judge Cock-a-roach and put them into foster care, but left her in the care of the parents.

Odd to say the least.

So Cock-a-Roach? Can't wait to see him in prison.
I'll be sure to give Big Bubba a couple of cartons of Marlboros to insure that the former Judge has a 'pleasant stay' and don't get lonely at night.
Queue Maniacal Laugh: MUUUUUHHAHAHAHAHAHAHAHA!!!
So, moving on…

So sorry about that… I'll take the 'win' 'cos as some of y'all have stated, if it t'weren't for bad luck, I'd have none a'tall. Speaking of Bad Luck:
Krainfeld and his Kokaine Klownshow of Koked up Kowboys?
Seems that literally that's how these guys have been 'maintaining' the meat-grinder assaults against the 'immovable object' AKA the Russian MLD or better called the Main Line of Defense. The MLD is what everyone thought were going to be 'crumple zones' which means that a light but spirited defense is put up by the defender, after which inflicting some pain on the aggressor, you fall back to another pre-determined defensive line, usually better, and stronger.

In this case Ivan? Fall back? There is no back. What is this 'retreat' word of which you speak? The Russians instead of backing off and letting the Krainians in further, have been beating on them like a cheap drum. The question has been "Why don't they frag the officers and tell them not just no, but fuck no when it comes to literally doing a 'Charge of the Light Brigade' AKA charging into the teeth of the machine guns and pre-registered Artillery?"

Well, According to this, Link HERE The Fucktards are drugging up the troops to the gills before sending them out to die.
Now, this may or may not be bullshit
However
In light of the Krainians themselves accidentally telling everyone the rough real casualty numbers recently?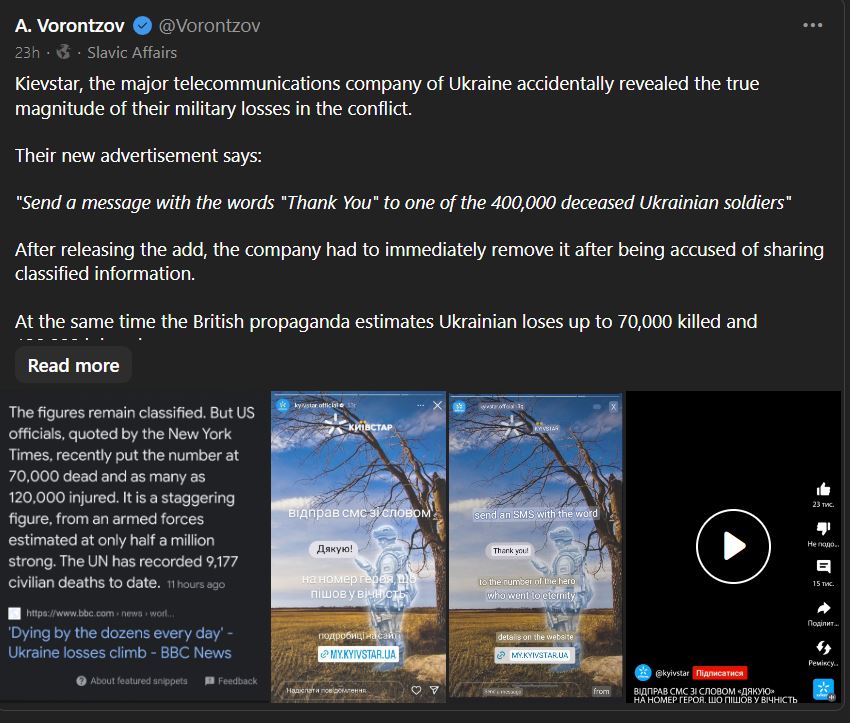 The Krainian Cell-Phone service Kievstar made an ad (pulled but is still out there cached in areas) stating essentially that 400,000 Krainians have been Killed in Action

Holy. Shit.

That's some serious numbers.
The fucktards out there screaming how the numerical parity of Russian casualties have been 2:1 (Two Krainian Dead/Wounded to Every One Russian). Whelp, That just went out the ole winder I'd say. Kievstar pulled the ad, but according to other sources, the guy who gave the go-ahead for the Ad? Veeeery telling that the SBU, the Krainian KGB Bully Boys snatched him up and sent him tot he front after shooting a forced 'apology video' which seems very par for the course.

Quick aside: Amazing how none of the SBU faggots…err… thugs ever seem to be sent to the front izzinit? Them and the "recruiters" who always seem to be driving the nicest newest cars, and partying on TikTok with the hawt Krainian Koncubines Aye?

Jes' Sayin'

Soooo it seems that they're hopping up these guys to the point of being fucking damned near Zombies, giving them a rifle and telling them "Go that way, very fast, if something gets in your way, shoot them/it"

I know, I know, a riff off of "Better Off Dead" back when John Cusack was still cool and not the Uberdouchebag full of Jizz and Smegma that he's become.

So yeah, nothing like hyping up a bunch of semi-literate 50-something year old farmers with ZERO DotMil experience on what sounds like really good Meth and having them 'charge into the guns' to overwhelm the enemy with their corpses.

Sound Military Strategy there, let me tell you.

Fucking Brilliant
Reminds me of another futile war:
Even the most ardent Cheertardleaders of this damnable war has got to admit that at this point, it's all over but the Fat Bitch howling. The Krainians ain't got no more Tanks, nor Artillery, or very damned few at this point, WE ain't got no more 155mm Ammo to give them, and it's to the point that they've had to modify their "Neptune" anti-ship Cruise Missiles for land-use operations…

You would think that they'd be using them against, oh say Russian Ships? But nope, to me, a HIGHLY Trained DotMil observer, considering that the Neptune IS highly effective, I mean hell, they took out the Flagship of the fleet, the Moskava, but the fact that they've now modified them for land use?

Yeah, out of ammo time IMO.

Got me a hunch that all the "Putin is going to be killed/shot/run out of Russia" people have been huffing the copium. So far, with the way things are going, it might go nookular, but NOT on the Russian side… Slo-PedoJoe and his bumblefuck of bureaucrats are very quickly running out of time and they know it. Something has got to give, and time is on Russia's side no matter who or what anyone tells you otherwise. They ALWAYS Start out POORLY, rebound, and then kick the ever-loving-shit out of their opponents.

A Far Better Track Record that #/OurGuys

Make sure you keep prepping.
Us? I got to make sure my Gran is home sooner, rather than later. If shit goes sideways, I'm not going to have the time to fuck around… Ins'Allah all works out.
More Later
Big Country