Greetings Me Droogs N Droogettes!
Lots of comments and "Newsflash!" stuff out there…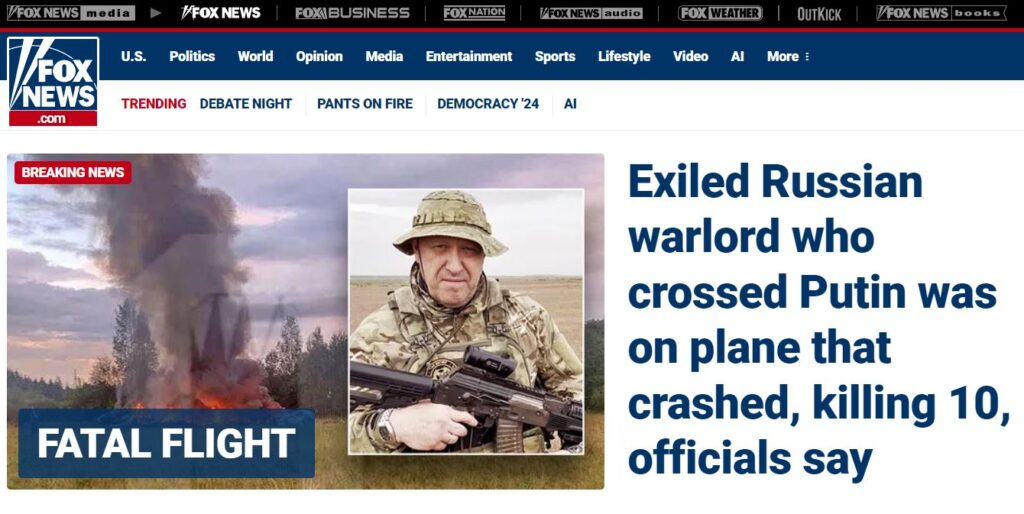 Lots of "What ifs" going on… Is it a Maskirovka? Is he really dead? How does this affect the war? What happens to Wagner now? "I thought Putin had pardoned him or something…"
Yeah… about that…
Anyway, as far as what's really happening?

Beats the hell out of me.

I do know one thing, and that's nothing out there is what it seems. I mean my thing is twofold. Monday Afternoon (US Time supposedly) Priggy was 'broadcasting' from Apefrica, giving the 'usual speil' about helping out the locals from "Colonialism" and helping them "throw off the shackles…" yada-ta-yadda-ta… all the usual tropes that sounded good back int he Bad Old Days of the Soviets assisting and supporting any and all who wanted to fight with /ourguys so to speak… the 'Cold War' was actually quite hot in many areas as shithole countries acted in Proxy for the Soviets on one side, and the US on the other, with /ourguys supposedly standing for "Truth, Justice and the 'Murican Way!"
We now know what a pantsload that whole thing was Aye?

So then 'all-of-a-sudden' he's back in Russia, headed to Saint Petersburg? OK, not too far a stretch but in his vidya he said both he and Wagner were going to be there for the 'long haul' whatever that meant. Most folks took it as by him being in Apefrica fucking around there, it was an 'out of sight/out of mind' thing for Pooty-Poo.
Guess not?

So, the Wagner-King is dead, Long live Da King. Part of the other reason I remain skeptical is that he'd be what? The 7th or 8th General that's been declared "Dead-by-Vengeful-Putin"

If I had to make odds? I'd say 60% that he's dead, 40% he's alive, and this's another Maskirovka. Me and Scoutergreg were talking about this today, hence the subject and ideas that came up. Also there was mention that Prigozhins other private plane was on a similar course, juuuust behind the plane that 'went down' get filed under 'things that make you go "Hmmn".

OK, as writing this, and looking for the proper way to spell Priggys name, seems on ZeroHedge, Wagner released a statement calling it 'murder most foul' and oopsie! Seems that"…the entire top command of Russian mercenary outfit Wagner Group was aboard the private plane that was downed northwest of Moscow hours ago." Link HERE

Decapitation Strike Anyone?

And the 'spin machine' just went into overdrive, despite there being videos on a missile strike: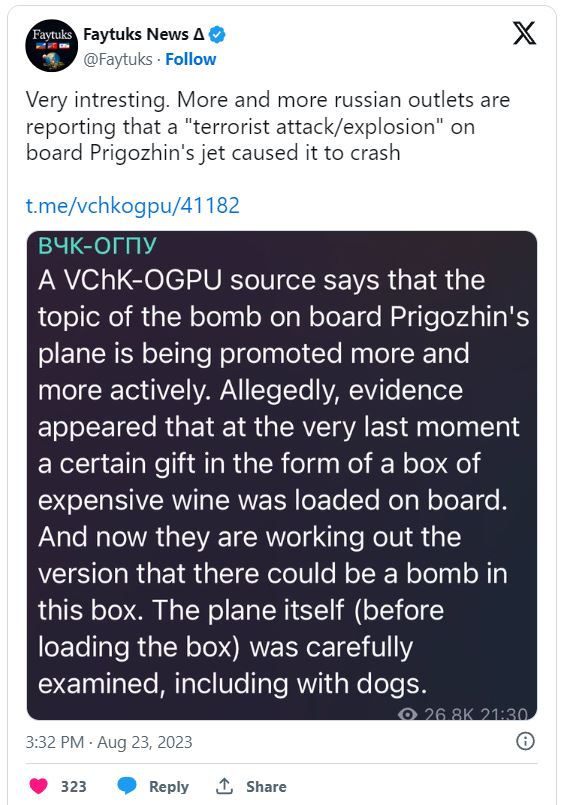 Meh…|
Not really my concern.
If anything, what'll be interesting is to see the Wagner Response to this? Not sure as it -is- ostensibly a 'private corporation' but even then, that's thin-thin to anyone with a brain. There's also the tinfoil crowd who've come out and tied it to numbers and anniversaries: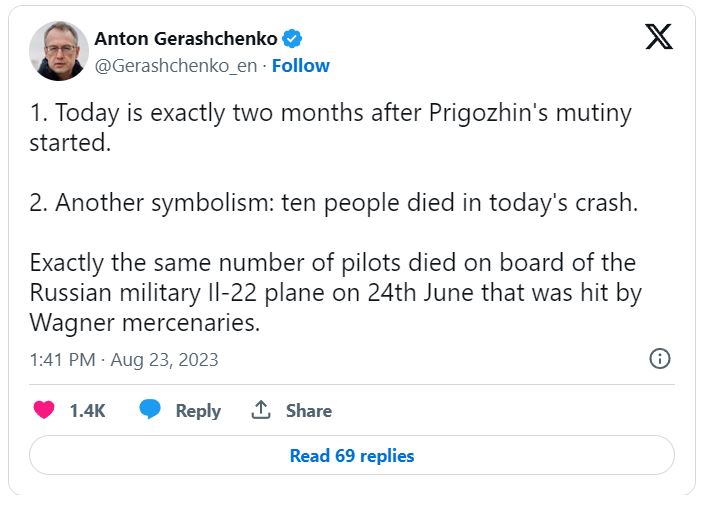 Seems that particular fruitbar is the former Ministry of Internal Affairs for the Kraine, and now serves as "Coordinator of the new "Office for Business Protection" which in itself sounds shady like a motherfucker IMO. And yeah, he's also a member of the small hat/big nose club, like every. single. person. in a position of power in the Kraine. I'm wondering if/when the Orthodox Christians on both sides are going to wake up and realize just what the fuck is really going on… if'n you think shit is spicy now? Hoo-boy… The real Ukro-Nazi SS in World War 2 made the Nazi-Nazi Totenkopf SS look cuddly and snuggly comparatively speaking…

And speaking of our greatest Ally Evvar…
I was looking online for some prop money. Wifey and I both have started Uber'ing again to help make up shortages for the bills. I might have mentioned it but the power bill last month went up so outrageously ALL of our jaws rebounded off the floor. She's been doing the day shift while I toil away in Glorious Peoples Tractor Factory, and after dinner, provided there's some 'event' happening, I go out and do MY thing.

I mean we got Raymond James Stadium and the Bucs, Tropicana Field in St. Pete, never mind the concerts, Tampa International, and lately, a LOT of Amazon Workers going towards Sarasota to a GIANT ass distro center there. Ybor City is busy towards the weekends as well, but I'm not down with a lot of drunk folks, and I sure AF won't work Amelie Arena anytime soon, as it seems ALL the 'shows' there have been, as of late Rap 'Concerts' and allllll the lovely 'diversity' that comes with such a crowd.

So that's the background on what's up with that… the reason for some 'prop bills' is that lately, a LOT of brothers don't seem to 'get' Uber… that it's not a cash biddness… I shit you not… LOTS of knee-grows getting in cars, demanding "Where da moneys at?" and such… they see the Uber Sign in the Window, (and at night we have one that lights up) and try the old "quick stickup" thing.

Couple of folks have been shot b/c they didn't have any cash, so my thought is a couple of those realistic prop $20s might save me an issue… that and Mister 2-Shot .357 Derringer. If they decide they want to do something anyways it'll be hell on the cleanup as getting blood out of the interior is a pure motherfucker. Gretchen had a hell of a time getting DumbC's blood off the roof liner after that whole shitshow a ways back… that was when she tuned up DC with the collapsible baton… so throw them a few $20s and bail… they'll not notice til after the fact, as to them? They want to do a quick snatch and run… and as soon as they get out of the car, I'm gone baby. Which also reminds me, I need a camera facing the interior…

So anyways, As I was checking things out on AliExpress (where they have such 'things') they had a couple of other suggestions as I was browsing. My original search was for "$100 dollar bills" and one of the things that came up was a roll of toilet paper with Cee-notes printed on it, so I searched for that on it's own.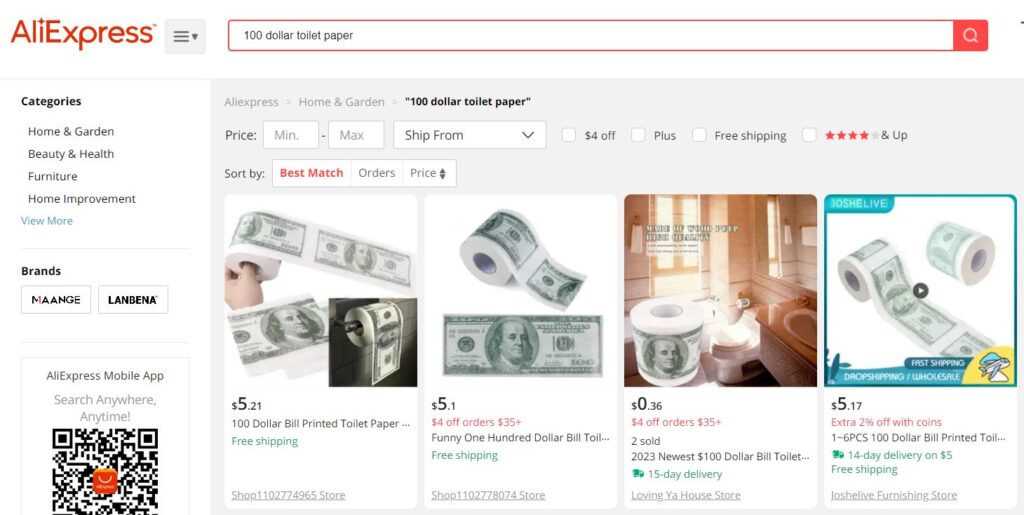 Humorous as well as appropriate. Considering the near-Weimar valuation that's just getting started… well… we shall see. So then, for funsies, I checked out "US Flag Toilet Paper" just to see what came up with that search:
Now interestingly not only is there such a thing as US Flag shitpaper, but the third item on the list is a offer for a stack of fake $100s… guess those and the flag are interchangeable… Jes' Sayin'…
So in keeping with the train of thought, I went to see if "Our Greatest. Ally. Evvar."s flag was in there as toilet paper. What I got was this:
Uhhh it came up with MOAR US 'Funny Money'…
Curious that Aye?
So, I did a search just on it's own for the Israeli Flag

Pride Much?
Make of it what you will, but out of a couple of searches for toilet paper, it came up with $100 Dollar Bills… granted it is 'fake and ghey' money for prop use and other such things, but it does sort of tell us where things stand out there in the fake and ghey world.

So More Later
Big Country