Greetings Me Droogs N Droogettes!
So, another day in the trenches gone by, and no one died. Leastways no one by my hand. As far as IT Commissar and others at the Peoples Glorious Tractor Factory, I don't necessarily want to know if anyone stacked bodies.

Lord knows just in general, having to deal with some members of the public, I'm genuinely shocked that mass-killing sprees aren't as common as the Ministries of Lies and Propaganda would have you believe. Especially in this day and age.

I do not count any of the Blue-Hive Shitholes in that particular calculation BTW. Those have been 'shooting galleries' for as long as I've been alive, and barring some unforeseen circumstances, will continue to be just that.

Now, as to tonight's thoughts. Got in a Zon Package today that I bought both on a whim and for a purpose. The budget (almost nonexistent) was to try and get a secondary cell phone to set up as just that, a secondary phone. Now, yes, I -do- have some older phones laying around, much like everyone else does, leastways when you upgrade, and your old(er) device is either not worth anything (my most common issue) or is so broke-dick that the company in question tells you "it ain't worth shytte!"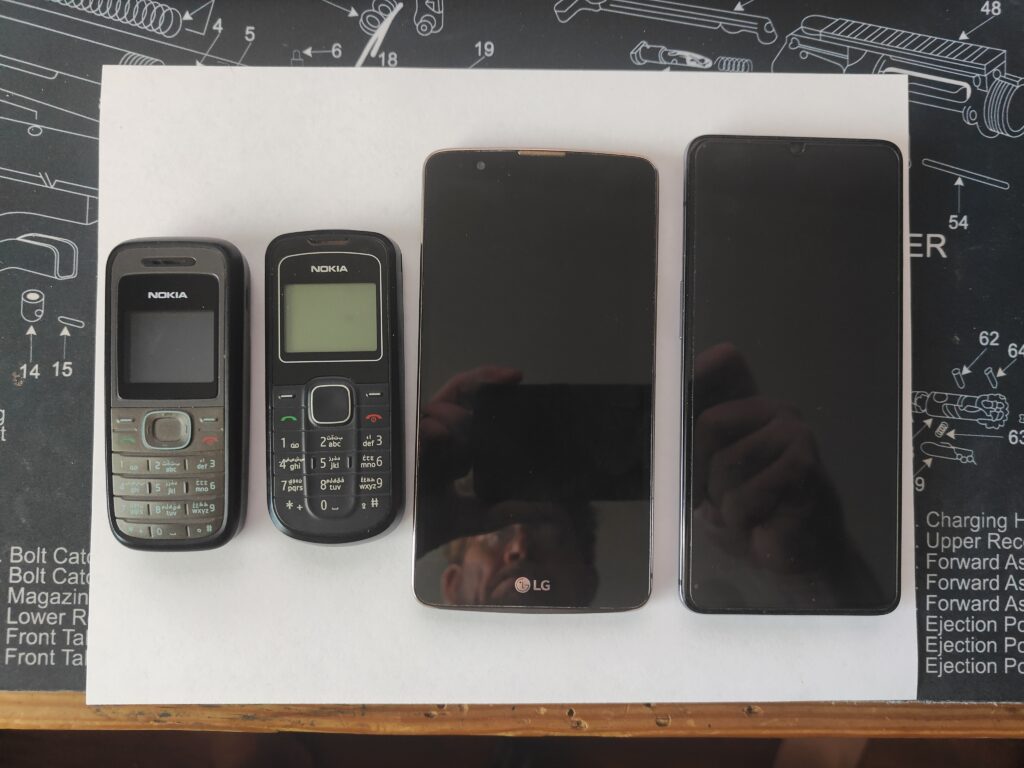 Now, digging through the "junk drawer", the one every. single. one. of. you. has… you know it, don't try to deny it… I found these stashed in there. They all work, and are from various Eras… and yeah, era.. in this case the Iraq War Era of my life, the two on the left being my GSM Phones that we've talked about in the past.
Nokia Bricks man, the 'cockroach' of early cell phones I swear. These two are the Nokia 1208 (far left) and the Nokia 1202-2 on the right. And yes, they're both powered on asking for a SIM…
Both also have the Arabic/English Keypad: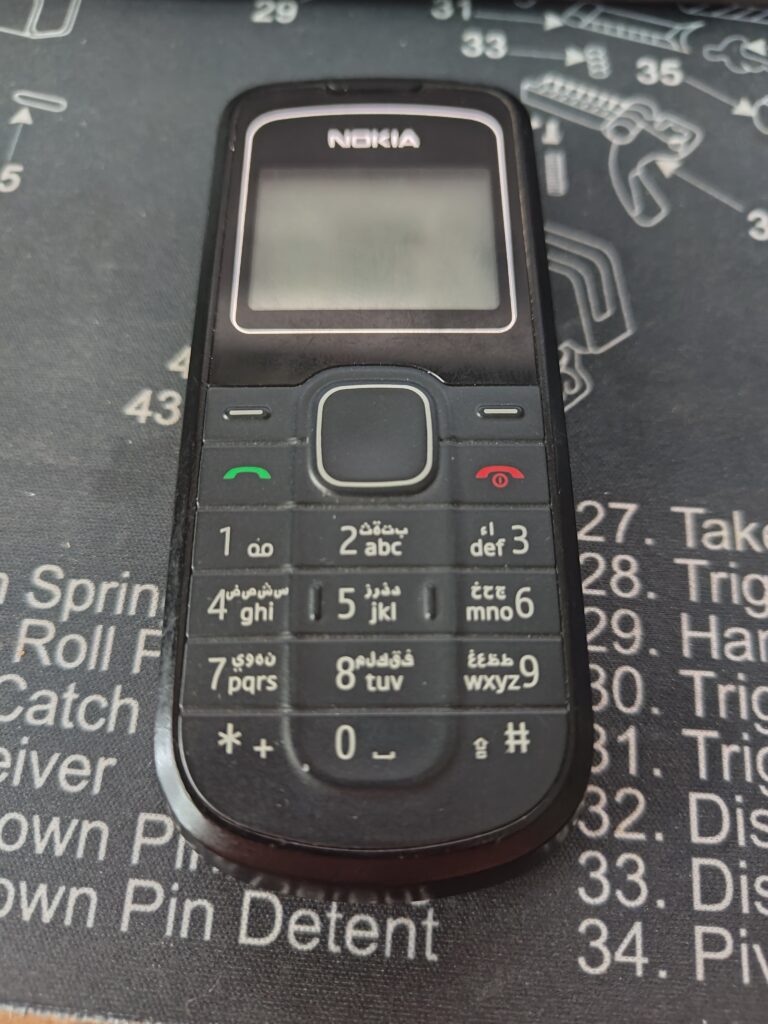 …which TBH I think is pretty damned cool. Both are shockingly! still fully functional as well. Batteries still work, they both power on, however, the left (the N-1208) one only runs on European 2G GSM 900 and 1800 MHz bands, so even with a GSM chip, it doesn't 'register'.

The N-1202-2 however runs on the 850, 900, 1800 and 1900MHz bands (dual band so to speak) and the 850 and 1900 are the North and South American common bands. So yep. They (compared to todays hyper-expensive cellies) resilient to a fault. Which is probably -why- they killed off the whole concept.
I also found a pair of "Smartphones" as well, one being Wifeys and the other my old one. Both are functional, and we keep them as backups if the current one(s) get jacked up… Wifey tends to be really hard on her equipment and I've had to do the 'insurance replacement' thing far more than I care to remember… and yeah, the $20 a month hurts when it's time to pay the monthly, but knowing I've already gotten like 3? replacements out of them for her breaking her shit? Yeah, well worth it… YMMV. All four of them measure up size wise lie this: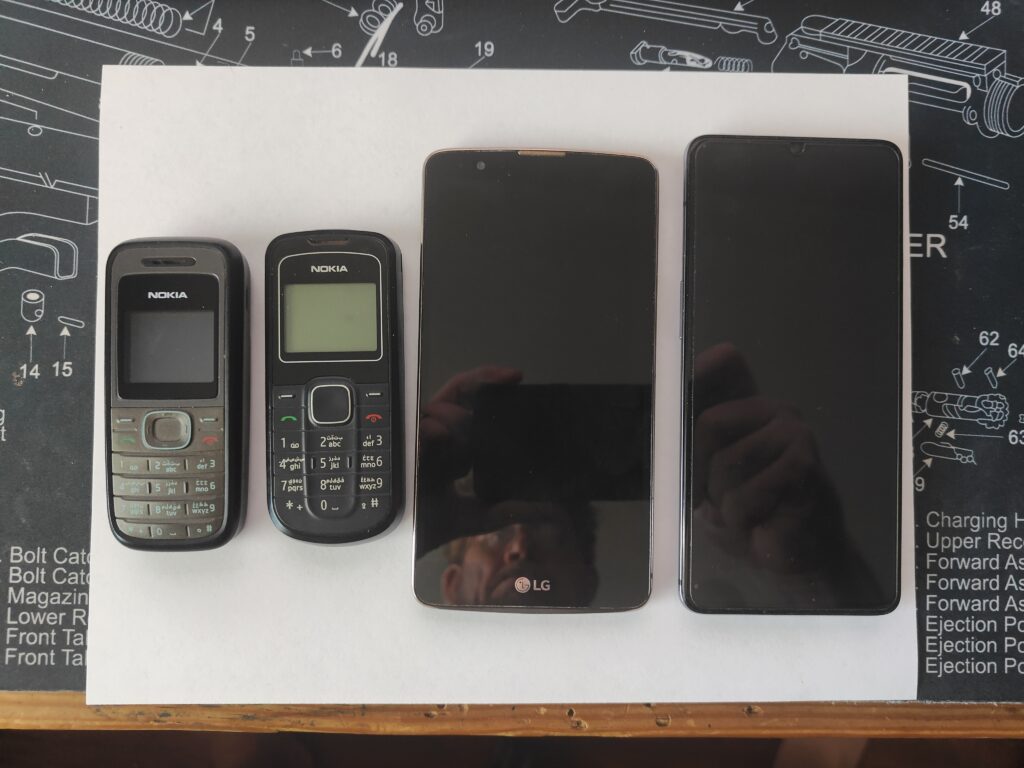 My old OnePlus that Spawn gave me before he cut me off, Gretchen's LG, and the two Nokia. The LG being the widest, and my OnePlus being really long… both good phones, but still… "Smartphones" which considering the day and age? Too much chances of bloatware/spyware/tracking/cameras/microphones… what have you. All the 'stuff' that makes it hard to go, if not completely 'silent' so to speak (I mean you ARE on the network) but make it harder to keep an extremely low profile while using it. Things like making a one off call or two, without leaving any real traces. Something inherently disposable by it's very nature… you can ditch it and never think twice about it again…

Now, ebay has TONS of used cellies. Great. In this case however, I want something utterly reliable. Like new-new. Not 'refurbished'… not 'well cared for'… 'gently used' is an all-time fave… all the usual blurbs when someone is selling something used. So I went searching.

OK, this is NOT a joke but:
Yep
That is not a toy.
To put it in perspective: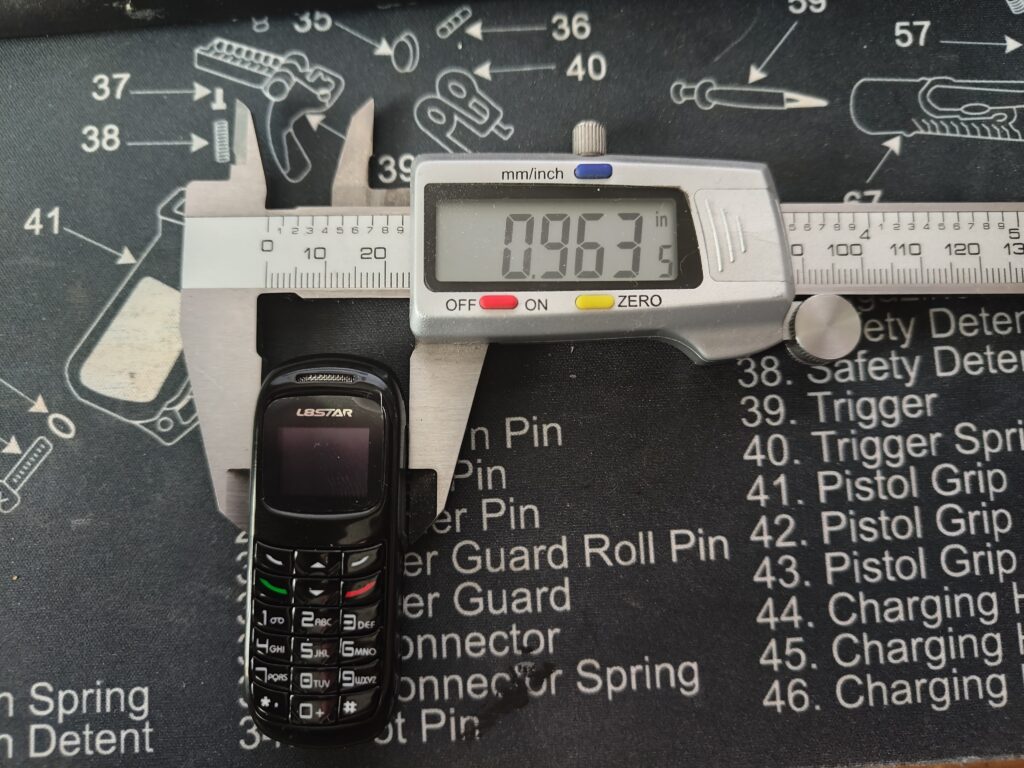 2.93 Inches Long
.96 Inches Wide.
.47 Inches Thick
Runs on the 1900MHz US Band for 2G
Uses a micro SD Chip which goes into the side, and charges with a micro-USB port on the bottom.
The barest of bare bones phones.
And it works: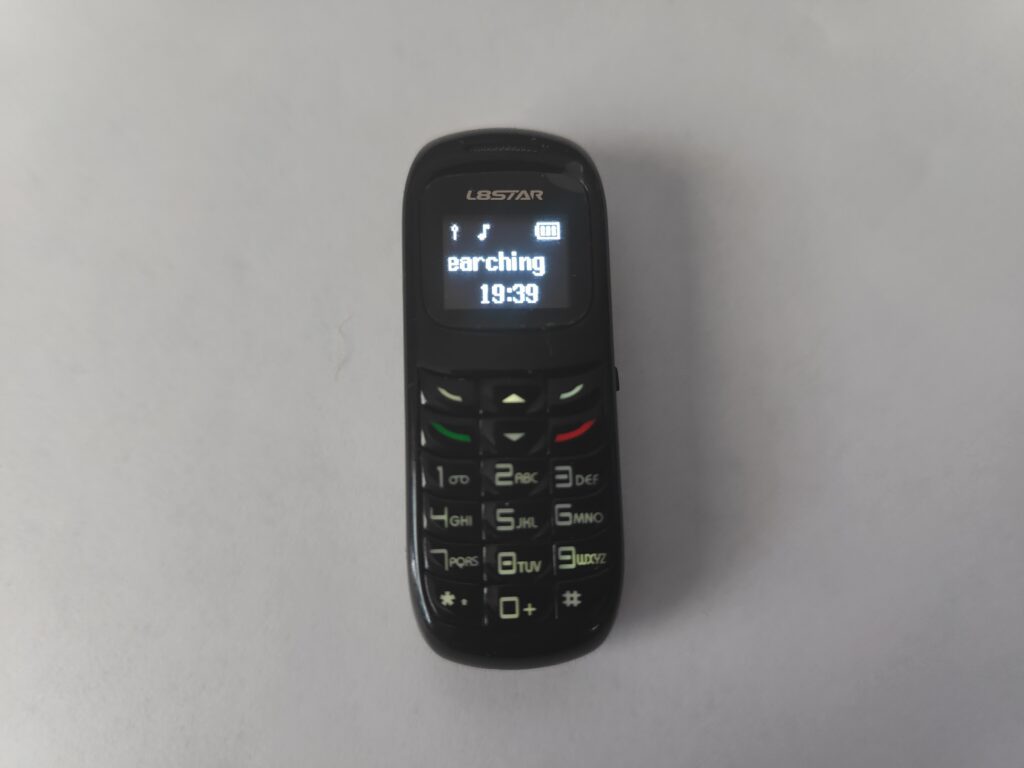 I'm not using the pic where it says what network it's on, but yeah… It works. Good signal too. It came with an earpiece that allows you to clip it on to the phone itself, which then goes in the ear, much like those Bluetooth Headset/Ear Buds that were so popular a ways back.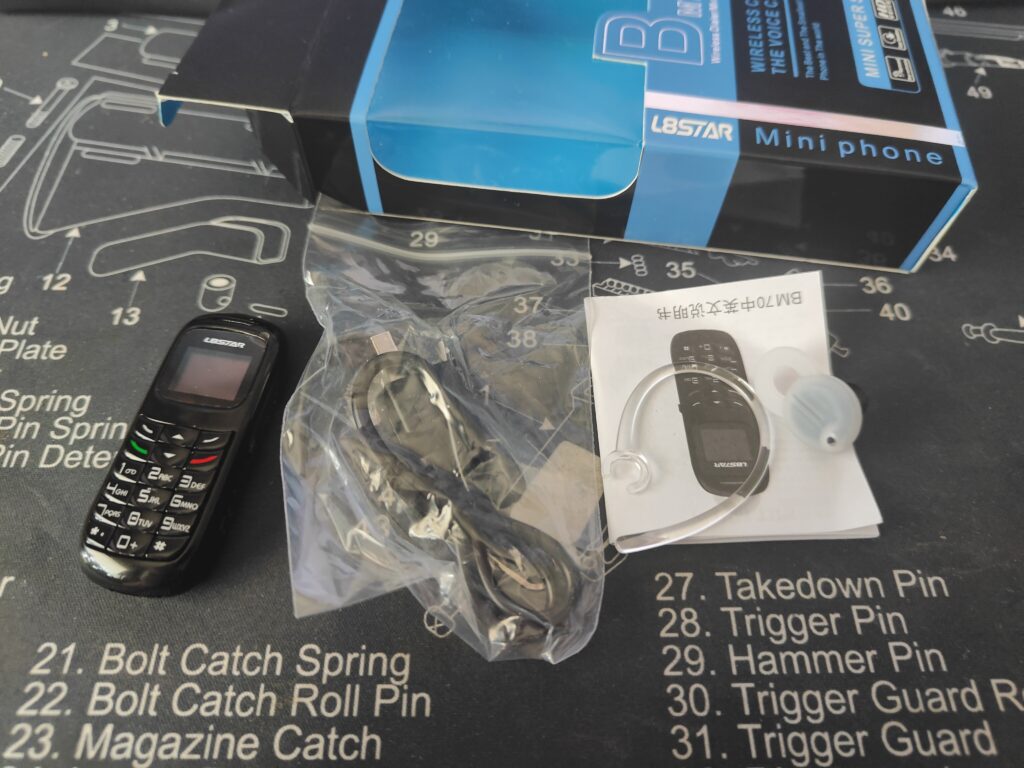 If you do get one you'll need to go onto the Youtoobs and get the "How to turn it on" video as the Chineseum Instructions are less than helpful. All in all, the best part?
The Price

Currently $24.69 on the Zon.
Link HERE and yes, I get a 'taste' if you buy one of them.

There are other super tiny Cell Phones out there, but this one stood out, if only for just how insanely small it is.

For the chip? I went with US Mobile:
And yep.
$0.50 per unit. $0.54 after Florida Sales Tax with free delivery. To sign up? Turn on the VPN, Pay as you go, with oh, say a pre-paid card for $25? Pick your number by state? Registered to I.P. Freely? Yessiree!
The Link for that is HERE

Sapper called it a "Prison Phone" and yeah, it is small enough to be smuggled uncomfortably if needed. That is another thing that I liked, not the prison smuggling thing, but the extreme size… as in IF I needed to say ditch it very rapidly, dropping it and kicking it into a drainage ditch, or even down a grated manhole cover? Tooooo easy. If you had to throw it? Provided you were able to power it off so it didn't ring if it was called, throwing it into heavy brush?

Let me tell you, -I- wouldn't want to be the guy who's told to "Find it!" after a perp threw it for distance in the deep woods.

Jes' Sayin'

That and destroying it if needed? Man, my size 15 Boot could stomp, twist and grind it to powder in about half-a-second on rough concrete, which too, may or may not be useful. Hell… drop it into your blender, flush it down the shitter. Pretty sure plopping it into some good n'stronk acid (muriatic) would eliminate it completely.
All depends on your mission parameters.

So, hope you found this helpful. I'll keep y'all in the loop as to how it goes with the new toy, as it's a trial to see if it's long-term viable.
More Later
Big Country