Greetings Me Droogs N Droogettes!
Before the thunderstorm rolled in, we had a pool day today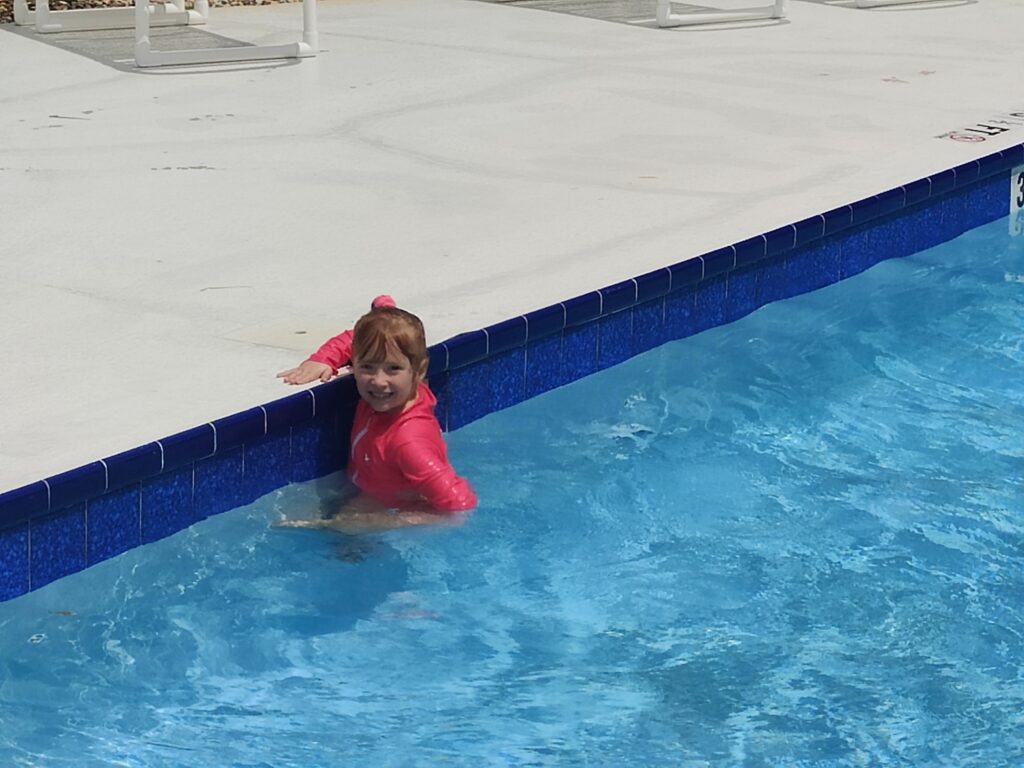 Other Granrents had her take swimming lessons.
She's gone from "Don't you dare let go of me!" to "Watch me cannonball Papi!" The kid is a Mermaid I swear.
Sapper got in on the action, albeit in the Hot Tub.

She was ALLLLL over the pool, and I taught her how to dive for a rock today, as I didn't have the obligatory .50 cent piece that DeadDad taught me with… I'll remedy that next time around and have one with me… Used a big ole piece of the pool gravel which stood out quite well on the bottom, and got her to use her arms to pull herself down to it.
Me? I'm again, bushed.
Even a short day with the Redneaded Nuke Plant is tiring.
Ain't no 'control rods' on that 'un.

So, other subjects.
Was talking to Sapper about everyone having meltdowns and freakouts about the potential of the Central Banks rolling out a CBDC, i.e. for the uninitiated, a Central Bank Digital Coin, whereby in theory the Controllers -could- essentially take control of your money, thereby your life and establish some serious social controls, much like Chy-Nah has rolled out over the past few.
Thing is, this ain't Chy-Nah, Nor is it the Wannabe Chy-Nah-of-the-North, Can-nada under the leadershit of Justine "Baby Fidel" Turdstew. Nope. We still got guns.

And no, it's not that we'll be doing some sort of "CV-2 Shit Just Got Real"… Nope… be a lot more subtle than that. As Sapper and I talked about, these folks seem to forget a few things. Like in order for a "Digital Coin" to work? You need power. Not Political Power, I mean juice baby…volts… Power. Computer without a functional outlet? A fucking very large and complicated doorstop.

Two small substation(s) got whacked a few months ago.
Someone using long rifles.
Plugged some transformers.
Power loss was about 80,000 people without power, for about 3 days in some areas +/-. Now, that was a few small incident. Now, in theory, IF "they" (whoever are the real shot callers out there) if the Mysterious and Undefined "They" decide to implement such a drastic overhaul of the financial system, in conjunction with a societal lead into social credit scores, they know not of what kind of feces would be impacting the oscillation device.

Mainly because this Elusive "They" have never actually worked and honest days work in their collective lives. They have always had "power" in their domiciles and work places. They have never had the power shut off for a non-payment or late payment. They naturally assume that "it's always been this way." That when they throw the switch on a outlet, the light comes on.
Until it doesn't.

REALLY HARD to use a "digital currency" if there ain't no power. Even harder to understand when you have no idea how the real world works. Fat, rich, and stupid is no way to go through life, but for the most part, they actually have. These are the people who tell us that we need to stop hunting because it's barbaric and killing animals is wrong, and then in the same breath, tell us that if we want meat, we should go to the supermarket and buy our meat there, 'cos 'no animals were harmed that way'.
Thing of it is, a lot of "Them" think that they'll just whip up and order another Transformer. Now, Yeah, to a point they can but there's a few facts out there that one should know. First off, the approximate price(s) of these things? They ain't cheap, not by a long shot.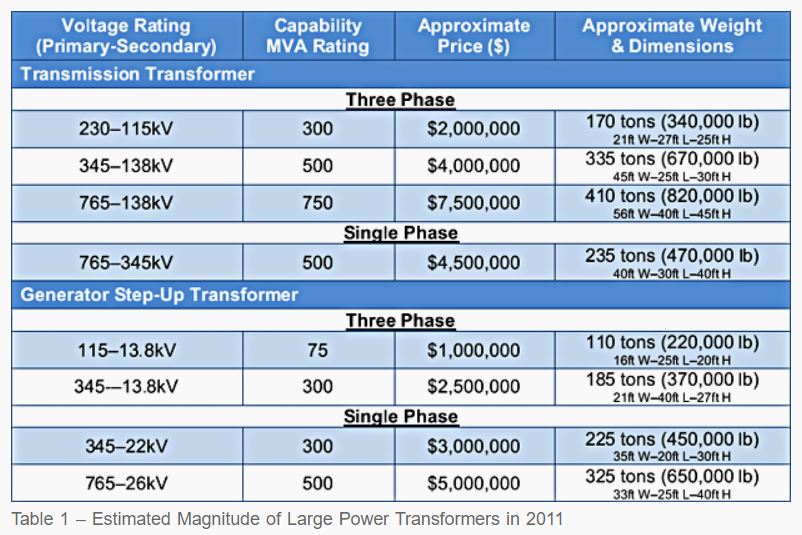 Yeah… those prices are +/- from 2010 to 2011… like 10+ years ago. Per the electrical engineering Webpage I found that one, they also state: "…In 2010, the approximate cost of an LPT with an MVA rating between 75 MVA and 500 MVA was estimated to range from $2 to $7.5 million in the United States. However, these estimates were Free on Board (FOB) factory costs, exclusive of transportation, installation, and other associated expenses, which generally add 25 to 30 percent to the total cost (see Table 1 below)." with Table one being the one I poasted above.

Transportation is a big deal with these as well. VERY heavy and awkward to move around. One does not generally just 'throw one on a flatbed' and call it good. Lots of specialized equipment to move one of these: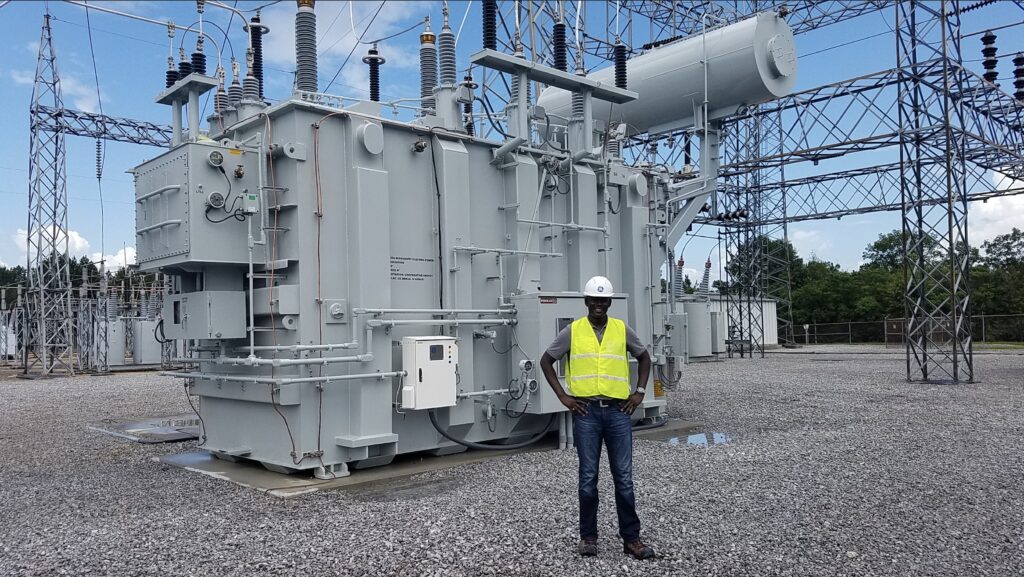 And yeah, the reason that it's a pain is they're essentially a filled oil tank, which is how they're put together:
SO is it any wonder that "They" just don't understand?
Sure, there have been attacks in the past… all of which seem to be some lone-wolf nutters, of which like not very many have ever been caught. I think that there was a smaller less-successful attack out in Washington State that they did bust the two morons who did it. I did a write-up on it at the time as a LOT of it didn't pass the 'smell test' and since it memory-holed so quickly, I'm sure that the perps were not Whytte Sooperpreemiecysts as they were off the news at Lightspeed.

Ether way, a Central Bank Digital Coin needs computers, which in turn needs power, and truthfully, as fast as our infrastructure is collapsing, I don't even think nutjobs would need to do anything drastic. Hell… Texas couldn't even keep the power on in a winter chill… and Commiefornia?
Heh
They're talking about making a law that if the Power Grid starts having issues, that the DotGov has the right to drain your Battery on your Tesla back into the grid, essentially making all the Electric Vehicles in the state UPSes or a backup "Uninterruptable Power Supply". I'm not even going to touch that one…

And in order to implement the "Social Credit Score" thing? In Chy-Nah, they use your cell phone. Last I looked, cell phone towers are even Moar fragile than a Transformer. Lots of fiddly-bits and gizmos.
Also ALL reliant on a stable electrical grid and infrastructure. I mean I'm only pointing out some obvious and open-source stuff. By no means would I want to see anything like this come about… my point is the People Behind the Curtain so to speak, the 'Shot Callers' have never thought of this. In fact the info that's leaking out about the current Krainian Klown show is showing our self appointed "Betters"? The very fact that they really believed their own bullshit about the "Counteroffensive"?

The fucking hilarious part is the leak that said the planned Jeddah Summit was supposed to be the 'Crowning Achievement' of the Krainian Kounteroffensive… to quote:

"Jeddah was Sullivan's baby," the official said. "He planned it to be Biden's equivalent of [President Woodrow] Wilson's Versailles. The grand alliance of the free world meeting in a victory celebration after the humiliating defeat of the hated foe to determine the shape of nations for the next generation. Fame and Glory. Promotion and re-election. The jewel in the crown was to be Zelensky's achievement of Putin's unconditional surrender after the lightning spring offensive. They were even planning a Nuremberg type trial at the world court, with Jake as our representative. Just one more fuck-up, but who is counting? Forty nations showed up, all but six looking for free food after the Odessa shutdown"

BWHAHAHAHAHA!
How that one work out for ya?
Ahhhh Hubris… gotta love it…
They're a bunch of Fucking Misfit Toys… Scarecrows without Brains. To call them retarded is an insult to the genuinely disabled.

And because of it, things are fixing to get a LOT wilder and stupider as the weeks go on. Head on a Swivel people.
More Later
Big Country