Greetings Me Droogs N Droogettes!
So, we got Dad out of the Rehab facility.
LOTS of shady shit happening there. His clothing, all new stuff me n Gretch got him for his b-day, (2x pair of Underarmor Shorts and 3x Battlecats DotMil Vetbro type shirts) all fucking gone and replaced with some worn out nigger-wear… like Hobo-clothes. NOT his stuff…

SO MUCH shady shit, that I was told to stand down, as I was so angry, I was ready to do bad things. Like unfortunately, the 'legal routes' have been explored by a LOT of people… the place, after all the shit we went through to get him out of there, both him and Mom are like just wanting to put it behind.

He was put in there via the Hospital. They sent him there.. we didn't have a choice. In the two point five weeks he was there he was given one bed-bath BY MOM!!! They didn't do all the rehab, they ignored him when it came to helping him to the shitter…all sorts of really fucked up shit.

And yeah, it was overrun with 'Muh Diversity' hires from Haiti apparently.

The Google Reviews even say people died under 'suspicious circumstances' there. Almost EVERYONE with a problem has reported it to the various agencies, only to be summarily ignored. Hence my rage. And there were some seriously weird things that happened while he was there that made me nervous.

Dad was raising hell on the phone, which happened to be a 'house phone' to Gretchen. They don't allow cell phones… during his bitch session, a nurse came in and started question WHO he was talking to, and asked how old G was? We HEARD HER in the background. How the fuck did she know Dad was on the phone unless someone was listening in from the main switchboard? Even worse was they wanted to keep him there for an additional 5-7 days, despite being 'cleared and done with (minimal) PT… THAT had me really nervous as I think there's some serious fraud going on that's being ignored. Hence why I was going to go Scorched Erf if something untoward happened to Dad.

Not to worry tho, my bridezilla went up there, made the appropriate comments, and got Dad out of there. Things like "My Brother In Law is a Federal Agent, a Special Agent in Charge in the Orifice of the Inspector General…" (He was, he's now medically retarded but still, sounds good) and then "My hubz is a former Merc who loves my Dad, he'd hate to have something happen…" as well as a few other pertinent info-nuggets that were enough to convince them that Dad needed to leave post haste. They sprung him this A.M.

So now? Fuck it. Would love to burn the place to the ground, metaphorically speaking, as in get 'em busted for Medicade/care fraud and collect some of that sweet, sweet bounty lucre. BUT M&D said stand down, so ok… Fuck it as I like to say. I will say tho, my bullshit sniff-o-meter was reading a 11 out of 10 for the bullshit there…

So, going to not get too deep tonight…
Brother In Law (G's Lil Bro, who's as big as I am) is in town and coming over to spend the night tomorrow. Cleaning the haus as it it a bit of a shambles, not that he'd give a shit. Great guy, former Navy, one term, no deployments, and still 'lives out of his seabag' so to speak, as in he's a man of simple tastes. NOT dumb by any means, just laid back with a ZFTG attitude. He's about 4 years younger than G, which means I'm 6 in seniority.

I -am- excited though as he's bringing me a broke-ass 12 gauge Winchester Pump Shotgun to fix… it's his buddy's that was left in an outdoor (not climate controlled) storage unit and the action is currently locked up tighter than Sister Mary Elephant's thighs. Rusted too… wants me to check it, repair/refinish, and y'all know I positively live for such things. If I can, I'll do the photos and document the job for here.

So More Later
Big Country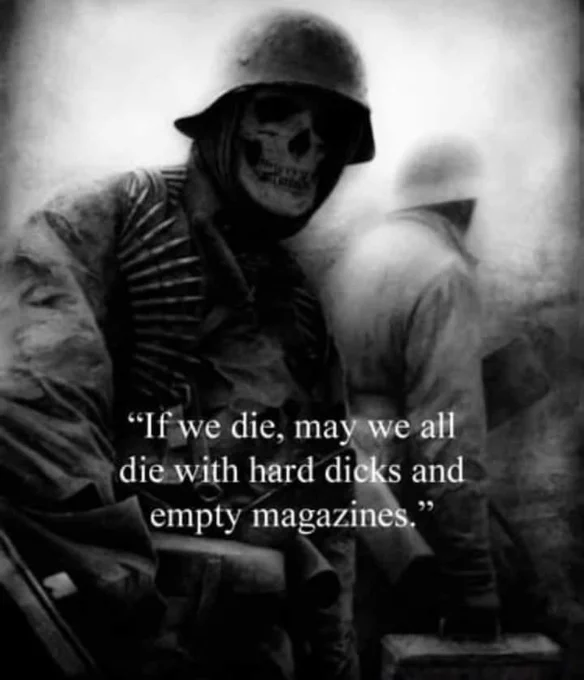 H/T to WiscoDave for the Pic