Greetings Me Droogs N Droogettes!
Oh Holy Hells!
Brandon Herrera is running for CONgress.
Texas apparently… for District 23 as a strict constitutionalist.
Damn
Boy… this's gonna be great.
He's one of the few guntoobers I -really- dig. My only complaint is that I didn't think of his shtick first. Couple of weeks? months? ago he testified before Matt Gaetz against the ATF. Considering his line of work as a Manufacturer/Class III guy? The record of the ATF being…. shall we say… demonstratively retaliatory towards anyone who doesn't fall into the regime line?

Balls of Adamantium man, purely.

You just know the "Usual Suspects" are going to come crawling out of the woodwork to -try anything- to knock him down… that being said though, the very fact of his Media Presence might hold off unless there's something particularly egregious out there…

That and he owns machine guns and has a FA-FO attitude.
Yeah, not wanting to be the first guy in the stack if they decide to fuck with him.
Nevermind he's got like ALL the other guntoobers out there having his back.

So that's the news for that.
Other things:
Got another ad from PSA:
$260 and change?
For a full rifle (provided you got a spare charging handle and BCG)
OMFG….
OF COURSE this happens when I'm broke-as-a-joke amiright?

So… International "Stuff"
As Predicted by myself and a lot of others, The Krainian Kokaine Klown Show is nearing it's end-run. The disastrous "counter-offensive" (which was utterly hopeless to begin with) combined with a noticeable turn via the Ministry of Lies and Propaganda and it's organs on the outcome looking rather dim it's pretty obvious that shit is about to go south in a Major Way.
The overwhelming evidence such as articles like this:
Yeah, the Wall Street Cage-Liner did an article where they discussed the "exceptionally high number of amputees" in the Kraine…

Now realizing that when they say the numbers are "comparable to World War One" you have to realize and keep in mind that was a HUNDRED YEARS AGO

As even Aesop would tell you and agree with me on this, Battlefield Medicine has "come a long way baby" and it ain't like it used to be… So, given that they have -as many- peg-legs and arms missing as WW-1 now, and considering how many folks probably didn't get their shit removed due to modern improvements, That means there's a metric fuckton MOAR of casualties compared to the "Good Old Days"

Hell the Graveyard(s) in Kiev?

Fucking Full Man… they've taken to stacking three stiffs in a single grave as they literally ain't got the space anymore. Some chick on "X" was calling them out on it… she's a Krainian who's Grandpa died, natural causes from what the translation said… he was old-old, a Vet from "The Great Patriotic War" and when they went to plant him in the family plot, they were told "No way Jose, graveyard is full man"

Needless to say she was righteously pissed
No Idea if the NAZI SBU came after her, but judging that the little Kokaine Fiend is about 4 Steps ahead of the US on the "Tyrrano-meter" I'd say yeah, she's "off to Gulag traitor!"

Speaking of Krainfeld… Lots of rumors of rumors of the Russians looking to 'off him'… which is utterly hilarious as he's the best ally that Putin has. God knows he (Vladimir) don't want someone competent in there… best to keep Mister "Probably Smells Like Phys-Ed" (seriously, doesn't he have moar than that one outfit?) at arms length, and let him fuck up until the US offs him a'la "Paging President Ngo Dinh Diem, General Minh would like a word with you and your brother…"

Yeah, you're a friend to the US
Until you're not

All them stories of "Russia wants to kill Krainfeld" is just that. Stories. Made up by self-stroking egotists in the State Department and CIA who think they're "Oh so clever"

Now, other things, bit controversial. I was on Gab last night while working on the Ukrainian MRE Substack (tomorrow, I swear it'll be up tomorrow)… The uploading of the pictures was taking a while so I was bouncing back and forth.

Sumdood commented on a poast with this as the opener:
(Link HERE)
"Halper: Zelensky might be sending a signal by declaring Ukraine to be the next Israel
Journalist Katie Halper said it is unclear what Ukrainian president Volodymyr Zelensky means by declaring that Ukraine will be the new Israel."

Now, he (specifically @radkowski… just followed him, he's got some good poasts). He then went into the how Krainfeld might be trying to 'model' The Kraine after the war (if there is a Kraine left IMO) after Israel… namely a highly militarized country surrounded by enemies…

Now
On reading this, I thought of something I've been swirling around in Ye Olde Cortex. I mean really… just why in the fuck would he be talking about making the Kraine into "Greater Israel"? Now, my thoughts: This is not so far fetched as one may/may not imagine. Roll with me on this.

The issue is (and I know, having lived in the Middle East for 12+years) is the Jews land is finally 'wearing out' i.e. not capable of supporting agriculture in the country. Israel is done soil wise.

No amount of magic dirt (literally!) or chemicals/fertilizer is going to 'bring back' an area that LITERALLY has been farmed/cultivated/exploited over the past what? 3000 +/- years (and I'm including the ay-rabs in this maths just for Shits and Giggles)
The CIA Worldbook and the Google say only 17.56 percent of all of Israel is arable land at this point.
Point blank, if they keep growing, (demographically speaking) outside of ¡Genociding! anyone who isn't "of the tribe" (i.e. the Jordanians, the Palestinians etc) and if food imports stop, the Jews die as there is no way for them to provide for themselves.
Hence, the annihilation of the majority of the 16-50 year old Krainians. Krainian chicks are, lets face it, Hot AF. Killing off the breeding males, emigrating all the hebes in, win-win (per usual) for the Juden.
Go Figure…. maybe I'm 'off' but I don't think so… it -feels right-
Especially when I see things like this: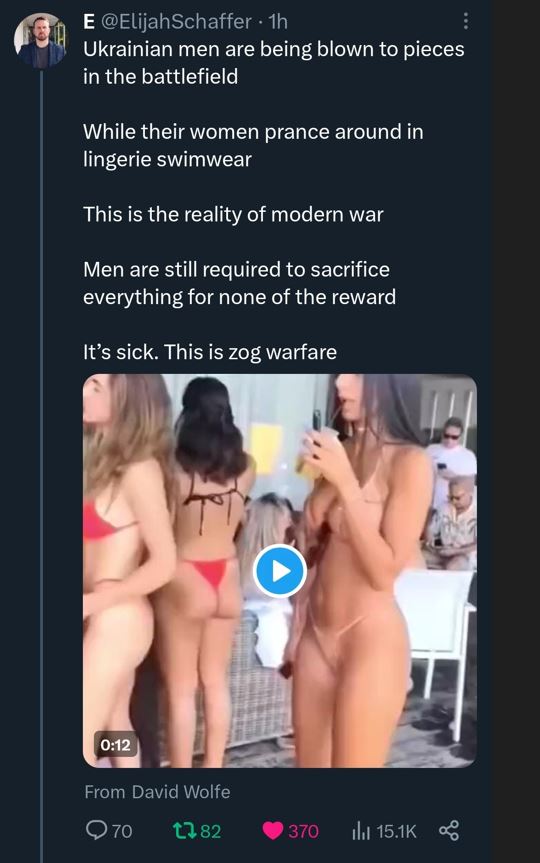 Seriously
FAAAAR too many vidyas out there, of prime 'breeding stock' Hawt AF Krainian females prancing, dancing and gettin' their "groove thang on" with the guys who're either too connected or too rich to get 'conscripted'… if you call being clubbed over the head while riding you bike home, stuffed in a truck and shipped to the front lines 'conscription'.

Back in the day it was called getting "Shanghaied"

The DotNavy, specifically the Brit Navy would either get you drunk as a skunk or do the 'club over the head' thing and when you woke up "You're in the Navy now laddie!" with all the fixin's to include and not limited to, Rum Sodomy and the Lash.

So who's to say there isn't a "Grand(er) Plan" behind all this manipulation in the Kraine. I mean every. single. person. involved at the highest levels are of the tribe. Cookies Nuland, her Husband, Krainfeld himself, ALLLLL of Krainfelds "Top Men" and man what a cast of characters. Some have even posited this's the grand attempt to just kill off as many Christian Slavs (i.e. Brother War) in revenge for the Jews being driven out of the Rus areas back in the day…

I just write it…
Up to you to Decide.
More Later Y'all. Jeopardy Time
Big Country