Greetings Me Droogs N Droogettes!
Ahhhh the weekend. What a bonus after this particular week. Between Goyslop Poisoning, being overtired, then waking up at odd hours, and the add on of stress from the Glorious Peoples Tractor Factory? Yeah, I'ma having a -few- hits from Ye Olde Irish Tears. Namely my fave Tullamore Dew.
Part of my problem is I've done too good a job at the Factory. Now Head Commissars are writing Checks on Lowly Worker's Body to Clients that he can't can't make good on. I mean it's complimentary that the Top of Current Politburo think so highly of me, but at the same time, I'm doing a hell of a lot more than I'm getting paid for.

Whatever happened to "From each according to his ability, to each according to his needs"?
I got a fuckton of ability, but I sure as Hell ain't getting a taste of what I need… meaning a raise and/or another person to help me out, as I'm fucking swamped. I mean Glorious People's Tractor Factory is actually getting more clients specifically because of my work but it has yet to translate to even a raise.

Did I mention last November was my One Year with the Factory?

Not so much as even a "Congratulations"

In fact, the H.R. Cunt fucking openly snubbed me. There's a daily email she puts out… with a list of people who'll be out, with pithy little worthless H.R. sayings like "Let the wind of one help lift all of us" and new age fuckery like that, as well as at the very bottom "Congratulations to John/Jane Smith on 'X' number of years with the Company!" with everyone else who's managed to suck it up, and stick around and whatnot.

Me? Nada. No mention at all

I've never even met the bitch. And the email I sent to the Chairman of the Politburo regarding the snub and a LOT of other things I've had to deal with specifically relating to her?

Never heard –anything– back.

Shit like that just shoots the morale right in the ass. I do know that H.R. beeatcha has issues with the IT Commissar, and it may be that it's a guilt by association as he did get me the job (thanks Bro!) and we've been friends now a while, BUT

Tell you what, next time I'm at HQ, I'm going to verbally, politely mind you, but put her the fuck on notice that I am not to be fucked with.

What I'd really like to do is dig a hole, and fill it in
But that'd be the old, unmedicated Big Country.
This's the newer, kinder, medicated one.

For Now.

Anyways.
Besides bitching about work, I figured out what the Weekend Substack is going to be. Pretty much MY take on what's going on currently in the Kraine, and how what we see may not be what reality is… Wheels within Wheels and all that. Lots of info, as well as I've started a new print project with the 3D Printer. Making some fun stuff that IF it works out, I'll let you know.

I'm also planning a raffle next week.
Got me something cool and sort of Unique to a point. I'll be putting it on the Substack for your viewing pleasure. Russian Related and related to my write up I'm working on. Which also brings me to the whole "Make it a pay-for-play or not?" meaning the Substack? Right now, I'm leaning towards keeping it open, as long as a few folks keep subscribing.

Lets face it, I need the cash. The move back here totally fucked me, and breaking the lease, the internet bill, (helped by y'all, many thanks!) and allllll the subsequent fuckery that is still ongoing… I haven't mentioned it, but Dumbcunts Lawyer filed a motion to collect a chunk of what was raised by us on the GiveSendGo for the fight to save Adriana.

They're trying to say that because she's the Mom, and we used her as the reason to raise the cash, that somehow, she's entitled to half of the final take, of which there ain't shit left of, as we used it to do exactly what we said we were using it for, which was to try and save the kid from her and the BabyDaddy. How the fuck that even works is beyond me, but, I guess there's "The Law" and then "Tennessee Law for Outsiders"… It's ongoing, but at least the BabyDaddy is staying out of it. In fact, he's actually being rather cool.

As you know, we essentially lost, mainly because the Mother (Dumbcunt) pulled all sorts of shit towards the end, which is still ongoing and the Judge in this farce-of-a-case decided to fuck us over even moar. Without recapping too much, we had a judgement against us that removed our visitation and any and all rights to her unless we paid Dumbcunt half of the raised $$$.

That's like $26k, which we don't have. We told the court, the judge and her to go fuck themselves. Hell… she doesn't even have custody of her. However… not sure how or why this even was legal, as we don't/didn't/won't have $$$ for a new lawyer to fight, so we bailed to Florida, and since then, the only current summary judgement against us is No more seeing/visitation. Not sure where we stand as far as $$$ to Dumbcunt, but as I told Gretchen, "It's hard to collect if……………………" Which really put me in an exceptionally bad place

Which now comes in something a bit different.
The BabyDaddy has, despite court orders, been doing Video Chats with Addy and us, as well as keeping us in the loop. She totally remembers us, and gets all fired up to talk to us. Her language ability IMO is still behind but she -is- considering the environment and circumstances, coming along. Here's Her latest: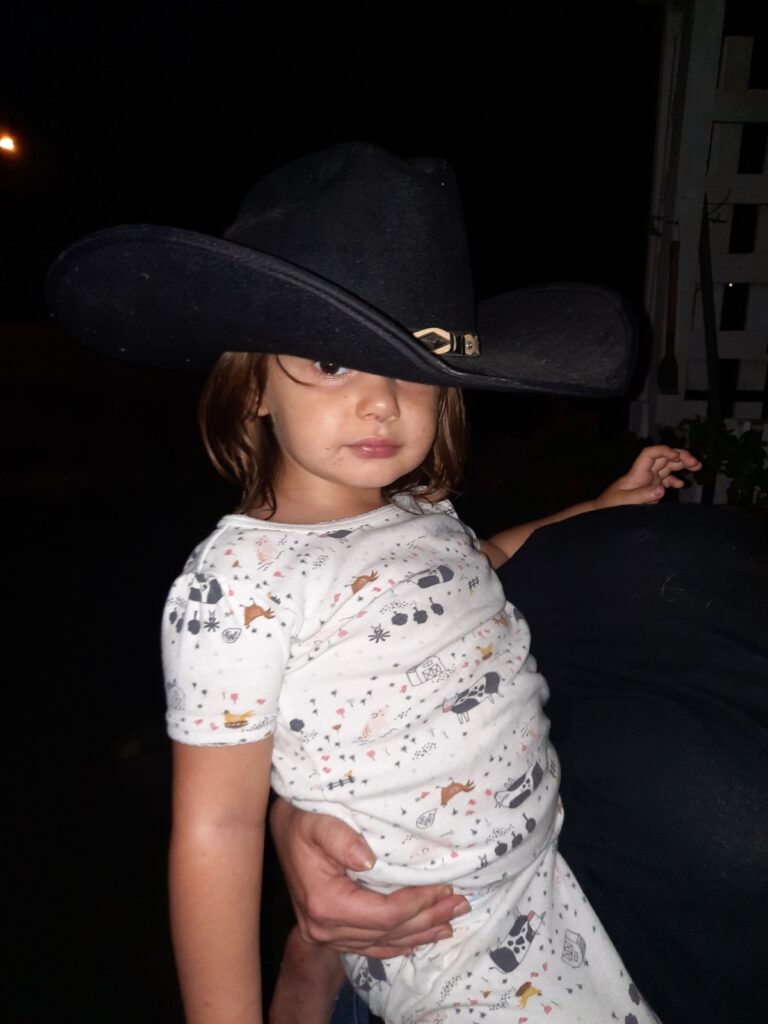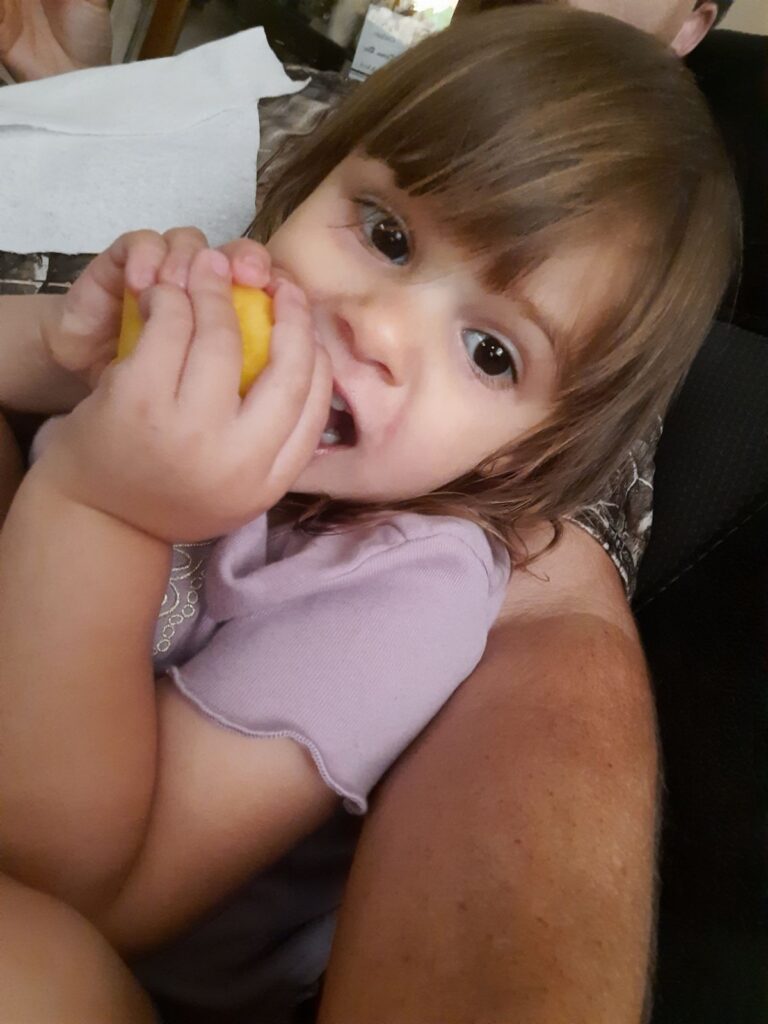 OMG that smile….

I'll give the boy this, she looks happy, is clean and outside of that HORRIBLE haircut, looks and when she talks to us is doing great. Breaks my heart to a point that she IS doing that well, BUT

My entire issue was to make sure she's taken care of, and is still the number one mission. I've told the BabyDaddy if he even fucks up one micrometer, I'll be up there like a fucking plague that kills everything and everyone in my path Seems he's taken that to heart, which, despite my own selfish motivations (as I miss her soooooo fucking much) she's doing well with him.

That being said, he's being good.
So Far.
Shocks the fuck out of me, but hey…
The Dumbcunt on the other hand?
Let's just say I wouldn't expect her to have a fulfilling experience overall in the long run.

I'll handle things as I always have,
God's Hand on mine,
In His time,
As He wills it.
Amen.

So, on short, I'll leave it at that. Been a full day.
More Later
Big Country