Greetings Me Droogs N Drooettes!
Been a good day, what with the spine only tweaking a bit… I can now at least sit for about 15-20 minutes, get up, stretch, switch chairs and drive on.

Got two office chairs, one being a Herman Miller Aeron that I snatched waaaaaaaaaaaaaaaaay back in the day from a "Bricks To Click" Internet Company I worked for… had a Doc's note, so they bought be a "C" Sized Herman Miller…
Only thing I added to it was the headrest, and replaced pieces parts as they wear out. The other is a big pleather chair that works… I sweat a lot in it, but it's big and comfy.

Anyways
Someone on Gab Tagged me thusly:
What I found extremely interesting is that
A) They worked and
B) They worked.
Now those of you who've been around here a while know I used to print a 75% scaled battery holder of a Claymore, as well as some 'other' fake land mines.
The Claymores don't need intro… the other 8 toys (the tan circular ones w/fins) are either paperclip holders or whatever holders… It's a model of the VS-50 Italian Landmine…the fuse/footpad is held up by stuffing the interior with toilet paper LOL.
BUT
That vidya? OMG. Thank Gawd I don't/can't/won't have C-4 like they do… then again, MINE (bad pun) can't be made to go 'nuts' so to speak. They DO however make cool desktoppers in a biddness environment IMO. And yes, those who ask, my drawer pulls ARE Crystal Skulls… that lil cabinet holds my primers and reloading dies… Gretchen got it for like $10 on Facebook Marketplace, and it didn't have any drawer hardware, so I got these on the Zon.
https://amzn.to/44HO7U8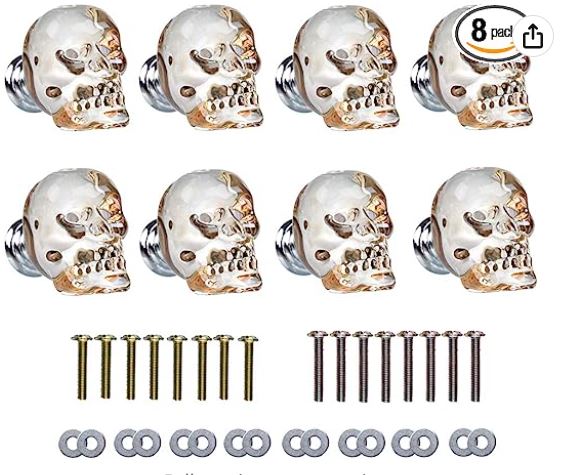 Kinda Cool IMO

Now, "other things"
Seems that it's confirmed that the 450 IRR Kids are all being called up from the CBRN Field. Namely the Chemical Biological Radiological Nuclear MOSes. The past 20 years, there was a significant degradation in those particular jobs, so they got to 'dip deep into the well' to find folks who can sing and dance the tune. I got confirmation from my old "Bugs and Gas" OIC from the Cav whom I'm still frens with. They sent him a letter (Retired Lt Col. at 100% disability) as someone failed to notice he's for-real fucked up from the neck up from his service.

When he was at West Point, he was in one of the very last classes of CBRN School for Orificers who ackchully did 'real deal' "stuff" on each other "…just to know what the real deal was like…"

In his case? It was a very light physical 'dose' of Blister… he thinks it was Mustard, BUT they never told him… they literally put a couple of drops on his skin, and he and his team had to decon him. Problem was, the long term effects??? Seems like nerve degradation, bone issues… poor fucker is 12 years younger than me, looks 30 older, and is frail AF. He –should be– at 1000% IMO… but, I did check in, and someone 'forgot' he's a crippled soup-sammich, and tried to get him to come on board for the fun.
So, confirmation there.
Then…
Well we got this:
So now they're telling us 80,000 troops are going to be "forward deployed" until further notice????

ORLY? On who's authority?
Oh yeah… I forgot
Dick-Tator-For-Life (leastways til Putin 'Nuts Up' and Nukes D.C.) the Pretender to the Glorious and Harmonious P&PBUH (Plus 10%) Orifice of The (p)Resident, The Dementor-in-Chief, Emperor Poopypants the First, Chief Executive of the Kidsmeller Pursuivant, Good Ole Slo Xi-Den makes these calls.
(BTW: All the froo-froo about Hunter's illegitamate kid being 'denied' by the fam? At this point I'd say that's a good thing much like Gran#1 completely has disavowed her 'rents sad as it might be… got as hunch that the name "Biden" is going to be as popular as "Hitler" in the next few in certain quarters so to speak…)
Jes' Sayin'

Quick Question: Whatever happened to the DEMONcRats being the "AntiWar Party"?

Yeah, the current DotMil is fucked
And, judging from WHO was called up, and how many in the future are going to be called up, as they say in Ebonics:
"Weez beez fukked!"
Makes me really glad I found that Geiger Counter at that shit-shop Aye?

Whatever you do, in keeping with the current rabid-split tail in charge… whatthefuck is'r name? Christine E. Whoremouth… that's it… she openly stated something to the effect that she doesn't want the children of soldiers and grandchildren of soldiers to serve… to prevent a "Warrior Class" to come up… Make sure you DO NOT LET YOUR KIDS GROW UP TO BE SOLDIERS FOR LEVIATHAN.

Sounds like a plan to me.
Go draft the Hasidics in NYFC then ya cunt.
Anyone who either has a kid, and that kid is thinking about serving? Call me… I'll let 'em get thru basic and AIT, then I'll break them up bad enough that they get the retirement and out BEFORE They can deploy… couple of drinks… a couple of pills… beat the knees senseless, OR brief them properly to pass a Med Board… but not so bad as to be a game changer… Juuust enough to get that magic 20-50% Permanent Disability, become non-deployable and fuck the system over even further.
Jes' Sayin'

Then, lastly, INDIRECT FIRE:
File under "extremely interesting"
My recommendation is WTWT. Indirect fire is a headfuck… why not know how to build/implement it if needed?

Considering I fuck around with Cardboard Mortars and Firework shells, this's the same thing, 'cept on steroids.
YMMV
Don't run with scissors.
More Later
Big Country