Greetings Me Droogs N Droogettes!
First, a Word from the Geriatric Piece of Shit currently inhabiting the White House: I.E. Our Pretender to the Glorious and Harmonious P&PBUH (Plus 10%) Orifice of The (p)Resident, The Dementor-in-Chief, Emperor Poopypants the First, Chief Executive of the Kidsmeller Pursuivant, Good Ole Slo Xi-Den who, by his Most Excellent and Not-Mashed-Fucking-Taters-For-Brains has decided to activate the Army Reserve with numbers up to 3000 troops (a Brigade worth) and 450 IRR Troops, which are, for the most part Guys who've fully completed their requirements in the DotMil but are still 'on the hook' for whatever reason it is…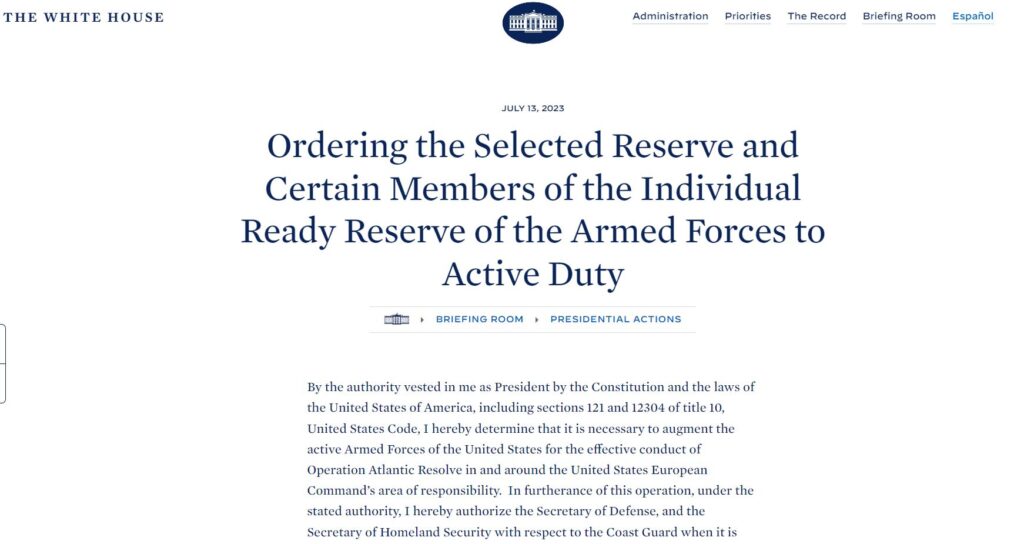 The link is HERE
LOTS of 'collective pants shitting' going on

Righteously so, as the last time they brought in the IRR, was the 2002/03 build up to Iraq. IRR for the most part are guys who, having had some 'special skillz' got done with their service… a case in point (a 'for example') 4 Years on Active Duty, 2 years Reserve. Finish the Reserves, and have either 2 or 4 years of 'IRR' or 'Inactive Ready Reserve' i.e. Army only in extreme shortages of your job OR war.

IRR kids, for the most part, shitcan their uniforms, their PT, get fat and happy and call it a day. -I- never had to do IRR as I got medically retired (Thank the God(s). FULLY retired kids don't get 'call backs' either, tho, b/c when I first got out with ONLY 20%, they DID come shopping around to see IF I was willing to come back on… told 'em I wanted at least Warrant 2, be assigned to a SF Support Team, no PT, and no bullshit. They didn't call back LOL.

So, as far as the "Reserves" getting called up… lots of pundits saying how only 3k of folks ain't a lot. Well… let's "Break it Down like Barney".

First Off, the Reserves for the past 15 or even MOAR years have been, outside of some specialized units (of which I'll get to in a moment) have been primarily support elements. Ass and Trash, Mail, Graves Registration, MPs, Medical units, Gas pumpers, Civil Affairs, Repair elements (like I belonged to as a contractor in the Gunsmithing days)… you get the drift…

So, 3k of them? Yeah, good support elements for the usual rotational units of Active Duty, as these days, the size of an Infantry element would be equal to my old Brigade, the 3rd of the 101st, which was 1st, 2nd (mine) and 3rd Battalion of the 101st ABN.

Now, I'm 'cuttin' and pasting but hell, I'm not re-typing all the realizations and shit I put up on Gab, soooo….
The 3rd BDE of the 187th when -I- was in it (The Rakkasans) we were a fully light-infantry BDE with about (Including 3 Batts and the HHC element, Company Sized) call it, fully staffed (never were) at about 3k worth of troops. ALL 'triggermen' (splits need not apply) NO service and support pukes. Ass and Trash were handled by the 801st MSB (Main Support Batt, lots of broads) and/or the 426th FSB (Forward Support Batt, moar broads, but the 801st were cuter and moar fun, Jes' Sayin')… Aviation/Arty/and Engineers were integral, but separate as well.
The restructuring of units got rid of the MSBs and FSBs and made/turned them into the 101st SSB (Special Support Battalion(s) or the STB (Special Troops Brigade) elements… these daze (intentional spelling) I've lost track, but the Reserves are primarily Support Elements (hence why I got back on active duty in 92 as the Reserves -back then- went from having Infantry to ONLY support geeks, but that DOES include MPs which ARE for some reason considered Combat Troops (they ain't no matter what they say… no Blue Cord? Suck My Infantry Balls and Taint) Notional Guard are 'combat troops' in name only really…
Now that the wars are over, the majority of NG units are back to the trash they were BEFORE Iraq and Affy 'went live' so, in this case, my guess? Ass and Trash Mission to support bringing in MOAR trigger-pullers… My guess? A Battalion or Two of Heavy Armor (M1A2s in 1st Armored Division) as this Krainian 'thang' is almost a pure Armor fight… the fucked up thing is that we haven't heard shit about any A-10s being moved
THATS the TRUE 'tripwire'. Even tho the zoomies FINALLY got the A-10 kil't off, they'll still be in use, in the ANG/Reserves until 2029, but they're RUSHING to get rid of them, even tho the Flying Turducken ain't anywhere CLOSE to being a capable substitute. You hear/see/RUMINT the A-10s moving and sure AF war is coming 'cos besides CAS (Close Air Support) Anti-Armor War is what the A-10 was literally designed for.

Now, the aforementioned A-10?
Mister BRRRRTMeister?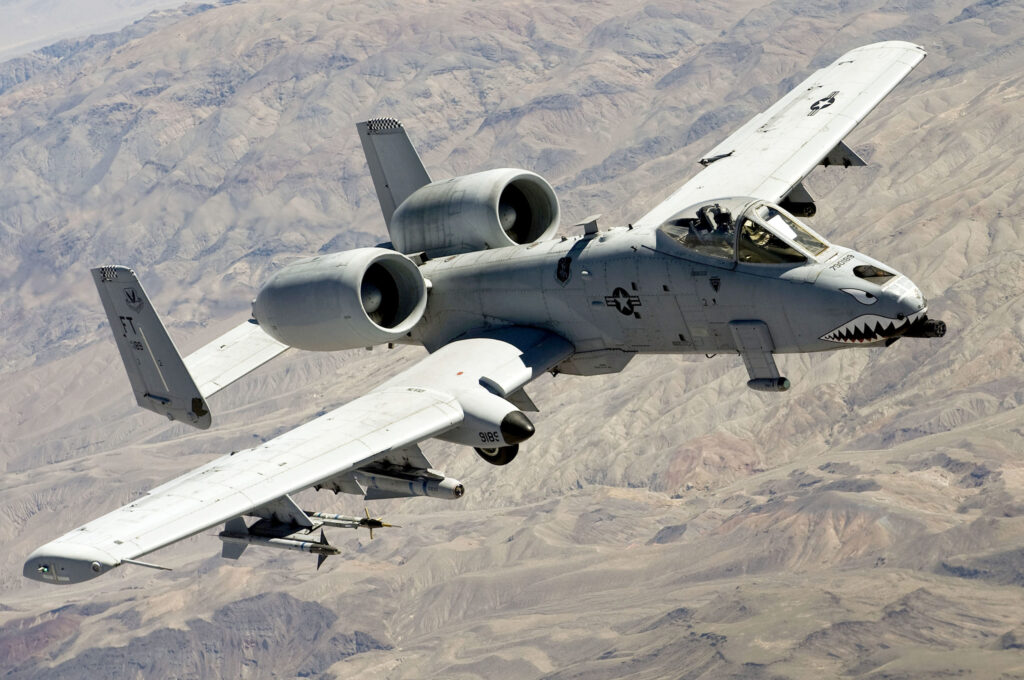 Yep… well….
Seem that they have 2 Full Squadrons of A-10s
Attached to the Army Reserve
Not for nuthin' BUT
(Again from Gab)

IF you hear of ANY Air-Notional Guard Units at Moody AB in Georgia or any Army Reserve (Air) Units of A-10s getting activated, THAT is the 'tripwire' IMHEO (In My Highly Edjamahcated Opinion) then it's now 'off to the races' in the Kraine. The F-35 Flying Turducken, despite the claims, is utterly incapable of CAS (Close Air Support) never mind ackchully –doing– REAL anti-armor shit like the A-10 was like, oh, I dunno…. specifically designed to do during the Cold War!?!
LITERALLY! They took the biggest gun they could, a fucking 25mm fully automatic Gatling cannon, looked at the geeks, and said, "Build an airplane around it!"
Which to everyone's surprise and the Air Force's Abject Horror
They Did.
Then they made it BIGGER (30mm)
Fucker was bigger than a Volkswagen Bug at the time FFS
The Chair Farce has been -trying- to kill it off ever since it was 'born'…
Sorry for the hair-pulling and screaming, but FFS, the A-10 ammunition cannister holds 1,350 rounds of 30mm tank-smashing goodness. I think like 10+/-3 second 'squirts of BRRRT!'
The Flying Fuckstain/TURDucken? Try 182 rounds. In TOTAL. It's rate of fire? 3300 rounds per minute. LITERALLY, provided it doesn't malfunction, fall from the sky, or come apart, 182 rounds that's like a what? a 3.18 second burst? ONLY!?! While flying at what speed??? (slowest it can go is 100knots, but it's not armored for shit which means it's easy meat…)
As the Critical Drinker would say
"What
The
Fuck?"
SO Long Story Short:
You hear about A-10 Movements, it means it's on like Donkey Kong. There's ONLY 281 +/- A-10s left, and literally nothing in our inventory that can do what it does. So WHEN they start moving, prep for fecal oscillation storm inbound.

Now, two Squadrons…
That's, with the necessary support troops who know how to deal with the A-10? Try 500 on the top end, per squadron.
1000 Reserve Troops, Right There…

Rut R'oh Raggy
Not cool man.
We are sooooo fucking dead…
"I'll take 'Shit that keeps me up at night' Alex for $200"
Add on that we're already almost perma-transferred 12 plus A-10s to Eurotrashland during that Flight Exercise "Operation Pointless Waste 2" a few weeks ago?

Doesn't look good for the home team at all.

Normally I don't get that pessimistic, but the current home sit-rep is completely and utterly fucked… Like beyond the ability of CONgress or the Steaming Heaping Pile of Toxic Residue-in-Theoretical-Human-Form(s) called the "Senate" to do a fucking thing to 'right the ship of state'…
Our Judiciary is fucked
Our Law Enforcement is fucked
Our Freedum of Speech is fucked
Our Elections have been, and are looking even worse than fucked
The Executive Branch is theoretically led by a Pedophilic Daughter Rapist and his coterie of self-promoting narcissistic scumlords, fuckstains and people I generally, if they were writhing around on fire in front of me, SCRAEMING for help, I'd actively try to find MOAR gasoline. And if anyone tried to stop them from burning? Let me tell you, they'd have to get thru me first.
"I love the smell of long-pig-politicians and their families and co-conspiritors burning in the morning!… Smells like victory."

So, no… I think we're fucked b/c of ALL I listed.
"They" positively need a war.
SouthernPrepper did a vidya this AM showing that the national debt (which is now fake and ghey as a motherfucker IMO… ain't no way to ever pay that much mo-nayz back ever) is rising at like 60 BILLION an hour… just in interest.

FDR Took us in to WW2 'cos he was a dumbfuck socialist "Emperor for Life" who didn't know how to 'fix' things… and he was a certifiable fucking genius compared to the sub-African level 60 and lower fucktards IQ of the shitheads, malcontents and pure fucking (((evil faggots))) who infest the body politic now…
So
Add on that allll these fucking 'cheerleaders' who seem to think that "The US Tanks (Abrams) with US Troops manning them) will do what the Krainians couldn't/wouldn't?"
Let me tell you:
Outside of the Battle of 73 Eastings (Tank on Tank) the Abrams has never gone against a Peer to Peer Tank Fight… in fact, TBH, and as I sat in the desert waaaaaaaay back then, I knew that it was not our 'superior equipment/training' (outside of night vision and thermals, Gen2 at the time) as much as it was the complete inferiority of the Republican Guard as well as the rest of the Iraqi Conscript DotMil

THEY had NO -real- overhead cover meaning:
THEY had NO helo support/air support
THEY didn't know what the fuck what they were doing, to include:
Their commanders, for the most part were all Nepo-Babies (wired into the Ba'athist Party, and NOT for any sort of 'Tactical/Strategic Intelligence', never mind the ability to shoot, move and communicate in a 3/4d Environment… In fact they were shit. ALL of them. Completely worthless, and hence, our tanks were able to rack up a LARGE number of 'kills'
THEY had ZERO concept of 'fire and maneuver'… in fact even OUR Guys sat still and just blasted the ever-loving fuck out of the Iraqis… didn't help visability purely sucked, but still…
Personally, My thoughts on the Rus? After the past year plus of REAL tank on tank fighting?

In Armor Warfare, you got the quick/good and the dead.
Any of Ivan's tread-heads still running around are the better/best there… as in "only the stronk survive" They have Familiarity with the battlespace, the conditions… the reality of head-to-head slugfests, terrain, locations etc… like the better than us as in "Who's your Daddy?" betters.
OUR guys?
Even when I –was– a tanker (not my proudest moment(s), I sure AF don't remember any real mine clearance… Esp. not that vicious FASCAM shit Ivan seems so in love with…

We go? Lots of body bags are going to be needed, and as someone earlier mentioned on Gab, we're going to need a LOT of Graves Registration folks… Never mind a slug fest at 500 meters with NO air support… Air Support IMO is going to be 'spotty' at best as even OUR Air Farce hasn't had a peer-to-peer challenge since the 60's, and even then, the North Vietnamese and SOME of the Russians flying like the 'Flying Tigers'(contract gigs for experience points) shot a LOT of our guys down, which is actually why 'the Top Gun' school got set up…. and the Rus these days purely own the skies over the Kraine.

Got a hunch the F-35s, and the M1s are going to get fuuuuuuucked up, as I've poasted pics before of what insurgents w/IEDs can do, never mind direct-fire golden bee-bees…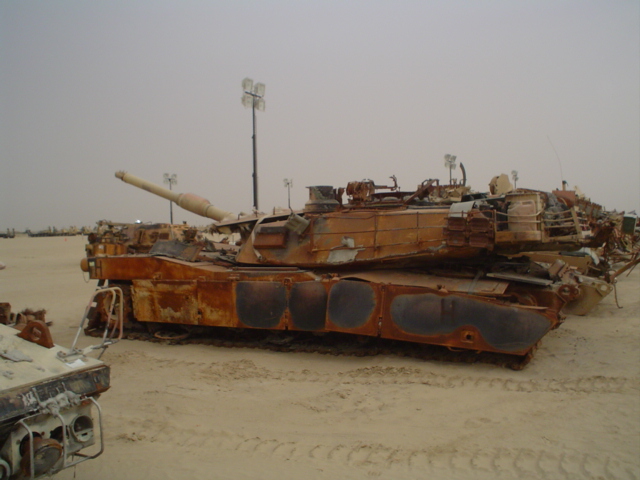 The pic there is an M1A2 that the Haj got with a IED back in 05… it was in the graveyard at Arifjan where I worked… that and a metric fuckton of 'other' tracks, incl. the Brad? ALL burn really easy if someone is determined.
Jes' Sayin'

If anything Ivan now knows HOW WE FIGHT as we trained the fucking tard-Krainians in OUR BATTLE TACTICS for use AGAINST THE RUSSIANS. And apparently, 'the Book' we used was dated from the "Time of Stalin" 'cos man, they sure as fuck have adapted, improvised and kicked the fucking toofuses in of the Krainians stupid enough to utilize OUR book on the implementation of war against the Russians… And we keep crossing lines without impact… Note to our Leadershit:
Wir sind soooooooooo tot
(Look it up)
Prepare for War
I sure AF am
More Later (Hopefully)
Big Country