Greetings Me Droogs N Droogettes!
OMFG.
The Sausage Princess barked, I twisted (yesterday afternoon) and grabbed my .357 to answer the door… when I twisted, WTF!!!! Lower back… -something- new popped. I've had the spine crushed (97), cut (2002,-04,-07,-09) and crashed (chopper, Blackhawk, 2006) but this one?

Wow.

New levels of "OMG!!! I'll talk, I'll talk!"
WTF.

By far, I'm not a pussy by any means. I'm the guy (due to nerve damage) that cuts himself, and has to be told to (per Sapper usually) "…Dude… stop bleeding all over the floor man…" Makes it easier pain wise to have sooooo many nerve endings shorted out… but R/N?

Fuuuuuuck…. this's a new level. Even with my 'normal' VA Scripted Oxycontin (yeah… I get the good stuff) this pain is overriding even 30-50 mg of the 'pure quill' so to speak. I don't dare go higher… even tho they have me have naxolone on hand, I'm not risking an O.D….
BUT
If it keeps up I'm going to the VA… this ain't the norm by far. Believe you me, I've tweaked, pinched, severed, spun, folded and/or mutilated my nerve endings, but maaaaaaaaaan.
Dis shit is for the birds .
It's not even 'full sciatica' as I have that on the reg so to speak. It's just my ass cheeks feel like someone stuck a ka-niff into each cheek, and sitting hurts, standing hurts… fuck it… Guess it's time for "Plan W"
The only booze I can drink w/out 'gettin' mean' so to speak.
It's working that I can tell… we shall see.

That and Glorious People's Tractor Factory, I didn't get shit done today… my PC 'bricked' this AM due to my own stoopid… thankfully IT Commissar had a card up his sleeve, and I was able to finally unbrick said PC. Not that it fucking helped… made the day weak production wise, so I'll have to make up for it over the next few days…

But the best news all week and this month was that Krainfeld the Kokaine Klownshow and his Koterie of Klowns were told:
Which, IMO is a fucking win.

Little fag wants us to go balls deep into World War Fucking Three? Fuck that guy. He's fucked enough that if he ever showed up here in Florida? I'd be hard pressed NOT to snipe his ass. I'm pretty sure the World would thank me as he's such an overbearing miniscule fucking Jew-Putz.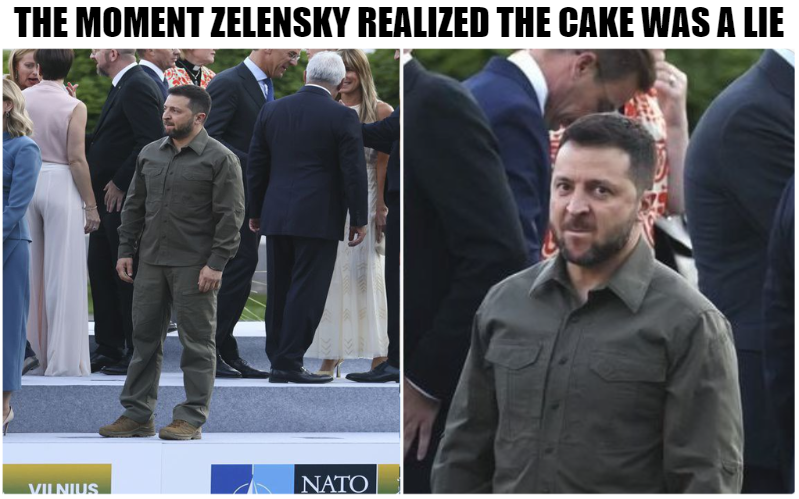 Awwwwwwwwww
No one wants to dance with the fag….
Fuck him.
AND
I welcome any member of the SBU to show up here to try anything. Just understand that I'll mount your heads on pikes on the front yard, regardless of anything the county mounties have to say. Fuck the Ukraine to hell and back… y'all suck, your war sucks, and so does anyone who supports your sorry brought it on yourself stupid asses.

'Cos, you know we're going bankrupt b/c of them right?
Best be ready
Maybe it's the Tullamore, Maybe it's Reality.
I know we're fucked long term… it's just how well you're ready for the 'crash' when… mind you WHEN it happens… not "If"
Dunno about you, but I'm long in ammo, weapons and canned goods… How 'bout you?
More Later
Big Country