Greetings Me Droogs N Droogettes!
So Tater, Pretender to the Glorious and Harmonious P&PBUH (Plus 10%) Orifice of The (p)Resident, The Dementor-in-Chief, Emperor Poopypants the First, Chief Executive of the Kidsmeller Pursuivant, Good Ole Slo Xi-Den let it out in an interview just what/why "Cluster(fuck) Munitions" we're sending the Kokaine Krainfeld Klown Show. Seems "They're/We're out of ammunition." Depends on which interview you see, but essentially, there ain't no 155mm left. Period. Dot.
And WOW
AGAIN I appear to be prescient as in the Substack about "Mines" and whatnot, the first thing I poasted about was the M692 ADAM, Area Denial Artillery Munition. Another 'member' of this particular shell "family" is the DPICM or dual-purpose improved conventional munition.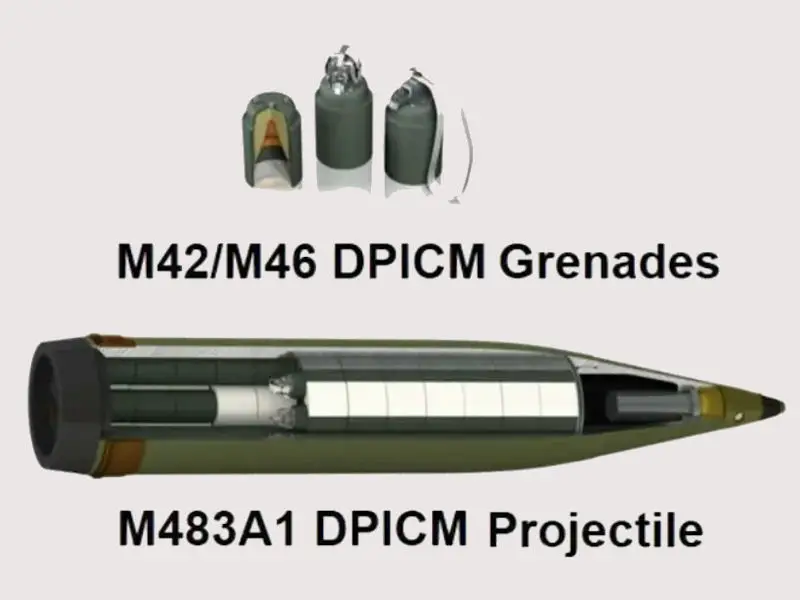 Now, the M692 is used to scatter either M67 or M72 landmines. Go look at the substack if you want the skinny on that. The weapon(s) that Tater seems to be talking about sending to the Kraine is probably the M483A1 (first made in 1975). This has had some upgrades over time. The latest iteration is the M864 put in production in 1998.
These have a BUNCH of M42 or M46 'Bomblets' or Grenades as the above chart shows. It carries (each 155mm shell) 24 or 48 Submunitions. The M42 is an anti-personnel round and has 48 of them packed into the shell, whereas the M46 is an anti-armor bomb and because it's got a bigger payload, it only has 24 in the shell.
Now, per wiki: "Large quantities of munitions bought during the Cold War were put into war reserve stockpiles. As of 2014, many were reaching the end of their useful life and required disposal, an expensive process. "

Guess they found a cheaper and quicker way to get rid of them Aye? Not sure if they're getting the older M483A1 or the M692s. My guess is "Use the old shit first" is the usual DotMil way… I mean some of the .50cal I saw in Iraq had Frankford Arsenal Markings from 1916 for manufacture dates, and when I left in 2011, they were up to using 1980's stuff.
Seeings we've sent all we can legally spare (not that that means a fucking thing to these retards) to the Kraine, well, yeah… they'll be sending any and all shit that's in the ammo bunkers I suppose… seeing how the majority of the civilized world has banned the use of landmines and cluster bombs, well… fuck it.

At least they haven't sent nukes
Yet.
BUT… 'tis still early in the game. I figure a few more major defeats and we'll see what we see… Although supposedly yesterday news was out that we finally got rid of the Chem Warfare stuff… mind you the exact quote from the DoD is:
"Today, U.S. officials announced that the final munition in the nation's obsolete stockpile of chemical weapons has been safely destroyed — a disarmament milestone decades in the making."

Bold mine.

OK… so what about not-so-obsolete chemical weapons?
Preeeeeetty sure that somewhere, someone, a Doctor Strangelovian type General Ripper has a stockpile for fun and games that we're completely unaware of? Anyways, the link to the bullshit is HERE. Guess we won't be seeing any Sarin Rockets aimed at San Francisco on Alcatraz anytime soon…

Mores the pity.

And according to new reports from Simplicus76, seems Krainfeld and his fucktards tried to hit the Nuke Plant in Smolensk with a missile… which was shot down. Their guy
"Medvedev commented on media reports that the Ukrainian Armed Forces allegedly tried to attack the Smolensk NPP:
"If an attempt to attack the Smolensk (Desnogorsk) NPP with NATO missiles is confirmed, it is necessary to consider the scenario of a simultaneous Russian strike on the South Ukrainian NPP, Rivne NPP and Khmelnitsky NPP, as well as on nuclear facilities in Eastern Europe. There is nothing to be ashamed of."

OOPS.
Not a good thing.
To my POV, they're running out of equipment and time. No idea how anyone at this point can think this's going to end in any way outside of a Russian win. Aesop keeps hammering on how the Russians are using T-55s. Yeah. They are. But HOW are they using them? Not on the front lines… well, actually they are:
They're putting in basic remote control systems, and judging from the shockwave of the blast, every. square. inch. of the interior with some serious explosives. Tell you what, what actually gave me the giggles was the Krainians detonated the thing themselves. At 1:01 +/- you can see the RPG reaching out from the fortified position the Krainians held. There were a lot of them buggers in them trenches that the T-55 was heading to…

The overpressure blast? Honestly, having seen the after effects IRL from BIG bombs? Unless some of them guys were in deep trenches that –didn't- cave in on them, not a fuck-lot was left of that Hard Point.
Jes' Sayin'
That was a monster of a blast… can you -imagine- if the Krainians didn't slow it down/cripple it where they did and it managed to get in the middle of their A.O. and be 'positively detonated' via whoever was radio controlling it? Also, another thing I noticed doing a frame-by-frame inspection and whatnot, I also think, besides the RMTP aspect, (Rapidly Moving Tank Parts) they also had the interior filled with ball bearings or something… there seems to be huge swaths of the woodline that's getting blasted by -something- over and above in that first micro-second…
Fuck me.
NOT something I'd want to experience myself.

So yeah bro, they're using T-55s in ways that suggest to ME a much higher, meaner, smarter technological approach than the supposed 'human waves' which we in the West, despite the multiplicity of GoPros, Cell Cams, Drone footage, the only slaughter of 'troops in the open' footage has been of Krainian Konscripts for the Klown and his Koterie getting smashed. I mean c'mon man… IF they had real footage of Russians 'charging in hoomon waves' footage would have gotten out by now. Especially in light of the need for the Propaganda win, as they sure AF aren't winning anywhere else.

So, we'll have to see.
That strike at the nuke plant? Has me a tad nervous… only b/c that's one red line Ivan has made clear enough, but the Koke addled Fuckstick? He's too stupid like most of his ilk are to know that he's going to purely die either way.

On a lighter note, a new website is up which is probably going to be exceptionally useful in the next few. It's called Camo Matrix and uses and has the majority of civvie camo on it, with various woodline backgrounds for comparison.
13th Legion over at Gab turned me on to it, and OH Holy Hells! IF dude gets the proper mix of DotMil camo up there? Talk about USEFUL!!! Right now, unfortunately, he's got primarily civvie stuff but has the M81 Woodland (old school from 80's/90s… MY old uniform) and the mostly reviled UCP (Universal Camo Pattern… that grey shit that looks like a pattern on Gramma's couch).

He's supposed to be adding to it, and I'm going to give the link HERE Check it out. If it becomes MOAR useful, I may add it to a list of "Useful Sites" on the right under the Ad(s)… Personally I already said he needs to add southern/swampy backgrounds as the majority of Spicy Times I think (outside of Appalachia) are going to be the 'playgrounds' and I want to see what the BEST camo I can get is… right now I run Crye Multis and Brit Scorpion, which are the same, but Florida? Hmmmn… not sure if that's the best for this A.O. Have to see what dude comes up with. I actually wonder if the Italian M1929 "Vegatato" might be better? Maybe in the fall? Like I said… gotta keep an eye open and see what guy comes up with.

More Later
Big Country