Greetings Me Droogs n Droogettes!
Looks like Paris is completely fucked. Microdick Maricon and his 30 something plus older-than-him handler…er "wife" haven't called out the DotMil in any way shape or form.
It's day four of the Muj-Rampage a.k.a. Le Grand Chimpanzé or to us English speakers, the Great Chimp Out.
Seems a nogger of some Muslim affiliation was stopped while driving and did the usual 'resisting arrest' and got himself capped for it.
Game on!

So… from what I'm seeing and hearing on various other channels is that it's spreading. Namely to Brussels:
Now, far from it to be said, well, fuck it, times like this is when you don't bother with 'arrests'. You declare martial law, declare a curfew. Tell 'em they got til 18:00 to get the fuck off the streets or else. Then, deploy the Infantry, and belt feds. You gun down –everyone– on the street after 18:00.
The next day, during 'carcass identification' any and all family members of a rioter who's stiff was found in the street, forfeits any and all property, bank accounts, and gets deported back to whatever third world shithole they come from after mandatory sterilization. Every. member. of. the. family. No exceptions.
Trust me… that'll square shit away beaucoup quick.

They'd learn to be polite nigras or they get kil't and the fam sterilized, impoverished and send back to wherever they come from.

My extreme reaction to this is they're destroying a lot of utterly irreplaceable white cultural artifacts. The library in Marseilles has been burned, with some of the rarest-of-the-rare medieval manuscripts, now lost forever because the importation of a bunch of sub-50 IQ'd fucking niggers who can't stop eating one another, who have no worth in any meaningful way, and are, by and large a disease inflicted on Europe by folks who, from what I can tell are a parasitical group they damned selves.
Of course said group is allllllll up in arms about one of their monuments being defaced:
No mention of the precious cultural heritage that's been destroyed… nope… all must bow and scrape before the holohoax memorial.
Sheesh.
So… coming to a town near the American Southwest? 'Cept those folks will rather institute La Raza and Aztec Chest Carving as seen by some of the more severe practitioners and members of MS-13… hard to say, but between the rumbling about the Nuke Plant that the Russians are supposedly pulling out of?

Word is July 5th is "Meltdown Day"

Everyone is soooooooooo sure that the Russians are going to take out the nuke plant… problem is why would they? It'll only pollute their own fucking turf. It'd make no sense and no, I do NOT want to hear how Putin is losing the war… save that shit for someone NOT wired into the intel services. Right now it's about a stalemate, primarily because Russia doesn't want to go much further. Their entire mission was to eradicate the Krainian Military, and I'd call that about 80% done, 100% if you mean the DotMil they started with in Feb of 2022… that one's been toast 3 times over now.

They're down to kidnapping folks off the street, and the 'elites' in Keee-ev are now getting draft callups, where as before it was to 'peasant class' farm workers… and they're damned near out of them…

Russia wants to get the remaining 25% of the Crimean/Dombass A.O.s that they had to stop going after last summer… once they can do that, create a 'cordon sanitaire' and reset the borders, THEN it'll be almost over.
Of course the little Jew Klown Kocaine addict is thinking getting some 40 year old air frames are going to make a difference.

Part of the 'rest of the worlds' belief in the overwhelming air superiority of the F-16 is that the Israelis used then to great effect against the Jordanians, the Egyptians and the Iraqis that have gone up against it, in Russian airframes. Problem is, that it's the pilots who were dogshit…

This's also been proven with that one Krainian Kat… who the fuck was it? Some Ukrainian "Top Gun" pilot who went to Mississippi and got into the U.S. military's Aviation Leadership Program.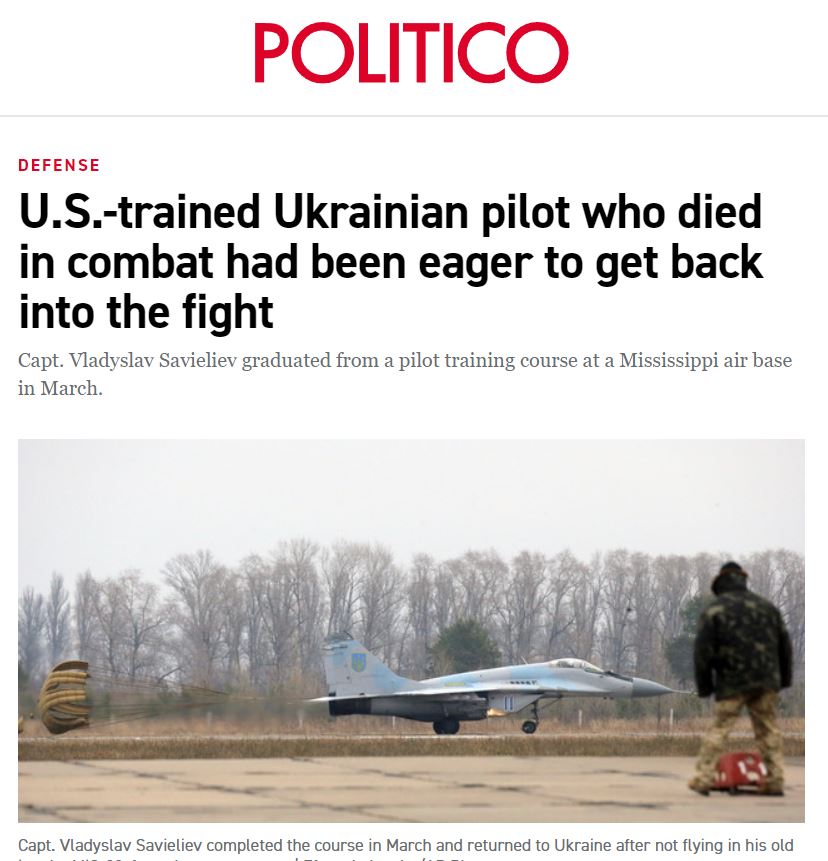 The program is for the best-of-the-best foreign pilots, and get instruction on the US way of doing things.

Fat lot of good it did this dude. He got his ass waxed on his first mission home.
Thing is, without the proper training there ain't no way in fuck is the equipment worth a shit.
In the case of this 'vaulted counter offensive' a.k.a. 'the Krainian Wet Fart' they literally did a combined arms offensive utilizing combined arms that wasn't fucking combined. NO Artillery prep. NO immediate call-for-fires. NO CAS (Close Air Support, like helo gunships). Hell, from what I heard NO Air support, period fucking DOT. NO Engineering support. NO Air Defense Artillery to stop those KA-52s, which, from the sound of it, are some serious bad jujuj whirlybirds.

Add on the RUMINT that in all the pre-buildup simulations, that NATO set the game to 'easy' and maaaaan talk about a crusterfluck.
So, here on the sidelines, poppin' some corn, and waiting for the fun to really kick off.
More Later
Big Country