Greetings Me Droogs N Droogettes!
Admin note first: Seems the Fireteam list had dropped a few folks including Aesop. Now, I unnastand he's a favorite punching bag around here, but hey, deep down, dude is cool w/me… actually donated $300 bones to the Save Addy fund back when we first started out and somewhere in that blackened lump of what used to be a Marine Heart, he even broadcast the fundraiser for a while. Looking over settings (and I'm still learning this damned dashboard) the amount of folks I could put in the Widget was like 10? or 12? All the others got waxed at one point or I did something stupid (more than likely).
So, today's question:
How the Hell do we get off this track we're stuck in?
I know the way the current illegitimate regime is leaning: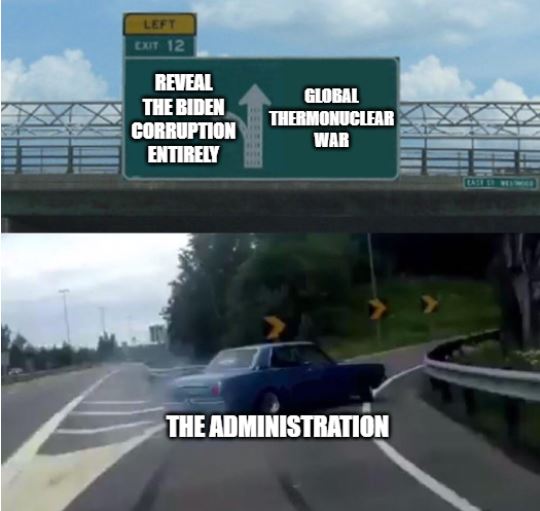 Treason is a big fucking deal.
And from any and all reports,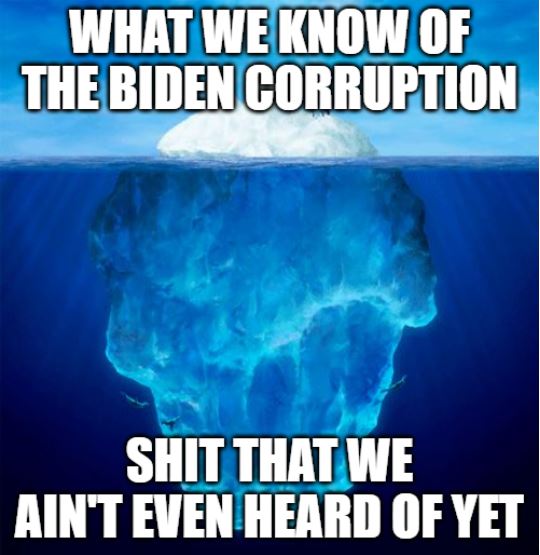 …even the small amount of shit that's come out, even to a fucking Normie, it's "treason most foul". I mean what do you call it when you take millions, if not billions in payment for doing 'dirty deeds' in favor of your enemies and furthering their countries agenda?

Sure, the act of treason is shown as "Treason against the United States, shall consist only in levying War against them, or in adhering to their Enemies, giving them Aid and Comfort."

I dunno about you, but taking in millions of dollars from the ChiCom Joe Chinks is giving 'aid and comfort' to a 'hostile foreign power' in my opinion. Never mind the whole Krainian Klown show.
And the thing of it is, is the "Kompramat"
At this point our Pretender to the Glorious and Harmonious P&PBUH (Plus 10%) Orifice of The (p)Resident, The Dementor-in-Chief, Emperor Poopypants the First, Chief Executive of the Kidsmeller Pursuivant, Good Ole Slo Xi-Den is completely and utterly compromised
I mean FFS that Krainian guy who paid off the Biden Klan thru Hunter-the-Bagman? he recorded all his interactions just as a good criminal should and would. He then spilled the beans and even gave the recordings to folks in the FBI… which in itself is nothing more than a fucking true Praetorian Guard, right out of Roman Times… fucking regime protection at it's finest. They've known about this since the get-go.
ALL of them lack any sort of legitimacy at this point
NOT ONE Branch of the FedGov, hell even the DotMil is to be not to be nor respected. Root and Branch baby, that's the only way this's going to get back on track. Problem is that the FedGov itself has become the single largest 'welfare employment scheme' in history. Read somewhere that fully 22% of our population, in one form or another, works for the DotGov.
Be it the illiterate Shaniqua or Deon'quaillivious at the DMV or Hubert Throckmartin Suckadick the Third working in the State Department, almost everyone is part of the system. And because of it, it's never going to willingly reform, never mind go away
And the FBI, just like in Hoovers day, has the dirt on everyone.
Which brings us to the Krain.
That little loudmouthed homosexual Kocaine Addicted "Komedian" we installed? Fucking Krainfeld? Any bets he's got alllllllll the dirt on the Biden Crime Enterprise? I'm fucking sure of it, hence why we keep lurching like some retarded Frankenstein Monster, folding like a fucking lawn chair and giving him billions and billions of our tax dollars.
Telling you right now, like yesterday, this's all bullshit, and the worst part is that literally we can see that ALL the major players in here belong to a certain tribe. Every. Single. Time.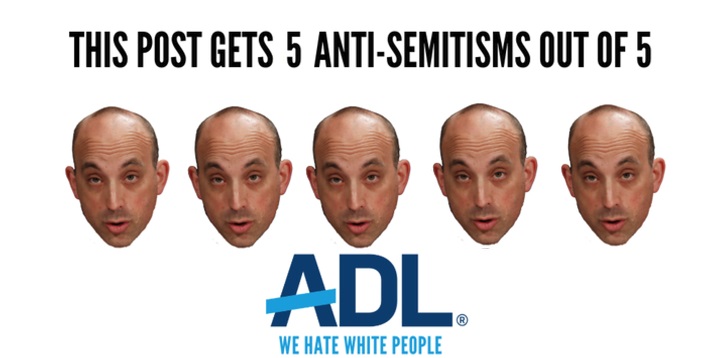 And yet -I- get called an anti-Semite for noticing that all the major players here are Jewish. I mean Heaven forfend that I notice things. That ALL the shot-callers and string pullers are part of a tribe that for whatever reason always seem to be in the middle of whatever international shitstorm is going on.
Nuland
Kagan
Blinken
Krainfeld
hell, it's even come out that Prigohzin is part of the tribe as well

But that's just on the surface. Maybe I'm wrong, but it does get one to wondering. Like I said, I practically get crucified for asking "why does it always seem like a certain group tends to be over-represented in these sort of dustups?"
Meh.

Thing that has me genuinely worried is that they're going to have to do –something- radical in the next few. The 'burnout' factor is hitting hard. Despite the proclamations of the Regime Mouthpiece, the retarded lezbo-muppet Karine Jean-Pierre that "Americans feel better about their personal finances, that is important. When you think about wages are going up, when you think about the really good paying, millions of good-paying jobs, union jobs that his policies are going to create, all the things are really incredibly important." I want to know what that fucktard is smoking, or, even better, the morons who sent that mouth-breather out there to say such stupidity.

She, of course got absolutely torched for such dumbassery.

So… fact of the matter is, despite the blatant coverups by the Ministries of Lies and Propaganda, we know that the current illegitimate Regime in Office right now is guilt of allllll sorts of grift, criminality, if not outright treason for profit. We also know things aren't "getting better" nor "improving" and that even Joe Sixpack is getting weary. The Krainian Konflict is looking more and more shady by the day, and that there appears to be no off ramp, leastways not with the current Cabal of Criminals in charge.

Considering just how things seem to be coming to a point, in that it's obvious that the Krain is finished on the battlefield, the question remains as to "what's next"?

My own thought is that –something– "wicked this way comes"
Vlad is on a precipice himself. IF Priggy's move was not a maskirovka to move his troops into a better position, well, Putin letting him 'off the hook' shows some weakness. Doesn't help he's painted into a corner right now. Lots of people on ALL sides are getting tired of that diminutive little Krainian fag and his tacticool look, going around and berating everyone worldwide. I mean who the fuck does he think he is?

I mean seriously
The only reason we're in the Krain right now is to protect the Biden Crime Syndicate. Outside of the military industrial complex making MAD profit, "We The People" get nothing out of assisting the most corrupt Despotic Regime in Eurotrashland to "defend itself"
The -only- plus I can say we have is we haven't (yet) committed boots on the ground.

LET Europe Burn.
LET the Krain Burn
Hell… Europe is filled with nothing but North Apefricans and Muj at this point. Let THEM defend against the supposed "Massive Russian-Orc Onslaught" with spears and shit.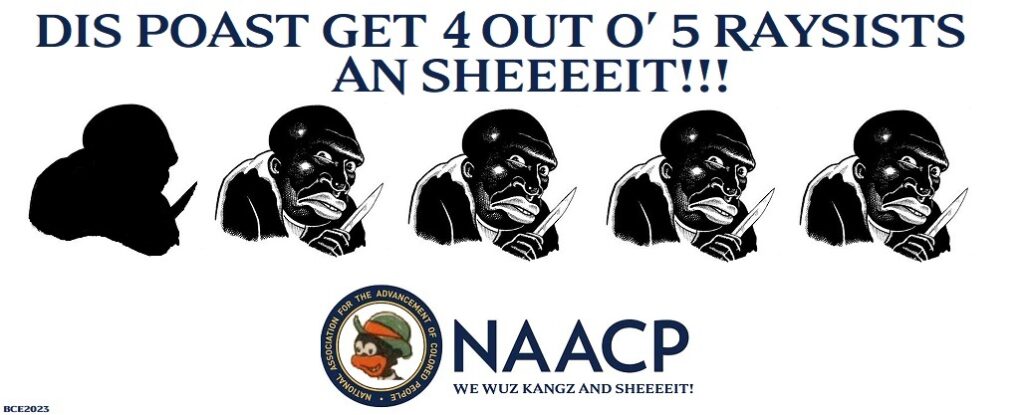 And yeah, do you like those two graphics?? I made 'em. The lil logo for the NAACP took a long time to do as it was from a graphic of I think some soap from the 30s… Burrhead soap or some such… seemed appropo to me… Feel free to re-utilize them as wanted/needed. You can add/subtract the rating in paint by either blacking out or cloning/pasting over.
Anyways

Do I think that the Biden Crime Syndicate would burn the world down, rather than allow themselves to be exposed?

You're absolutely G*ddamned right they would.
To them, it's their world/oyster/ball
And if they can't have it no one else will
And that's the most terrifying aspect of it all.
ONE False Flag
ONE False Move
Or worse even, ONE MORE exposed dirty lil secret, and maaaaan
It'll come a day that the name "Biden" will become an obscenity which will be uttered as a curse, throughout future history
Once 'they' decide it's time to "Burn it all down"
WE have no say in it, what with our self appointed Executioners safe in their bunkers, deep underground, who in turn have a belief that after it's over, that they'll come out, and 'take charge again'.
Got a hunch it'll NOT play out the way they think it will
More Later
Big Country