Greetings Me Droogs N Droogettes!
Another Monday, come and gone and man, can't understand despite all the productivity at People's Glorious Tractor Factory just how I do so much, yet felt like I didn't do jack shit.

Probably because it was fucking Monday…

No wonder I hate the modren world and enjoyed the DotMil.
At least there I could actually see the results of a good mission being completed. And, despite the let-down feeling, as compared to "Dilbert's World" from which I came from before?

OH man, let me die at Tractor Factory. Good job, great people, OK pay (I could always use a raise) and I get to pretty much work at my own pace as opposed to being overseen by some Midwit.

Dilbert's World BTW refers to the Hellscape of the Cubes… you know… the world that essentially died during COVID? I'd like to see the real numbers on the reality, but the attempts to frame 'work from home' as a bad thing are belied by personal experience… One of the jobs I did BEFORE Glorious People's Tractor Factory was a work from home call-center sort of thing.

The raw numbers were that productivity was actually up like a mo'fo' year-to-year. Like 11% increased productivity, and like an astounding 70% increase in job satisfaction. Hell, I positively LOVED doing it… no commute? Awesome. No having to get 'dressed up' for work? Sheeeeeeeee-it. I was lucky if I hit the shower every day… the very fact I could get up 10 minutes before my shift started, grab a cuppa, login, and start going? And hell… showers usually came at first break… 15 minutes to do the 'ass-and-trash' thang and get back on?

Heaven.

Which tells me that GloboHomoCorp, by the latest stories is purely full of shit talking about trying to get people back into the orifice. Then again, when is GloboHomoCorp not full of shit? The main reason I think all the latest stories of 'production down' and 'people need to be in the orifice' is that they're faced with utterly brutal rent issues and collapsing real estate… the call center I managed in years ago was a (not literally) but a burned out mall… one of those GIANT 1980's malls that shit the bed in the 90's collapse.
They took all that millions? of square footage and turned it into GIANT call centers. THEN when the 'Vid hit, they sent everyone home with an IP phone, told 'em to rig up at "Fort Livingroom" and man….
Katy bar the door

You ain't getting the serfs/wage slaves back on THAT particular plantation. I mean really… the savings in work from home? I used to have a 22 mile each way commute… call it gallon, gallon and a half use a day… That's like call it… huh… about $8-10 a day savings. Then lunch? 90% of the time? I was newly single… I don't 'brown bag' it, so lunch, pre-current psycho-inflation, was about $7 a day +/- for Mickey-Dees Quik-But-Nasty Goyslop.
Never mind meeting up on Fridays for beers with the guys…
Realistically… call it $50 in gas, $40 for Lunches… and I'll just write off the Friday beer, 'cos either out with the guys to the Winghouse or Hooters, or at the house, the $25 was getting spent no matter what.

So yeah… call it a Cee-Note weekly that I saved.
$400 a month
Never mind I no longer have to buy 'work clothes' for a dress code or anything… shit, I, even when I do report in person, shorts, flip-flops and a Hawaiian shit is passable. When I'm doing 'home-work'?

Lets just say Gretchen is on me to get rid of my "…raggedy assed nasty t-shirts you live in!!!"

Meh

I'm a guy, what do you expect?
Couple of holes in that thar concert Tee?
Fuggedaboutit.

So… other things.
Seems I've been getting practically bombarded with emails from some of the places that in the past couple of years that I bought silver coinage from. Back BEFORE silver went sorta-kinda-nuts… I paid about, with all included, about $25-27 per coin… and I've been getting blown up with requests to buy it back…

Which then makes me go "How much is it currently?"
Let's see…

As of today? $24 an ounce is a bit steep
As you also have to pay the seigniorage for the coin itself…
And looking it up…
O.M.F.G.
JM Bullion:
WOW!!!
When you figure in shipping, call it $50 a coin. That's nuts.

Yep… "Our economy has never been better or stronger": So say
some delusional bunch of reeee-tards in the District of Criminals.

Gold is under $2k.
That's normal per usual for now, as 'they' seem to artificially depress the cost on that, on the reg. What I do know is the Mickey Dees Inflationary Rate is off the charts.

Ain't no mo "dolla menu"
And a Big Mac, Large Fry, Large Coke?
Try $12.89 with Tax
The local high(er) end Pizza Place is cheaper. It's a nice sit-down 1940's themed place, live piano on Friday Nights, unreal food, and a Martini Menu that'll blow you away. My fave being the Espresso Vodka Martini… WITHOUT Booze, we can get a nice large woodfired Pie for about $25 with tip. The atmosphere is very "Godfather"-ish…
Two fucking combo meals from the Clown costs as much. And is a faaaar more inferior product.

So, to me, besides the MDIR going nuts, the fact that silver is waaaay higher than it should nominally be, and that they're begging to buy it back?

Oof.

Now, speaking on 'DotMil stuff'
LOTS of vidyas surfacing. LOTS and LOTS of vidyas. 32 states so far showing massive movement nationwide of everything from M-109 SP 155mm Arty running on a highway in Idaho, to Strykers in New York, and columns of HMMWVs rolling through, no shit, Los Angeles?

Initially I was sort-of leaning in towards it being the summer. LOTS of folks seem to have forgotten that it's normally time for the Army Reserve and National Guard to fire up the Summer Annual Training, something that over the past couple dozen years or so got forsworn as well, who does AT when yer headed to the sandbox(s)?

Then Milley Vanilli put out word that "This ain't training".
Rut Roh.

Now just why in the hell the Perfumed Princes of Sodom-on-the-Potomac would come out and I dunno, say something pretty fucking inflammatory? I mean to quote Bill Paxton: "Maybe you aren't up on current events, but we just got our asses kicked, pal!" – Hudson 
Seriously, we just lost two wars, our guys are on the back foot, and by all rights, normal Annual Training -should- be starting
Instead?

Just what is all this shit being moved around for?
The M-109s on the Idaho Highway is a bit extreme.
I mean in light of the fact that I don't know where the footage was shot, nor the circumstances… I do know there's like only 2-3 significant DotMil (both Reserve and NG) in Idaho…

Reason it's exceptionally odd is that usually tracks like that are put on HUUUUUGE Trucks called "Prime Movers" to haul them around: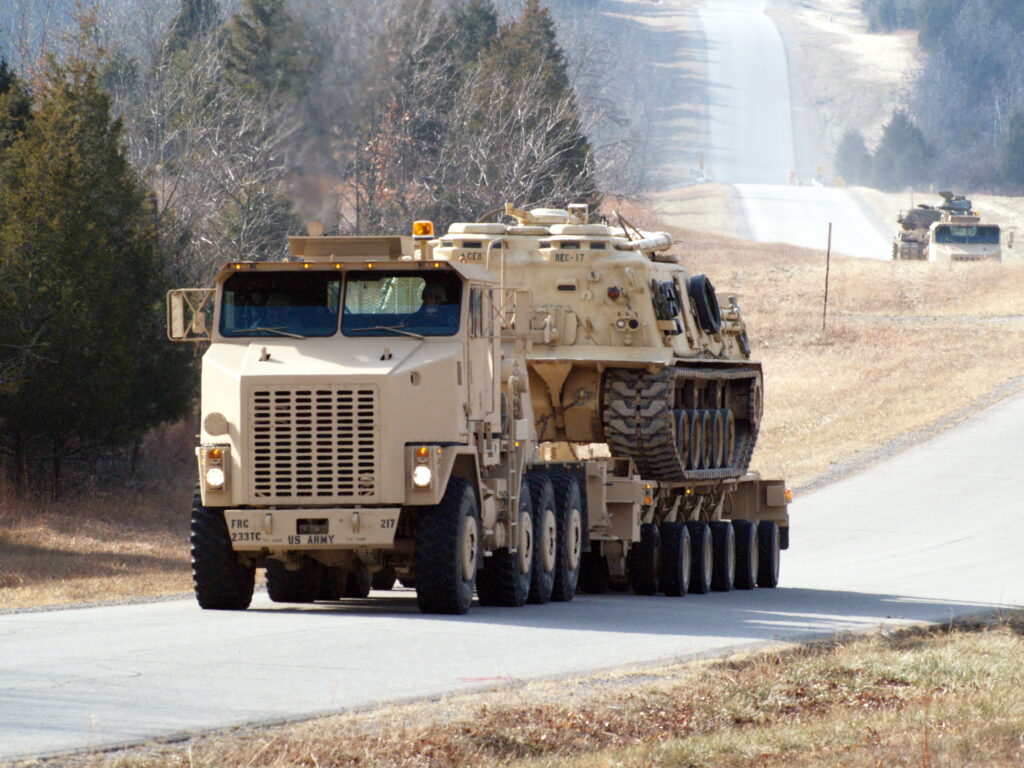 Let me tell you
The M1070? That be a TALL sumbitch… I used to purely hate having to climb up and into 'em to check the Dataplates. 28 wheels and power than makes a Mack Truck look like a Volkswagen Beetle. The pic above? It's hauling a M-88 Tank Recovery vehicle, a track that, in its latest iteration, can haul not one but two broke assed M1-A2s which come in at 74 tons… each.
So I find it very odd to see Self Propelled Arty rolling around… generally the state, hell, the DotMil purely hates to let tracks on hardball roads, hence why, it looks like those tracks in the aforementioned vidya are juuuust off the road and in the breakdown lane/dirt. Tracks'll rip the hell out of asphalt. BIG Reason Germany's Autobahn was made of cast concrete was to facilitate NATO rolling around cray-cray in the event of WW3, as well as to provide alternate runways for NATO warplanes… During REFORGER it kept the cost down quite a bit.

Although a buddy of mine showed me a picture of a road in South Korea that got tore-up-from-the-floor-up when an Abrams 'accidentally' got on a asphalt road… man, chewed that shit up like a mo'fo'. And that was with rubber track pads… can't even imagine what Russian-Style bare steel tracks would do… probably throw 'rooster tails' of shredded rock out behind it…

So, strange things are afoot at the Circle K.
Head on a swivel. I have no idea but in my head, the 23rd of this month keeps popping up in my nugget… both in dreams/nightmares. No idea but still…
More Later
Big Country