Greetings Me Droogs N Droogettes!
Thanksgiving on Sunday (leastways around here). I'm doing alllll the cooking and prep tonight.
I'm doing the prep on what I can… The dressing/stuffing, which in itself is it's own meal. It's so good and popular, I literally had to make 4 pounds of it this year. Basically, 4 boxes of Stovetop, with the 6 cups of water, and 2 sticks of salted butter. The key to it is the 3 pounds of mild Italian ground sausage. I season the fuck out of all of the above, and then it'll go in the oven for about 20 minutes at 400….just enough to 'crisp' the upper crust and reheat it…
Thats a LOT of dressing…
Jes' Sayin'
Also doing a sweet potato thing… essentially 3 BIG honking sweet potatoes that I baked and then scraped. about a cup of heavy whipping cream, and added a pile of cinnamon and sugar… capped off with marshmallows.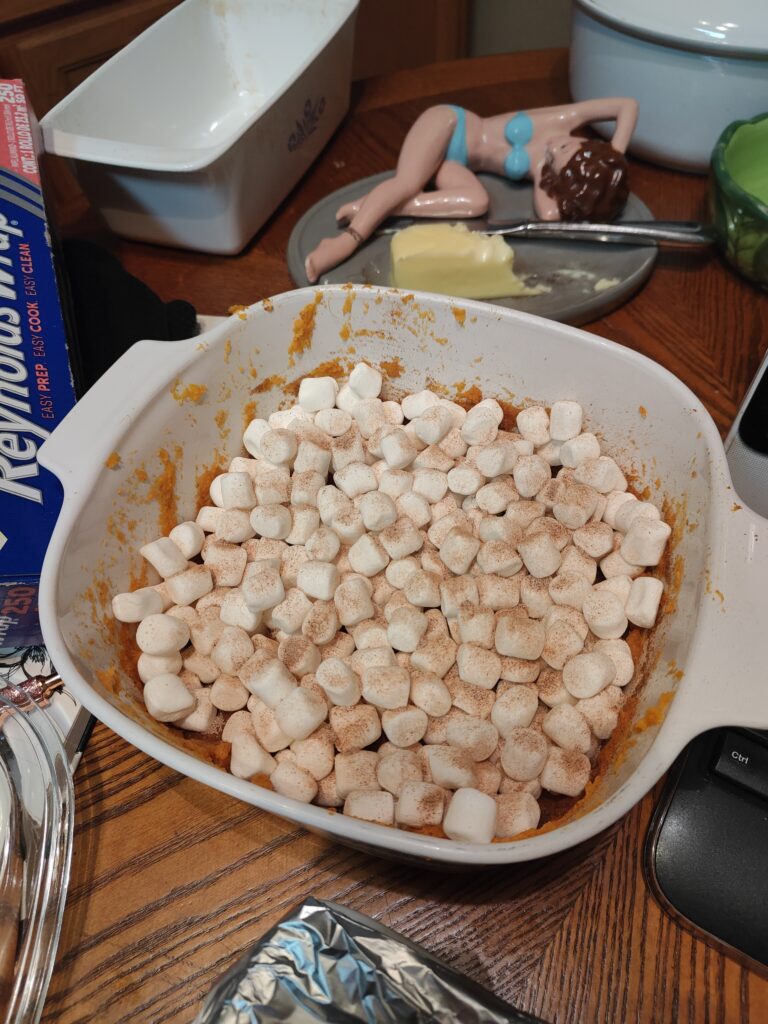 Then 'dusted' with more cinnamon and sugar for good measure. Instant diabeetus anyone?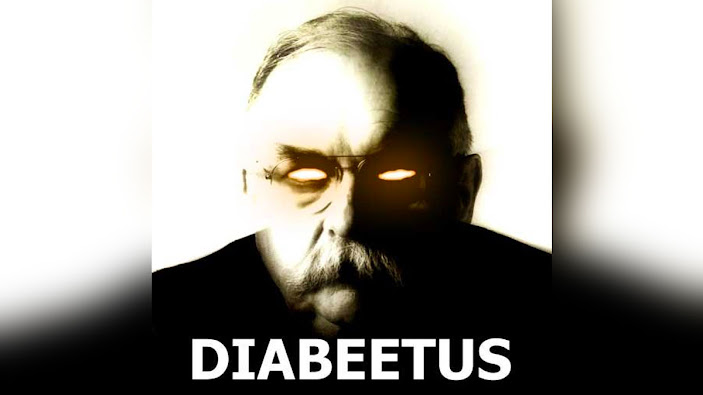 Eh… what the hell? Gretchen has a mad sweet toofus.

Now, as to the title?

The bird we're cooking has been sitting next to Walt Disney in the extreme deep freeze for about two years +. It was a 'work gift' so to speak, back in 2021. We already had a bird, so we plonked it in the deepest part of the freezer (next to Walts Head). This year as shekels have been tight, AND we're having a full-on T-Day with Gretchen's Parents, plus Sapper and the Gran, (nevermind we're even bringing the Sausage Princess with us) I figured we could bust out this big fucker for all of us, as it's just a shade under 15 pounds.

That's also the reason I'm 'going big' for ALL the food this year, it'll make it so Mom and Dad have a fuckton of leftovers to narf on for the next few weeks… I did the majority of the defrost the other day, and then, since I'm in progress, I snatched the label off of it so's I could gander exact weight/cooking time to make my plans…

Holy. Shit.
A 14.85 pound bird
From 2021
.49 cents a pound
Total Price, as you can see $7.28

This was essentially Year One of the Reign of the Pretender to the Glorious and Harmonious P&PBUH (Plus 10%) Orifice of The (p)Resident, The Dementor-in-Chief, Emperor Poopypants the First, Chief Executive of the Kidsmeller Pursuivant, Good Ole Slo Xi-Den.

"Bidenomics" hadn't gotten really started then…

Essentially the pic above is "How It Was" and the new one? I'm going to have to go get a pic tomorrow of a 'current day turkey' at Publix for the "How It's Going" part of the meme… just checking online though?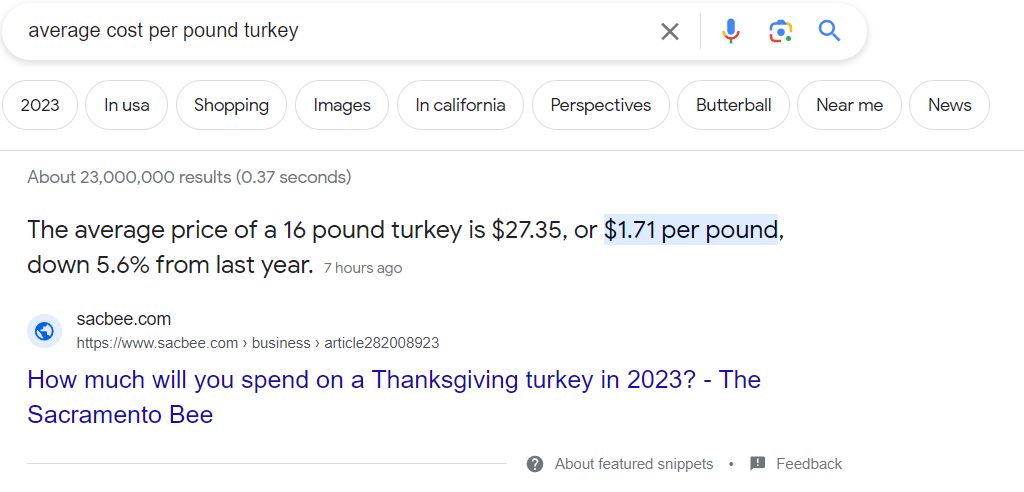 And at $1.71 a pound, that's supposedly better than LAST YEAR!?! Down 5.6% supposedly???

That's some Jim Cramer math right there Aye?
And Publix tends to be a bit more expensive than Wally World or Winn Dix. Even so, how in the fuck do they frame THAT particular shytteshow? I mean literally I have the receipt!

Yeah, we're fucked.

No idea what's going on in the Kraine right now, but it can't be good. Insomuch as the Ministries of Propaganda and Lies have all gotten new marching orders, and have been blasting Krainfeld, and that the war needs to be 'settled' ASAP, even if it means that the Kraine give up some territories like Donbass and such for the interim. Problem with this?

Well, the 600 Pound HIGHLY Combat Experienced Russian Bear-in-the-Corner might have his own opinion as to just how this particular fucking shitshow ends… and I damned well can gar-ron-tee that NO ONE is getting to 'set terms' except for them.

Winners get to fuck the Prom Queen…
You figure it out from there.

Which also leads me into an observation. As of late, over on the voenhronika website, the vidyas thay've been showing? Well since it's pretty much a Russian Rah! Rah! channel/report, the majority of the 'stuff' they show are the Krainians getting their asses handed to them… which I'd expect. The NEW THING that I noticed however, besides a LOT of dead broads, was the helmets.

Before, whenever we saw vidya of Krainians either being KIA'd or captured, they ALL seemed to be wearing the 'latest and greatest' type of Skullbucket. Most of which were like my HHV tactical cut style cover. Now?

These two pics are freeze frames from some of the vidyas… one is a drone vidya, the other from Russian Troops taking a trench and inspecting the stiffs…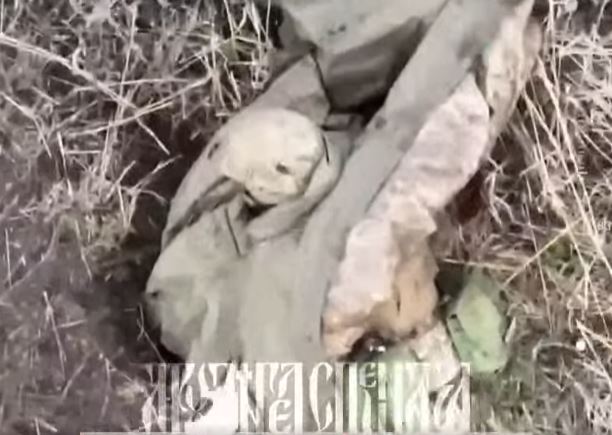 That's the drone vid, and then IN the trench:
That dude is a stiff… the close up is when the Russian pulls the helmet back, and there's a big ole hole in his squash.

What -I- noticed is they're all wearing the earlier model helmets.

Those look like MICH or ACH models…

Which IF these are 'front line guys' (which I believe they are, as the Russians ARE killing them on the front lines as opposed to the rear areas right?) It makes the Loggie In Me question the supply situation.

Are they OUT of the 'latest and greatest' gear?
Are they down to using whatever they can scrounge?
Inquiring minds and all that Aye?

I mean if they are out of the latest model helmets, that ain't good. I mean we already know that they've exhausted their prime age menfolk… to the point we're now seeing dead splits in the trenches…

I mean I can absolutely see them running out of Tier One Gear… in fact a LOT of the rifles we've been seeing in these capture/kill videos that the Krainian Korpses have are older AK-47s firing the 7.62x39mm round, unlike earlier in the war, when the Krainians were running M-4s with their SF kids, and AK-74s firing the 5.45mm round… Couple of Russians who took a trench in one vid were bitching that they couldn't reload, 'cos the ammo in the trench, that they could find that is, was all 7.62mm as opposed to their 5.45mm they needed…

I haven't seen a lot of M-4s or M240s either as of late…
Like a Krainian Male who's 20 years old, not rich or connected, in good health and not in the Krainian Army???

He's on the endangered species list.

Yeah…
Difference is instead of a shithoused Martin Sheen, we're going to see a Koked out Krainfeld fleeing to Palm Springs, seeings how Israel is a bit 'hot' these days…

No matter, the FSB will settle his account, if our own CIA guys fail to 'scratch' him… he's pissed off too many people, especially his own… IF he makes it out of the Kraine I'll actually be shocked. It's becoming more and more apparent just how many are actually dead, and that HUGE numbers of families are sick and tired of the lies, propaganda and bullshit being spewed by their -now- (p)Resident For Life the Kokaine Kowboi Krainfeld and his Koterie of Klowns…

I wonder if they'll finally get their jimmies rustled up enough to have a "Ceaușescu" Moment?

Either way, that show, much like "Weekend at Bidens" is over. It's just a matter of figuring out "…where to let the body(s) fall, and who's going to be the replacement(s)?"

Stay Tuned… Savage Times Ahead
And Don't Forget the Raffle! $10 gets you about $400 in Gear!
More Later
Big Country