Greetings Me Droogs N Droogettes!
A-Polly-Olly-Geez for being 'out' another day AWOL. Turns out I'm not just 'sensitive' to the eyeball 'roids, I'm full on allergic. Woke up yesterday looking like I had DiFi's Blown Out Eyeball… like demonically possessed much BCE? Painful too.

So off to the Eyeball Emergency Room (the VA has one specifically here for these things, who knew?) which I guess this is normal/not normal, but common enough that they handled it nicely and quickly. No damage on the permanent side, but man, when you want to take a Leatherman out and rip the eye from the socket because of pain/itching? Maaaaaan… Add on this was straining the 'for better or for worse' with my bride as she was getting pissed with the docs 'not getting it right the first time'… not that I blame her, as she had to haul my blind ass around in the car… I mean as much fun as it might be to try and 'Use the Force' and do a 'Stevie Wonder' methinks the fuzz might have something else to say about that.

That and I owe on the car… it'd be one thing if I had a beater "Hate Tank" but unfortunately It's a 'new car' that I owe on. Remind me to tell y'all about the "Hate Tank" at some point…

On to 'Da News' as it were.
Been surfing a LOT of vidyas on the Krain.
GOD what an absolute shitshow.
Seems that the conscripts still haven't 'gotten it'
Not sure who I feel worse for
1st Wounded Dude who they all were carrying or 2nd Wounded Dude who got hit after the round boiled in and they left behind when they hotfooted out of there.

To be very point fucking blank honest, that's about as fucked up and cowardly an act I've even seen in my life… I mean I can understand that when the round hit, maybe 1st Wounded Dude took more shrapnel and/or was dead… I mean when they unceremoniously dumped his ass off the stretcher he sure as fuck wasn't moving…

The shitty part is that as they move towards 2nd Wounded Dude (who's flailing around, probably screaming his lungs out… if you enlarge you can see his left? leg is like totally fucked, all floppy and shit) they suddenly drop the stretcher, and dip. Now there's no sign of any more incoming, leastways in that narrow field of view, but as them two dudes do the "bugout boogie" I don't see anything that should have stopped them from helping their friend…

Any wonder why I 'lean in' on the casualty numbers being as high as I think they might be? With MEDEVAC like that, who needs friends? 400k KIA might be far lower IMO.

And then, another sure fire takeaway the wheels are coming off: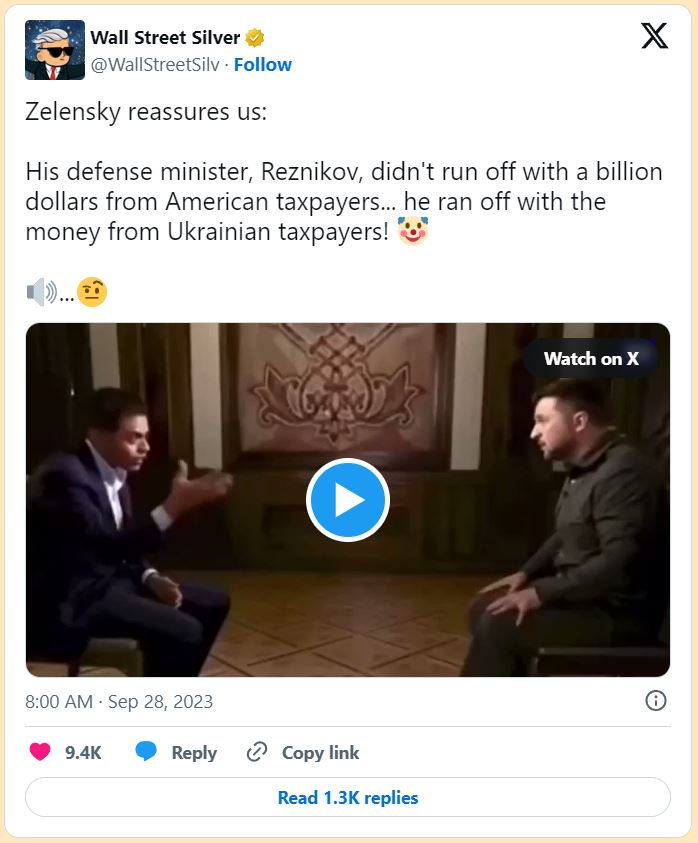 Which is different how?
But Krainfeld has reassured us
That should be enough amiright?

Uhhhhh…
….And the Pretender to the Glorious and Harmonious P&PBUH (Plus 10%) Orifice of The (p)Resident, The Dementor-in-Chief, Emperor Poopypants the First, Chief Executive of the Kidsmeller Pursuivant, Good Ole Slo Xi-Den wanted to give what? 24 MOAR Billion Dollars to these fucking thieves?
Guess Joe wanted to pad his retarded… errr retirement a bit more before he leaves the scene.
Which is exactly what this entire thing is all about. "The Grift™" Incorporated. I mean besides the Dissolute Scumbag Son, how many others kids were involved? John Kerry's for one, Pelosi "The Gin Hag", hell Mittens Fucking Fake Mormon Romney's kids have all been hustling and shuffling that foreign aid back to the family coffers for years. This war just made it faster and easier.
Hence why it's never going to end.
Not until Vlad decides he's done and pops these assholes.
I'm just highly surprised he hasn't let the kompromat that he's got to have on all these fuckers loose. I mean The Gin Hag, as well as every. single. other. DotGov fucktard, to include the now good Senator DeadFi, has been on the Cartel payrolls since Christ was a Corporal. If -I- were Vlad? At this rate? I'd let the Krainians finish smashing themselves to dust on the defense, and as the full on Election season starts… July-August of next year, start then on the final march to Kiev, and when NATO and the rest of the Winken Blinken Stupid and Nod folks start squawking, drop ALL the dirt on ALL the politicians in the US everywhere and let nature take its course.

I mean at that point some of the shit out quote "Betters" unquote have been doing? Even Joe Normie might actually take up pitchforks and torches and go and burn out/hang the bastards, with Law "Enforcement" sitting it out, as they ain't paid enough to die…

Jes' Sayin'

So that's it for today
More Later
Big Country