Greetings Me Droogs N Droogettes!
So we got Gran #1 this weekend. Today was a trip up to the 'Rents (Gran#1 Great-Grans) as, TBH they're getting along in years. At least Da is taking it well, as I'm flat out with him… ZERO safety on Ye Olde Gob but he laughs his ass off as he's prior service Navy. Told him flat out I ain't got no 'bedside manner'

No shit he joined Pre-Korean War, got out right before and man, unlike OH so many of his Generation was a true patriot. We get along big time. In fact I'm closer with him than my own father, sad to say. Unfortunately his BFF, a fellow squid moved about 9-10 months ago… Artie is a hot-shit old guy… late 70s… bald and stooped like an egg, and a BIG ole tat on his ass of an anchor… when I told Gretchen about it, she was purely shocked to death as she grew up with "Ole Artie" from up the street, and never envisioned him as a drunk 18 year old in Cavite on shore leave…

Fucking almost pissed myself when she asked if he had a tat, and his answer was to drop trou…. Fucking Legend man.

It was a good day…
Poignant even

Mom and Gran #1 having Ice Cream Cones on the bench in the front yard…
Mom ain't doing so well. Between the car accident where she took a concussion and then the effects of the Clot Shot? Yeah, her oars don't go in the water like they used to. Believe it or not, that's her natural hair color… she's the stereotypical 1950's Blonde Ditz (to a point) Problem is now the clotshot fucked her nugget up… her memory is shot the fuck thru.

Either way, we'll be taking care of bidness for the duration.

So after the visit, we got home and K found the Paw Patrol Vidyagame I got for her on the Xbox. Now, she knew I had it, but she was too young when I got it initially for her. Since then, Papa has been teaching her Mario Brothers (Good on ya bro!) so she now 'gets' how to manipulate a side-scrolling vidyagame.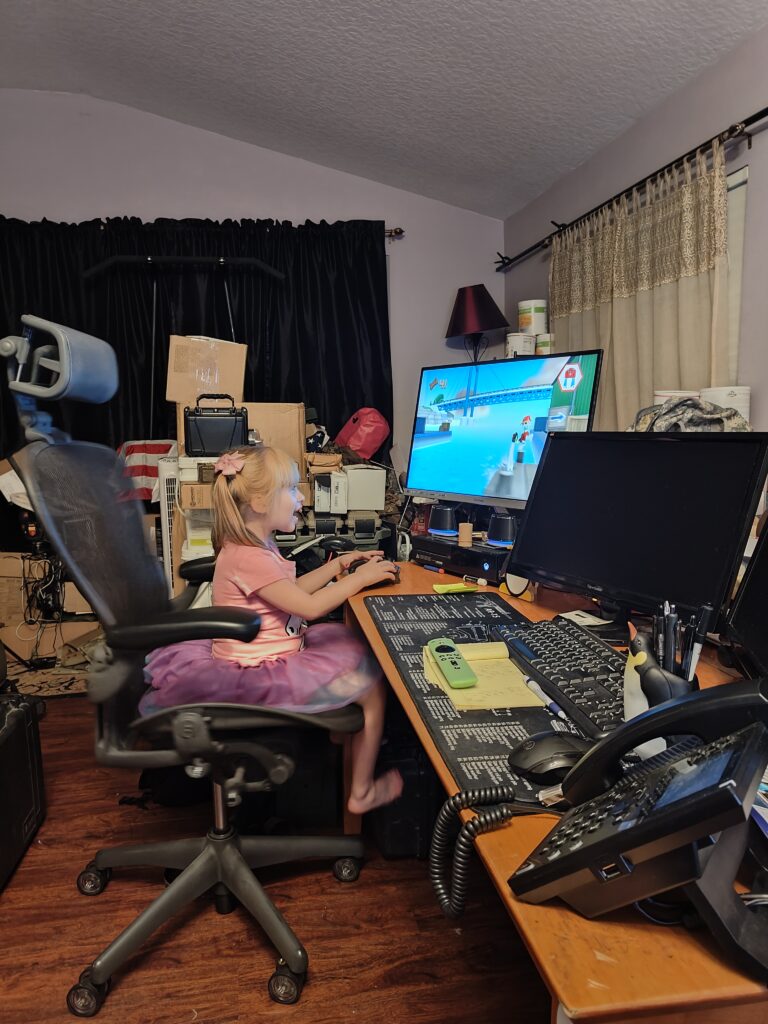 Yep.
Mouth open while screaming in glee.
And yeah, the orifice is a wreck. Allll them boxes in the back are piled high and deep with food and supplies… that doesn't even cover the 4th Bedroom which is also filled the fuck up. Been stocking hard and deep since 2011. Mountain House for the most part as it's got a LONG shelf life.
So, per a couple of requests, I'll be going over some 'stuff' of DotMil Tactical knowledge I got. That or put it on my substack? Yeah, Normal 'Murican recommended I start one and maybe make a subscription side after I get established? Might. Could use the scrim, no doubt. So, gotta put the kid down.
Holler Atcha Later
Big Country