Greetings Me Droogs N Droogettes!
Yannow… I know I fought like hell to get Addy back… still am, just a different battlefield, but after weekends like this? I ask "Do you really unnastand of what you are potentially getting yerself into Bro?"

Chasing the Midget Redhead for 2.56 daze? O.M.F.Gawd!
Worn out, used up, torn up from the floor up.
To think I'm capable of 'runnin' and gunnin' like I used to in daze past?
Heh
Heh Heh
BWAHAHAHAHAHAHAHAHAHAHA!!!
Sorry… sorry but oh Lord Jeebus that's funny.
The idea, not the reality.
Not only that, but today we had a significant milestone
Dropped her first baby-toofus.
We were at the pool at G-Ma's Crib across the street. She was, per usual going full bore. Now, didn't hit her grill or anything… she just suddenly -stopped- in place, said "Gigi, my toof fweels funny."
Next thing you know, she grabs it like a grenade pin and pops that fucker right out!
Thankfully Gretch was on the ball and got it before it disappeared in the pool… You can see it above in the bag where she was all oh-so-proud of her now gapped-grill. No blood either really… she's on schedule, as she is 5 point 5 in years, and apparently Grills lose their toofuses starting as early as four point five.

Initially otherGran, Papa, when we called him incurred the 'Wrath of Zeus' on us, thinking we'd allowed the Red Headed Rocket to self-damage… which I can completely dig… After I told him to check the Goolag, and explained the 'how' of it, he was like "Damn!" I can understand the potential let-down of missing this sort of thing, but HE gets to play Toofus Fairy, which is a MUCH bigger deal.

So, tonight's subject
MOONSHINING
K?
See, there were several points in Iraq where we couldn't get booze. So, it became a necessity to learn how to make my own booze. So, hence (and no mo-nays to me for this link) but I found and utilized the "Mister Distiller": Link HERE
Pic Here:
It's a water distiller that's been 'tweeked' to allow booze to be brewed in it. Now, it made me a liter at a time 114 proof booze, once I lern't what I was doing.
Now, the key is making the mash.
The mash can be as simple as sugar, water, and yeast only.
With mine, I had an old 'shiner from back in the day who told me to add some either pure wheat baby food (Gerber) or a spoonful of oatmeal… not sure -what- it did but it took the flavor from 'dogshit' to smooth-as-a-prom-queens thighs.

So, you also need to have the other equipment
Buckets (for fermenting the mash). I used the 2 Gallon ones.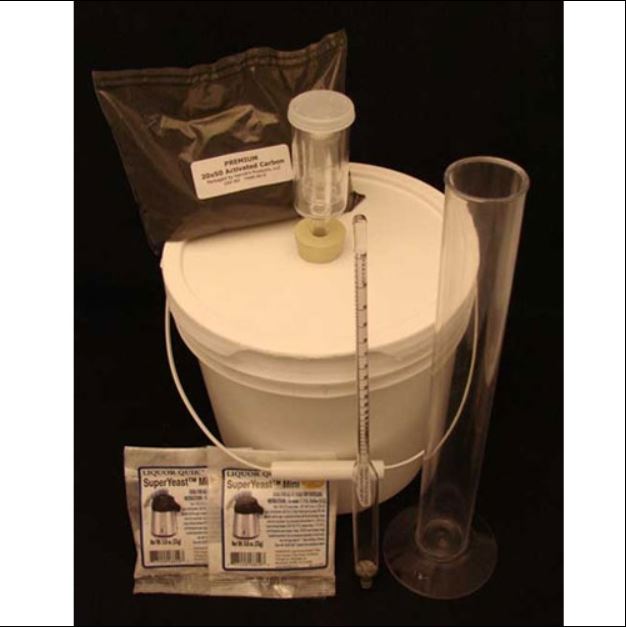 In this case, it comes with the bukkit, as well as a bung/air-gasket and a couple of other things, like the alcohol hydrometer (which allows you to 'proof' your booze'

All in all, figure $300 for this kit.
As I was in Iraq, it made sense to have an electric still, as I -did- nominally have power. There are other stills ont he site thast use fire/heat/other sources, but for me? This worked well, and considering I have a generator, as well as a solar rig, this'll do just fine.
'Cos booze is good medicinally, as well as trade goods
Things to keep in mind.
Jes' Sayin'

So, TTYL… been a loooong weekend.
Big Country