Greetings Me Droogs N Droogettes!
Well, I'm sorts kinda back. The right eye could be used in an Advertisement for a horror movie. I had a 'severe inflammatory response' to the dilation liquid, meaning I have the "Red Eye of Death" going on. After they got done inserting the new lens, to keep it in place they shrunk (dilated) the fuck out of what? My pupil? to hold it in place as they told me because I'm 'over average size' they really 'tightened it down' otherwise the lens would have 'floated off?' Not really sure as they had to really dose me up with the Vitamin "V" (valium) to keep me from twitching around.

So the post-op explanation is a wee bit fuzzy.

And to think I get to do this again on the 16th. I had to have the procedures split up, mainly due to various med issues. They weren't sure how this one was going to go, and IF something fucked up, better I still have ONE peeper functional Aye?

Now that we know I'm not going to die/go blind I get to go through this all over again, once this one is fully healed.

So, back to the news, such as it is
North Korea made an announcement: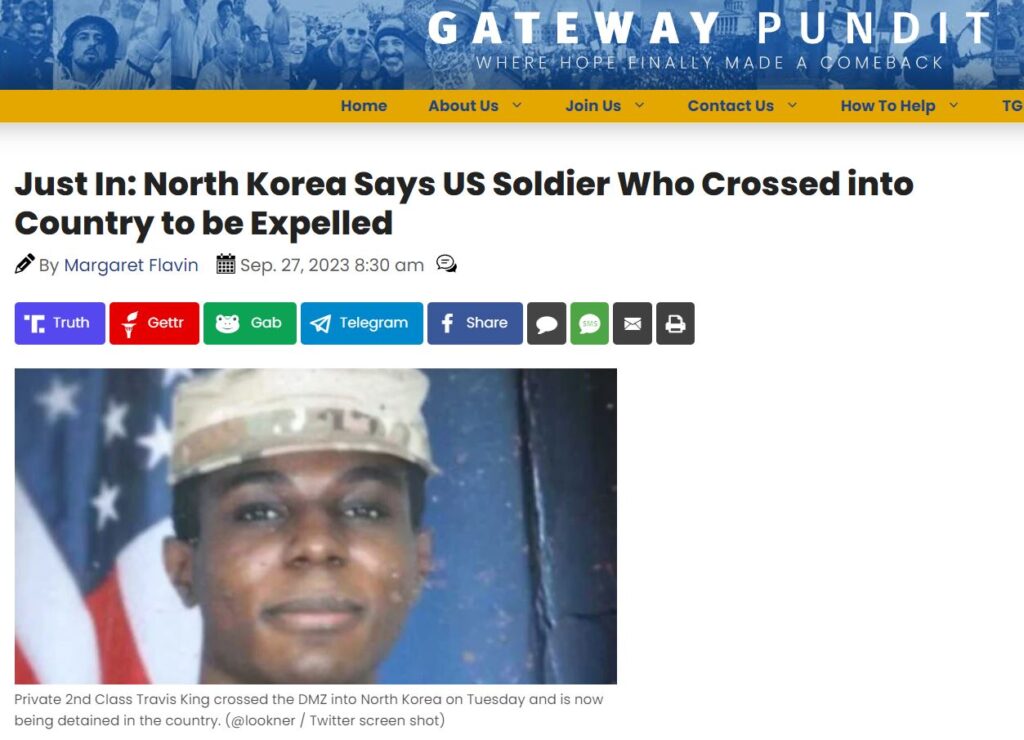 Former Pv2 Travis "Kang: King is being returned to the US DotMil. According to sources :"The relevant organ of the Democratic People's Republic of Korea decided to expel Travis King, a soldier of the U.S. Army who illegally intruded into the territory of the DPRK, under the law of the Republic," the North's official Korean Central News Agency said in what it called the final findings of an investigation into King"

"Reportedly, Kings repeated demands for "purple drank" and "…wanting to git sum stank on his hang-lo" were the deciding factors stated an anonymous member of the DRPK delegation." "We cannot, nor do not understand how you people tolerate such an animal. He is no better than an unwashed, untrained monkey." continued the source, "We in the Democratic People's Republic of Korea pride ourselves on our evenhandedness and equality, but after this experience, this "Kang" as he calls himself, would make even your Dr. Martin Luther King rethink his positioning."

OK, so I made up that last bit….
Even so, the fucking Norks couldn't nor wouldn't put up with that asshole's monkeyshines. I was wondering back when this story originally broke just what was going to happen. In the past, the Norks usually went 'all in' on utilizing such a thing as a propaganda coup, to show how corrupt/evil/yadda-yadda the Imperialist Americans are etcetera etcetera… during Viet Nam a number of guys 'turned traitor' and jumped the DMZ in order to avoid going to the Nam. Most of them actually stayed, married and led whatever lives they could eked out in the NK.

Nowadays? Looks like Kim Jong Un doesn't 'roll that way' that his Dad and Granddad used to. Guess "niggerhaustion" is multinational now

Which then brings me to a really unmentioned bit from Italy.
Lampedusa, a small resort island between Tunisia and Italy 'proper' had what I'll call a "pre-invasion" population of about 6500. Over the past week or two, Over 10000 North Apefricans descended on the Island in what I can only call a "Muslim Majority Invasion-Horde".
As you can see, that screen cap is from Sunday… 4200 from that day alone…. and with that pic, and I realize it's only that picture, but notice anything?
Yep
No Old Men
No Whamenez
No Kids

Nope, nothing to see here… moving on…
Which is of course the normal reaction by the Ministries of Lies and Propaganda. From other reports, the North Apefricans rioted pretty well, and have taken over the island, although the majority of news like that have been scrubbed per usual. The major issue, as is at OUR southern border is that we're treating this as a fucking joke across the board.

The Repugnicunts and DemoncRats are both balls deep, if not deeper in the cross-border Cartel corruption, hence why there's NO interest in stopping this shitshow. RUMINT is they're ALL on the take… and why wouldn't they be? I mean for real… you join CONgress or the Senate, and amass a HUGE FUCKING FORTUNE while in there… I do not want to hear that it's all 'stock trading' and whatever bullshit-flavor-of-the-month it supposedly is.

The Cartels have more money than the Vatican I'd wager…
That right there, is saying something.
Add on that the DemoncRats are getting ALL them lovely lovely voaters to keep in power? No fucking wonder they don't want to stop this shit…

You give me a Heavy Weapons Platoon plus… call it 40-50 Guys. 5 Mark-19s, 5 M2A2s, 10 M-240Bs… Give me open access to an ASP (Ammunition Supply Point) and some DMRs (Designated Marksmen… snipers with good rifles…) I can gar-ron-damned-tee we could end this invasion. I mean I'm sorry, but at this point? Demographically speaking, we're done. And the real killer in all of this?

The "Golem" that they created? Lets just say that right now? They think they have it 'under control'… much like ALL the 'other monster movies' out there, reality and your 'pet monster' tends to sneak up and bite you in the ass when you least expect it…

It will not end well either way.

And lastly, I got a package from an overseas reader. I'm going to do a writeup on the SubStack on it this weekend, along with some other history 'stuff'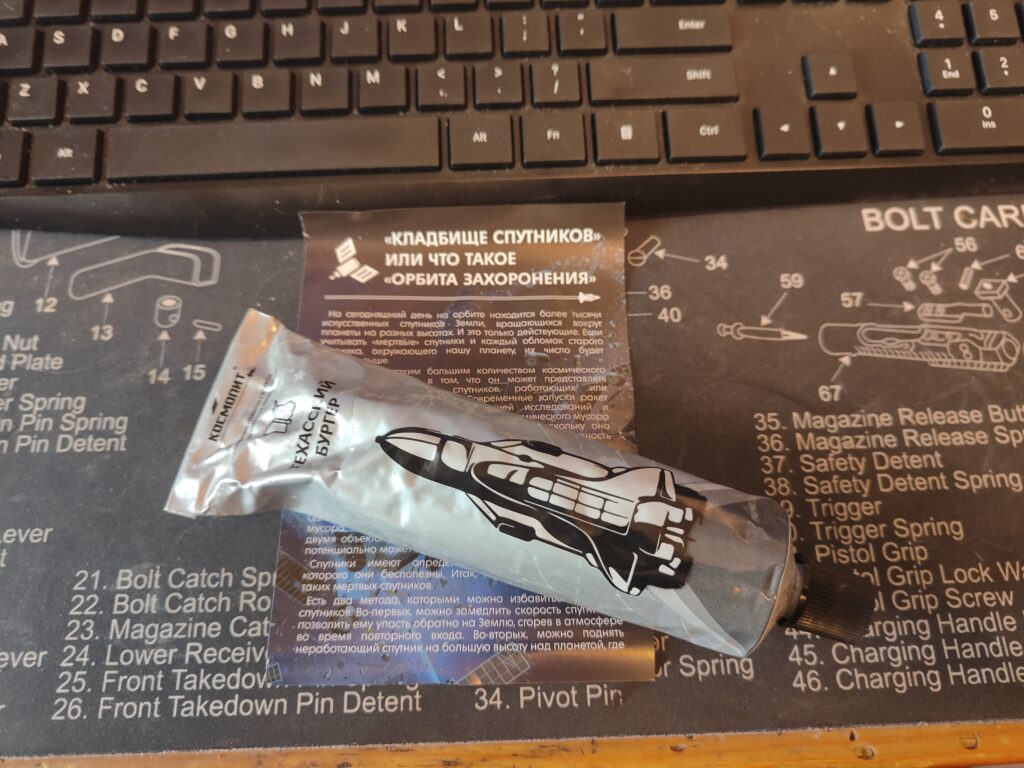 Ostensibly, a Cosmonaut Tube of "Cheeseburger with Onions and Ketchup"… It's still good, and as to the veracity? Not sure but hey, what the hell? Rations are Rations, and a Cosmonaut chow? Why not? I did find some more of them when I goolaged it, particularly on the Zon, which is where I think it came from? Not sure but hey, if I had the $$$ eBay has real ISS food available…

Anyways, it should be fun to try right?
Got to keep the laughs up as well as the creative side of things…
So More Later
Big Country