Greetings Me Droogs N Droogettes!
Starting to look a bit -hazy- out there. Word is that overnight a BIG Krainian Klown Drone-Show came down on a Airport inside of Russia at a place called Pskov. Now, not for nothing, Pskov is quite a ways away from the Kraine: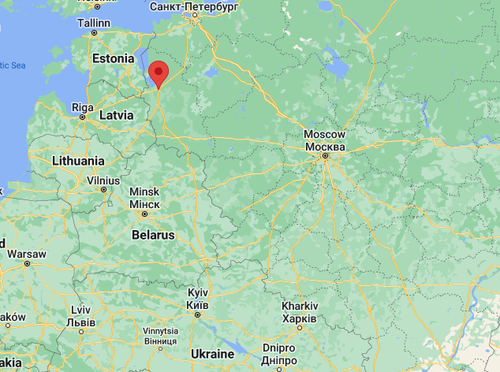 Couple of things stand out to me leastways.
One of which is at it's closest point, Pskov and the Kraine? 600 +/- Kilometers apart. That's one hell of a long distance to get drones, especially at least 21 of them at last word to a point that far away.

Per ZeroHedge HERE that's 400 miles. To my rather limited intel, the Kraine hasn't got any drones capable of hitting that far away with any real accuracy. Which means they had help. Which, considering just how close Latvia and Estonia (both NATO buttcountries) are, and then you have the Greeks as well as the Turks saying: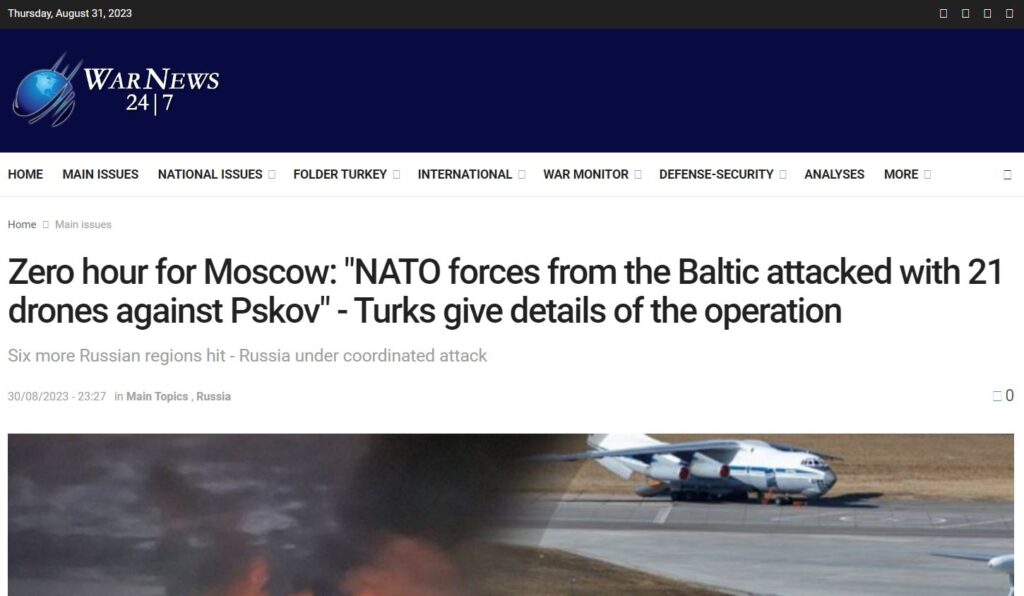 With the Link HERE
Not a good thing…
Various sources and RUMINT have it as the Brits being the primary instigators in this. SAS and SBS specifically. Either way, Latvia, Estonia, who gives a shit? Both are 3rd World Wannabes who spend faaaar too much of their little GDP on Western Weapons (or did leastways, until they found out what utter shit they really are) so my best is there was an offer 'too good to refuse' in hosting these particular retarded festivities.

Adding on that our current crop of geniuses and leadershit?
Ah yes, the good ole Geriatric Ward Members…
Where have we seen this before? Ah yes:
I mean Jeeeeesus people!
When and What does it take for these fuckers to step the fuck down? When to "We the People" tell them they need to go the fuck home? And NOT via voting? I mean for fucks sakes, I mean they're only leading us into a for real Hot War that we cannot under ANY circumstances win.
Any bets that none of our vaunted 'nookular' weapons work, have worked or even could work at this point? Hell, I don't think even our fucking missiles would work, if the Patriot Pack 3 is any example…

Seriously folks
With fucking droolers, pantshitters, retards, pedophiles, grifters, and braindead zombies in charge, we are well and truly utterly fucked.
And my prediction:
RH/RN (Right Here/Right Now
Goblin Nuisance, The Hair Gel King of Kalifornication AKA Nancy Pelosi's Nephew-by-Marriage is going to be the DemoncRats New Fair Haired and Coiffed Boy to replace "The Kidsniffer Rapist, Emperor Poopypants". You heard it here first.
He's got all that it takes
Progressive to the marrow of his hypocritical bones… "Do as I say, not as I do" Connected politically (see relationshit to Pelosi) Hollyweird (((backers))) out the wazoo… He's demonic, and a through and through souless fucking scumbag.

What's not to like vis-a-vis your basic Normie Pro-Pedo DemoncRatic Voater? OF Course they're going to run him.

All the rumors of "Big Mike" getting the nod?
Word is that The Chef saw "Big Mikes" pee-pee, so they had to drown his ass, lest he let the cat, or in this case the Johnson out from under the tranny-dress. That and he/she's a lazy fucker…

By it's own public statements, s/he likes the trappings of power, but none of the effort that needs to go into it… and seeing that the current Pretender to the Glorious and Harmonious P&PBUH (Plus 10%) Orifice of The (p)Resident, The Dementor-in-Chief, Emperor Poopypants the First, Chief Executive of the Kidsmeller Pursuivant, Good Ole Rapey Joe has been on vacation since Day One of his residency, even the most diehard DemoncRatic voater needs to see a Chief Executive who's doing –something– as opposed to being on vay-kay 24-7.

I mean so far it's suited the Power(((s))) Behind the Throne to let Rapey go to the beach and generally stumblefuck around… thing is, that eventually needs to be changed into "MOAR Fundamental Changes" even if they don't understand that that shit ain't gonna fly.

They lack the intellect to understand, that so far, in their bubble? It hasn't been pierced yet. Hasn't been needed as of yet. People still got food, still get to go shooting, aren't overwhelmingly being fucked with unnecessarily. Now, because of this, they, the managerial class… the people who make things happen… the ones who actively write and draft the laws and legislation that the Leadershit then put into effect?

NONE of them have been hit yet…
YET.
See… it's one thing to rail on about Politicians and whatnot… but in reality? They're just like on-air TV personalities.. they're literally dummies. Performative Dummies. 90% of politicians are too stupid (Maxine Waters for example) to understand cause/effect and/or anything more complicated than 2+2 equals po-tay-toe. They're fucking morons. It's their Chief of Staff… their Legal Team. The Legal Secretaries and Staffers that get the job done and know that they're actually pulling the puppet/dummies strings.

THESE are the folks that because of their lofty titles, decent paychecks and trickle down power that they stay in power behind the scenes… manipulating and empowering the Dummy.

They also don't seem to get in a full on World That Has No Rule of Law that they're easy meat. It's that weakness that encourages me. 'Cos You can bet when the shit gets spicy(er) that those inside the Beltway have no clear understanding that they're the equivalent of Custer at Little Big Horn.

The Feral Knee-Grows will be playing the part of the Indians in that particular reenactment… eating them first and foremost.
All we have to do is sit back and watch and laugh.
I mean why not?
Better to watch it all burn at a distance than get hemmed up.
So More Later
Big Country