Greetings Me Droogs N Droogettes!
Added a new family member "Beans" to the house. Chick was looking to re-home a male puddy tat, as her Landlord caught her with him.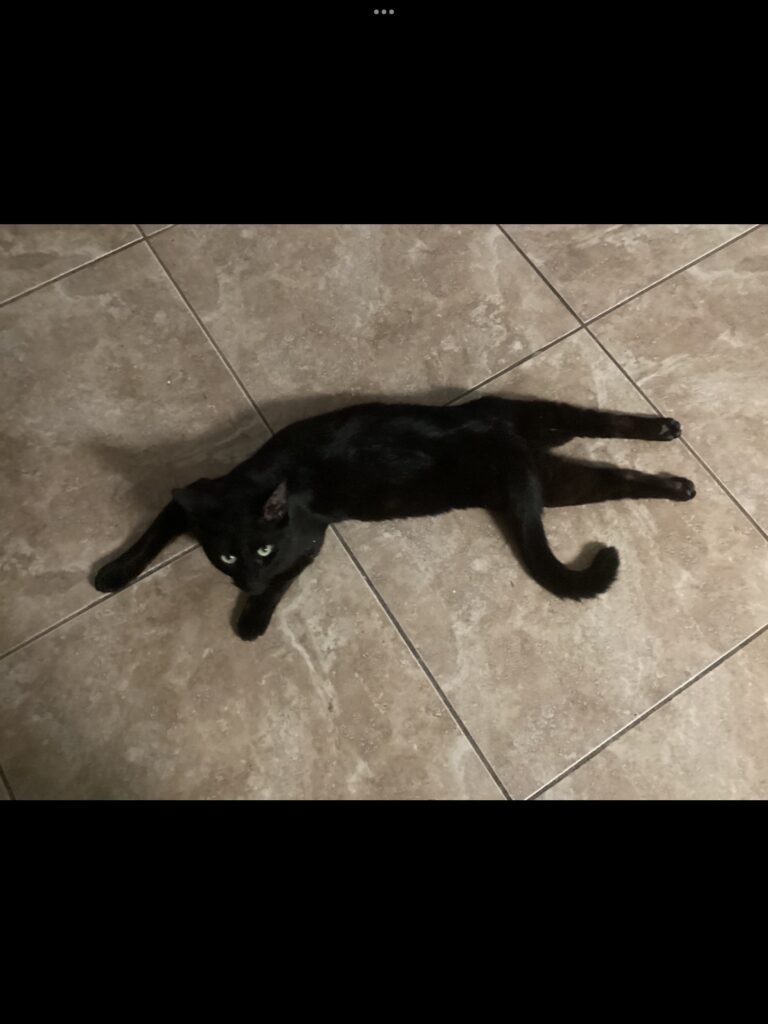 So, as of late Bob-the-Cat, aka "The Asshole" has been showing signs of I dunno, like loneliness? Hard to read a cat but it seemed like that he wanted to play a LOT more often than the dog was willing to and/or wanting to.

So, when I saw the re-homing message on next door, I took a chance. Seems to be working out so far as Beans seems really timid around the men-folk (Me and Sapper) but has no issue with the Doggo, Bob, nor Gretchen. He's a big sumbitch too, a Bombay, compared to Bob Lil Manx Ass. In fact I forget just how small Bob is and the breed is compared to others.

Bob seems to be the one 'in charge' despite hitting above his weight so to speak. Beans is, when he does come over to me, a purr-machine… like LOVES his rubbinz. Hope long term it works out. The very fact that they've been ganging up on the Pittie, who has been exceptionally restrained and gentle shows that I think they're (all three) well matched.

Eh. So yeah, we got that going on now.
Now, I have a new substack going up shortly. This one is going to be a "read half, pay for it all" and see if it rolls in any shekels ort not. It's going to be a review of, all things, a Ukrainian Field Ration.
I realized I had one or two in my long-term DotMil chow pelican case… The outer envelope is long-gone as it was opened by customs on the way in, and to save space I tossed the three meals (Breakfast/Lunch/Dinner) into the box.

The meal-in-question is a Menu #6
Buckwheat soup with pork 
Peas with vegetables and beef
Barley porridge with beef 
Braised potatoes with vegetables and pork 
Canned meat (TUSHONKA)

Have to check out the Substack to follow up with that.

Now, let's see. Other news, seems that the Columbian Mercs in the employ of the Krain have had it with their "Slavic Overlords"… turns out that working for Nazis as an Untermenchen, you get treated like an untermenchen.
The vidya is over at Simplicius's page, Link HERE
About 3/4 of the way down.
The Krainians beat down a bunch of guys (Columbians) then sprayed their commander down with pepper spray? when he got pissed off about the whole thing…

Now, couple that that (((they))) have been fucking over the other 'hired guns' (That Syrian Dood) and let me tell you, t'ain't looking good for the "Home Team" IMO.

Mercs historically have a habit of, once being fucked over by their employers, WILL find a way to fuck YOU (said-employer) over right back, and usually at a ten-fold level.

I wouldn't bet a plugged nickel for Krainfeld's ass at this point. Outside of possibly getting protection from the Mossad, even the GAE/AINO fuckers are not going to be willing to step up when the wheels come off…

The Columbians?
Oh Holy Hells. These fucking sub-literate Slavic fucks know not of whom they trifle with. Me? If –I- were the Commander of the Columbians? I'd have my boys stand down for a day or two… let them fuckers think they're in charge and running the show.

Then have my boys get up at like 0230/0300 and go through the entirety of the Krainain Unit, Battalion, Company whatevz… and have them cut every. single. throat. of. every. Krainian. there.

Columbian Necktie style.
If it's a Brigade sized element, then take out the entire command staff. Then, once done, either mount up and bail to the nearest safe border OR head right to the Russians and tell them "Órale ese… we just did you a solid… mind getting us back to our country?" Of course it'll never happen BUT

Man it'd be fucking glorious to hear something like that.
Shit… Another aspect? I'd be getting word back to each and every cartel just exactly how the Krainians feel about the Columbians, and make sure that ANY and ALL booger-sugar sent that way has a goodly dose of cyanide mixed in from here on out.

Krainfeld'd be dead within a week IMO.
So that's it for now,
More Later
Big Country