Greetings Me Droogs N Droogettes!
Been monitoring Simplisicus76's substanck… guy is an Intel Maven non-pariellel. Got a GREAT grasp of the Krain.
Now, with that being said, at 23:40 +/- I went over and found this: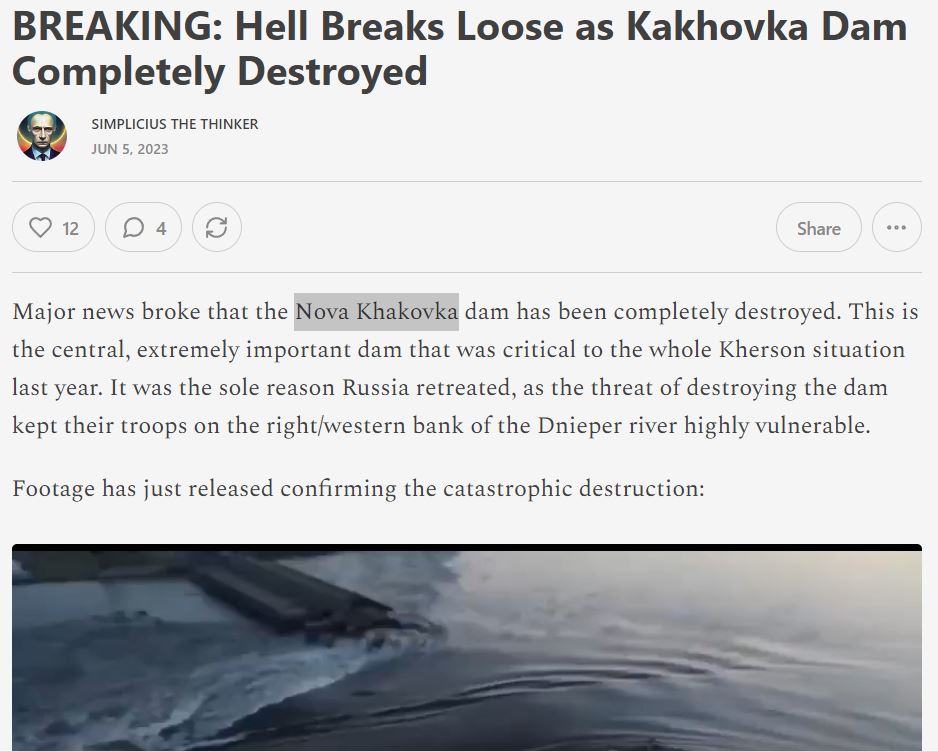 Link HERE
The vidya is scary-scary…showing a MASSIVE flood of water headed downrange. No word -yet- on who done dood it, but either way, this ain't good.
Zoporo Nookular Plant in Danger
Oh my fucking head.
BAD BAD JuJu Mon… is truly Dread Mon…

Thing is, the "Offensive" has apparently launched… I'm going to withold any judgement or count, BUT me being me? So far I'd say the Krainians have had theirt collective heads handed to them. Again.

I mean IRL, they're on what? Their 3rd full Amry, and an Army by definition by numbers alone is what? between 100000 and 200000? I mean when this shit kicked off, the Krain had about 400000 in uniform, Regulars and Reserve and then the 'home guard'…

Judging from the hard -real- numbers, I'd say they've burned thru about 250000 KIA and probably a larger number WIA

Trust me, I know things… I was with the High Command

SO no idea who blew da dam, but either way its a MASSIVE escalation, both environmentally, and well as 'down range effects'… if it -was- the Krain who dun dood the deed, well, then ecological and regular terrorism comes leaping to mind… and if it was Ivan who dun dood it? Well same thing, but man
Either way its a world class crusterfluck.

I'll continue to report and monitor… so far ZERO mention of it on ANY national or otherwise intahrwhebz… which in itself it most telling.
Later Y'all
Big Country