Greetings Me Droogs N Droogettes!
Today's post started as a late-nite poastage probably won't be published until the AM. It deals with some more sanguine and useful information that can be used in your upcoming novel/screenplay/what have you. Granted, far be it for me to encourage various scallywags, neer-do-wells- and layabouts and banditry to take it upon theyselves to actually do such iniquitous deeds… oh no… For if –anything– at all, we're good, law abiding God fearing deplorables.
So, with that alibi set up, let's get to the meat and taters of the 'meal'… since we've found out that "Rent-a-Hitman" is actually a gag website, well… one finds one's options very, shall we say limited.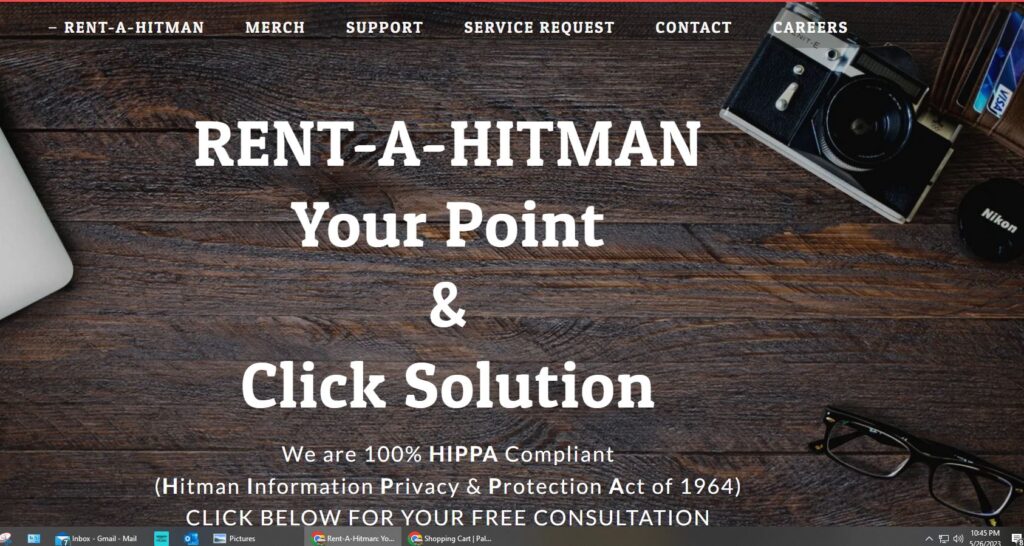 "HIPPA Compliant"
LMFAO!!!!

This poast is to help in shorting out certain aspects of forensics. Granted, we know that IRL it's no where as good as they show it on "CSI: Whatever, We Always Bag The Bad Guy" but still… there are certain aspects that make life easier these days for law enforcement to nail some shmo to the wall, especially if they're not careful. Little known factoid: The producers for all the CSI shows were highly encouraged to show CSI as faaaar better than it actually is, in order to maybe curb folks ideas about thinking about offing other folks… make them afraid that CSI would catch them out… pure propaganda Aye? Anyways.
Now, since these days, anything and everything can and will be used against you, and it's probably going to fry you either way. Using "identity protection" what being a big biddness and a
And in that, well, certain "preparations" need to be done. I mean I already use a wallet that's RFID proof so no one can 'scan my cards'. It makes sense to do the same for yourself at the range.

Now, in order to do a LOT of what I'm about to write about requires a few things. One is making sure that he/she has the ability to buy stuff on the D/L or QT as they used to say… Wally World 'rechargeable' VISA gift cards work pretty well. but in this case, well, we're not going that deep. As y'all know, I'm a reloader. I Buy brass on the regular, all over the country.
Interesting fact: You can buy pure brass… meaning it's been collected from -wherever- it was, sorted, bagged, tagged and resold… like this:
Arm or Ally gives you the option to "SEND IT DIRTY!" meaning it's essentially untouched THIS comes into play, but NOT in the way you think… anyways. Having a spare Barreled Upper isn't essential but nice. New Barrel. New Bolt. You might even have a buddy of yours buy it for you 'cos "…if my wife finds out I'm buying/building a new AR there's going to be Hell to pay!!!"

What brohiem wouldn't help out in such a situation?
So, reloadable dirty brass. Check.
And in a 'former life' it practically required a bunch of 'stuff'… to include brass catchers… main reason a lot of us had them was we couldn't afford, in the absolutely rare-to-impossible moment it might happen, IF we had to fire up outside of a Blackhawk door, it was too risky to have our brass maybe get sucked into the engines…so we had brass-bags… as seen here:
Now, having established that you can -catch- said fired rounds from the new barreled upper, one needs to make sure you have 'sterile' rounds to utilize.
Sterile you say? What is this 'sterile' of which you speak?
What I mean is rounds untouched by folks. "Clean" as in no fingerprints
For those of you who get it, get it… if not? Meh…
To get said-untouched new brass… well there's lots of ways but my preference for this I like to hit the 'out of town' gun shows, pay in cash, and leave. In this case, purely for academic purposes I have a box of Turkish ZSR M193. What I like about that particular stuff is it's M193, but also, the box comes in 30 round (one mag worth) Boxes, and the box is tightly glued shut on either end, meaning no one (that I know of) has has their grubby lil mitts on the bee-bees.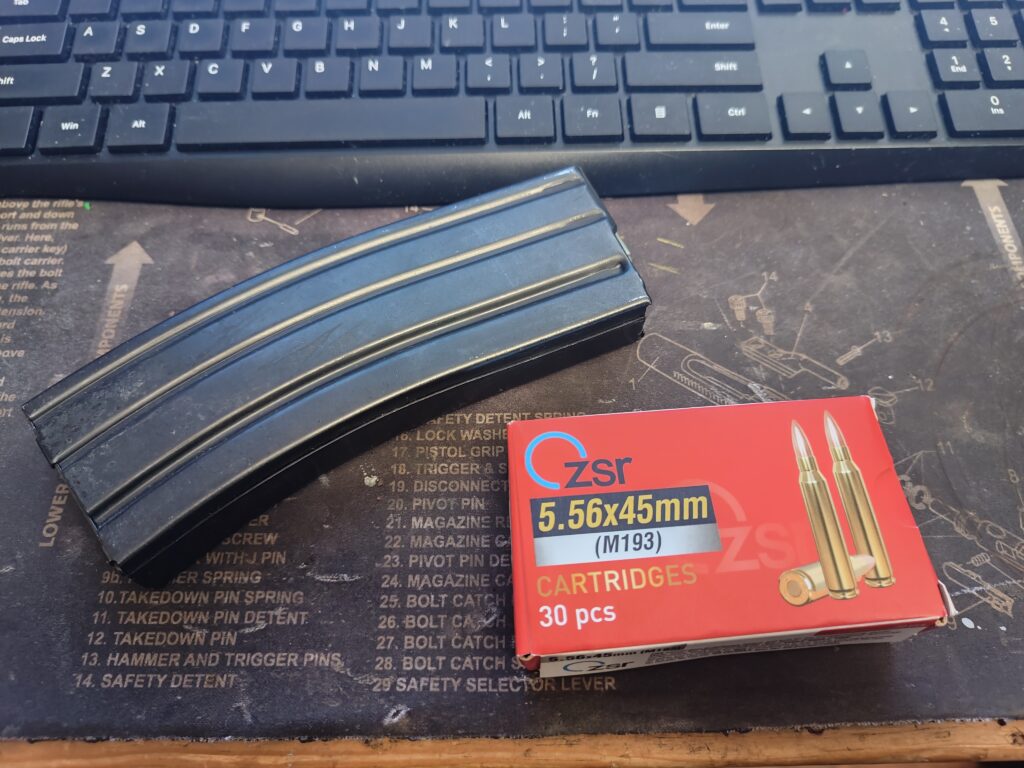 Now, this, with a STANAG 30 Round basic throwaway NATO mag. Again, ubiquitous to the max. Next stage is
Loading the Mag… THIS is where the rubber gloves come into play…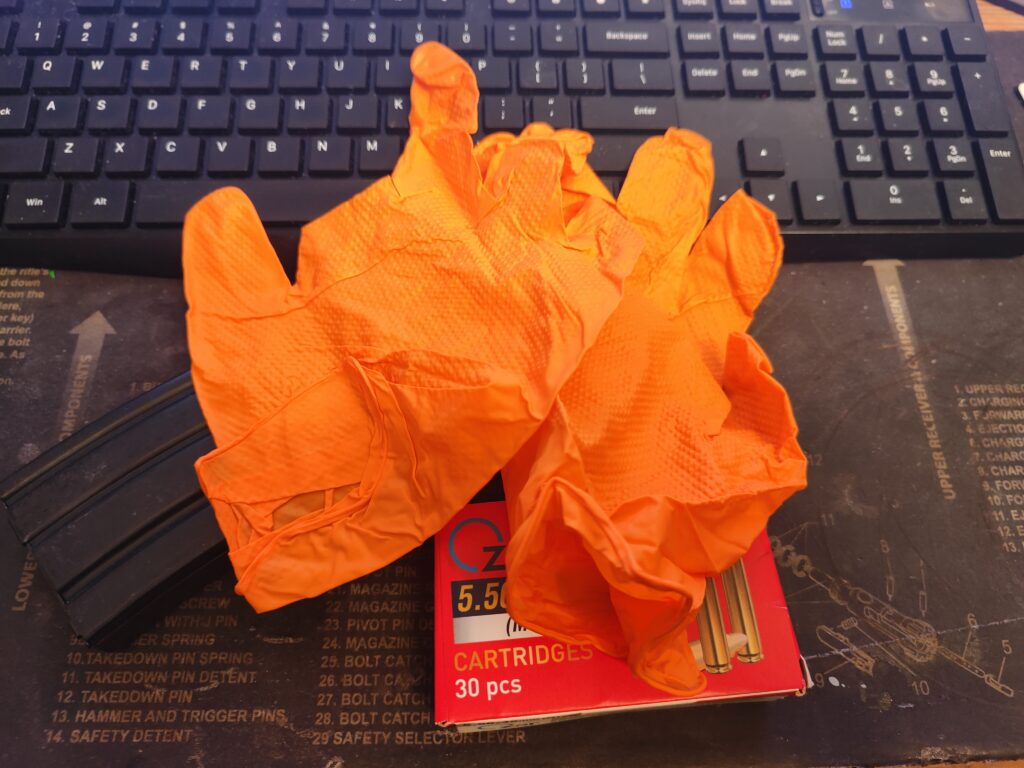 Good heavy duty disposable gloves. Basic surgical gloves I do NOT recommend as they tend to tear too easily and STANAG mags got sharp corners on them.
Once the mag is loaded, then you need to wrap the mag. Now, the pics I had Sapper shoot, and one one was uncorrupted… even then, it lost the rest of it… dunno why. BUT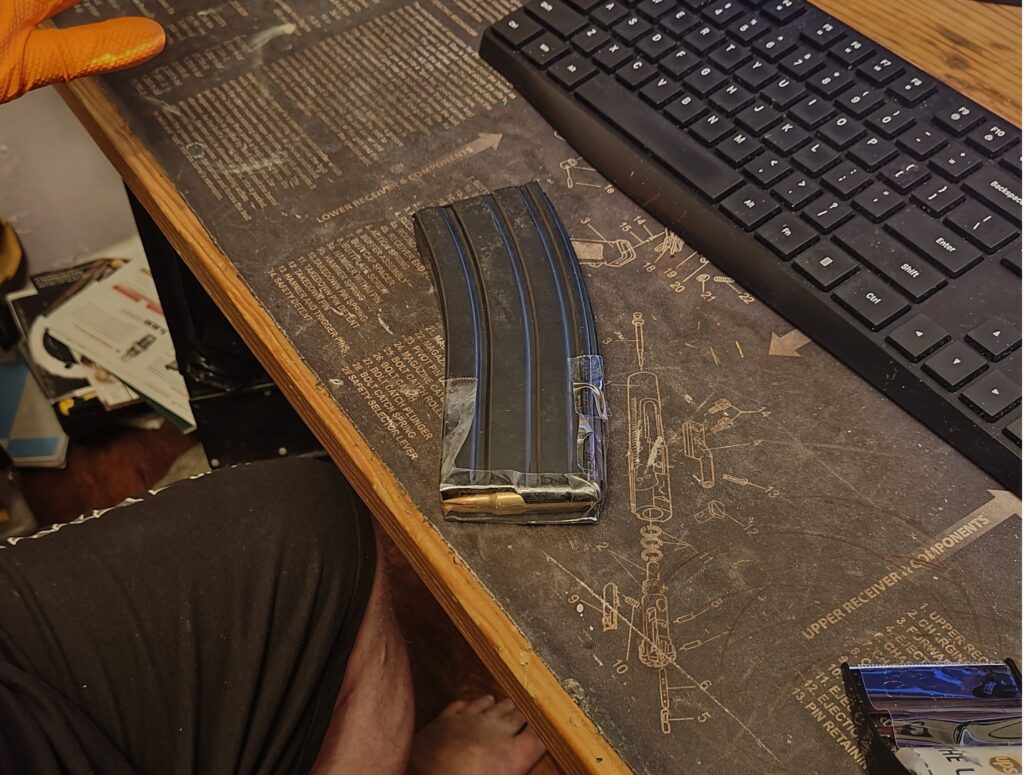 You can see the end result of the 'wrap' I did on the end of the mag. I used packing tape, over the feed and then doubled it over on both ends, keeping my grubby paws off the brass and off the rest of the top of the mag.
Now, lots of people are going to be all screeching about hairs, fibers hell… some folks you just can't please. BUT that being said I'm just offering up a way of showing you how to load up a 'clean' mag and have it available…
Now… remember that 'dirty brass' we had available? With the same care and such, you need to count out anywhere from 25-30 pieces of matching caliber brass and bag it up. DO NOT TOUCH THE DIRTY BRASS WITH YOUR BARE HANDS. To do so removes any and all use for it. Point of this here fieldcraft is to 'throw the scent' of anyone who might try to tie you to the scene.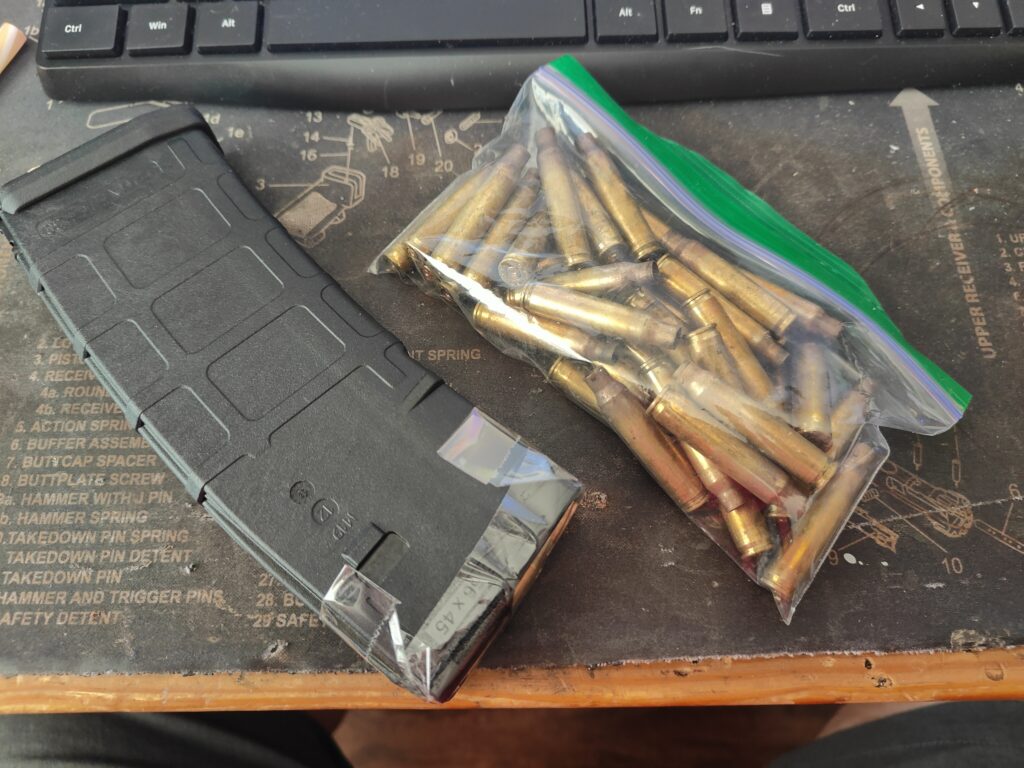 And yeah, yeah, NOT the same mag… You don't think I have only one mag set up in this fashion didja? So…
I keep the lil baggie of spent with the 'liveshot' sterile mag. If I find myself is a possibly compromising position and I happen to have my brass catcher affixed when said-'issue' crops up, well, hey now… I just had all my brass "collected" for me being a reloader, OF course I catch all my brass…(unless it's that steel cased shit or polymer).
So, then it's just me, the corpse and it's about to go public. That's when you take out you handy-dandy 'free of your prints' brass out and scatter it (preferably in a to-the-front-right area of the angle of shooting as an AR is wont to do). If you want to fuck with CSI and have the time to do it, you can even modify the range by scattering it at another distance, or even walk it around, making it alll sorts of willy-nilly confused.
Best part is, that 'dirty brass'? It comes from all over the nation so any and all fingerprints pulled are going to be literally a buckshot spray on a map nationally. They probably won't even be able to zero in on which place it came from, as brass, if you've ever watched the shows on how it's gathered, repacked and resold, maaaan literally it could come from –anywhere–
And if they happen to winnow it down to you? So what? I reload. I bought brass from dozens of online companies over the years…Fuck you, Prove it.
Another fieldcraft trick I like is when travelling, especially over the last couple of months (le sigh) I had to get my head scraped and trimmed. Couple of trips to the Barber shop. A few times I went in, and instead of getting a trim, I just poked around and left… asking to use the mens room is also a good feint.
Once in the john, I took off my shoe and dusted the hairs I'd picked up off the sole into another small baggie. Quite a bit of absolutely random DNA there to be had.
Granted if used, it's going to make life a bit odd and uncomfortable for some normie, but hey, war is war, and camo is camo. Double points if you get female hair… lil ole Lady Granny hair… heh… even ole Gil Grissom'd have a meltdown over that one.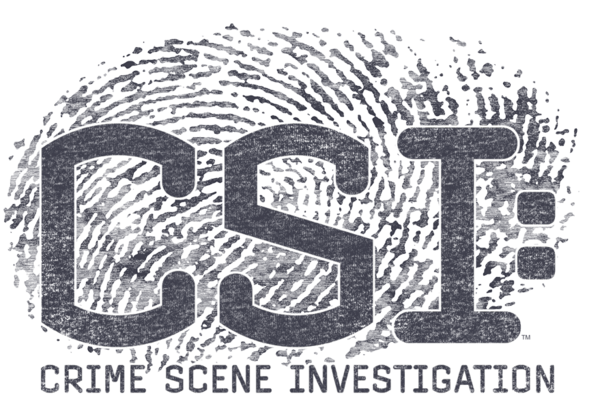 I mean really… leaving the scene, dropping a spare unused balaclava (don't we all keep a spare floating around in a bag? I know I do… at $6 a half dozen on Ebay, you should too) with Granny Blue Hair's hair (from Georgia) in it, with brass from an AR with the fingerprints of 3 different folks from 3 different states AALL with zero connection to one another?
I mean hey, not like any of this is actually going to be used. As things are right now, we're facing the "Usual Suspects" and a summer that's going to be as hot as, if not hotter that 2020.
Got that deep down feeling that 'something' is out there, it's hungry and looking our collective way.
And, to just -bury- the boomer topic: Every. Single. Generation has its faults… no fucking doubt. HOWEVER if YOU have an issue and feel the need to mindlessly take up the pitchfork/torches and mindlessly defend YOUR particular generational group, then the problem isn't with whomever 'harshed' your group… in fact I'm GenX… very little redeeming value as a whole… individually, there've been good 'uns, and bad 'uns, but as a whole? I don't care… not my circus, not my monkeys.
What makes you care so much?
The NPC Roleplaying that ALL the boomers seem to do when they're "attacked"? What the fuck is up with that? Why do YOU care so much if your 'cohort' of fellow travelers in your generational group is hated? Not that I hate individual boomers, but as a collective group? They're pretty damned unlikeable. And by 'getting offended'? As I've stated frequently enough, there's a lot more problems out there…
I find the fact that such 'individualists' here and who read and comment on the blog here are so vociferous in defending 'their group' to the point of someone saying I have mommie issues… actually nope, wrong parental unit… but that's neither here nor there… I just find it loathsome that she'd literally go out of her way to say she's insuring that her grand kids will get nothing from her, and in light of just how fucked up the world is, and how much more it's going to become, it seems spiteful somehow.
I mean how many MORE cars/boats/fine art and shit can an individual have? How many MORE trips around the world can you do? How much is enough where you finally sit back, and say, "OK, I'm good."?
I suppose when that question gets answered, then enlightenment will follow? Who knows?
So, on that note, I'm gonna hit the shower
Big Country